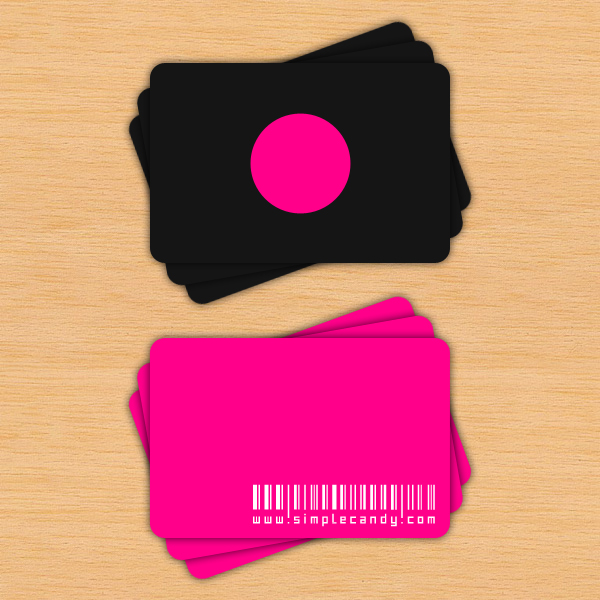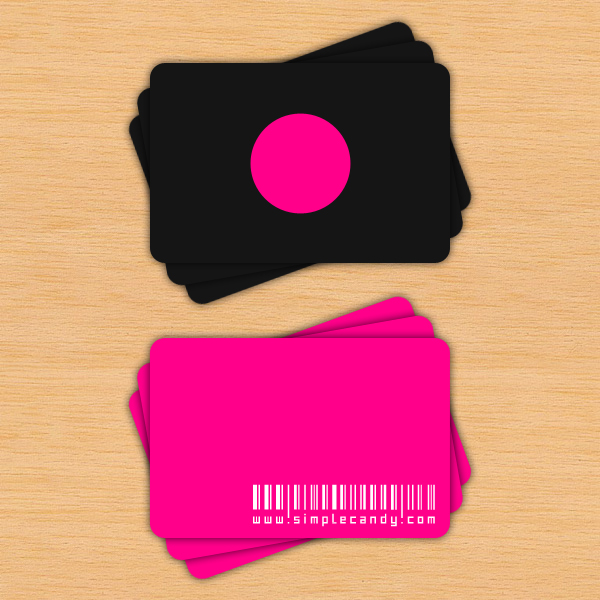 Watch
Concept Driven Business Cards:

The idea is that you feel like a special member of an exclusive club by having one of our cards, i want to keep the brand strong and minimal on one side, and have the other like a swipe card, the url is all i want people to see and use. Like make them interested to find out more. Any ideas? Feedback? thanks. xxx

Super, exclusive design. I like..no I love this idea. A very strong and powerful focus on the message you want to deliver for your members or customer. Favorited

Reply

Hey Simple!
If i look at the cards without knowing what's going in your mind, I dont like them.

But if you wanna go with your theme, you can make the card black on both sides. And remove the bar code. ( It's so 1999 ).

Do the dot in front in pink.
And a simple lettering at the back in Pink.
Reply

SC doesn't use black, it's dark grey (#151515). Hmm i kinda like how the different sides have different colors, plus would you really say that the barcode is 1999? Any other ideas to slyly display the url.
Reply

Reply

I dont think that the cards are the greatest. Id most likely reject this if it was handed to me on the street. The card looks gaudy and really dosent match your site style wise.
Reply

In what way does it not match? I have used the same branding colors and shapes. Any ideas to improve it? thanks. x
Reply

Well. The VIP idea is good but more needs to be Expanded into it the Circle needs to be Smaller and Text added to the front Saying Simple candy or something on the lines. the pink needs to be toned down as its gaudy for a business card and the strip on the back should be Darker if your going to keep that color

Reply

hmm i dont really want the brand name on the front, the idea is that im gonna try and push the pink ball as the brand icon, and get the user to spin the card around and then wonder what the hell the website is, and then hopefully the website will suck them into the world of sc. plus as for gaudy hehe this is simplecandy mate, we dont follow business rules, we do stuff over the top.
Reply

I agree with the rest, there needs to be more element of design in there...

- Adam
Reply

It looks a bit TOO simple if you ask me.
Reply

Reply

It's like a bar code and a circle...
You can do much better than this, you know that

Reply

I think ur missing the point! The very reason the card is so simple, will make people visit the website to find out WTF it's all about! Plus even the simplest of shapes can be creative, making complex graphics is not creative, it's just making a mess in my opinion. x
Reply

Hmm maybe, I know I wouldn't.. Except if it's stylish.
Reply

Their is no need for complex graphics, most media these days has complex media for things that don't require it and have any correlation with, they use it just because it looks good! that isn't a good reason, imagine a shop title, one with the type of shop in a bold lettering on a flat colored background vs. one with stylish text and loads of vector shapes surrounding it, which one is better?
Reply

You'r over doing it.
The cards look good and all but look at you're site, it sucks. No offense but you can do way better than this.

I want this card though...
Reply

Are you claiming that simplecandy.com sucks???

Reply

It does not suck. It looks Fucking cool!
But the Wordpress Blog Never updated. I loved it sooo much that i tought you would update it

Reply

Yeh troo! I'm a bit pissed off with how WordPress deals with NOT having the blog as the main page. When I get it working how I want, I'll start posting loads of stuff. x
Reply