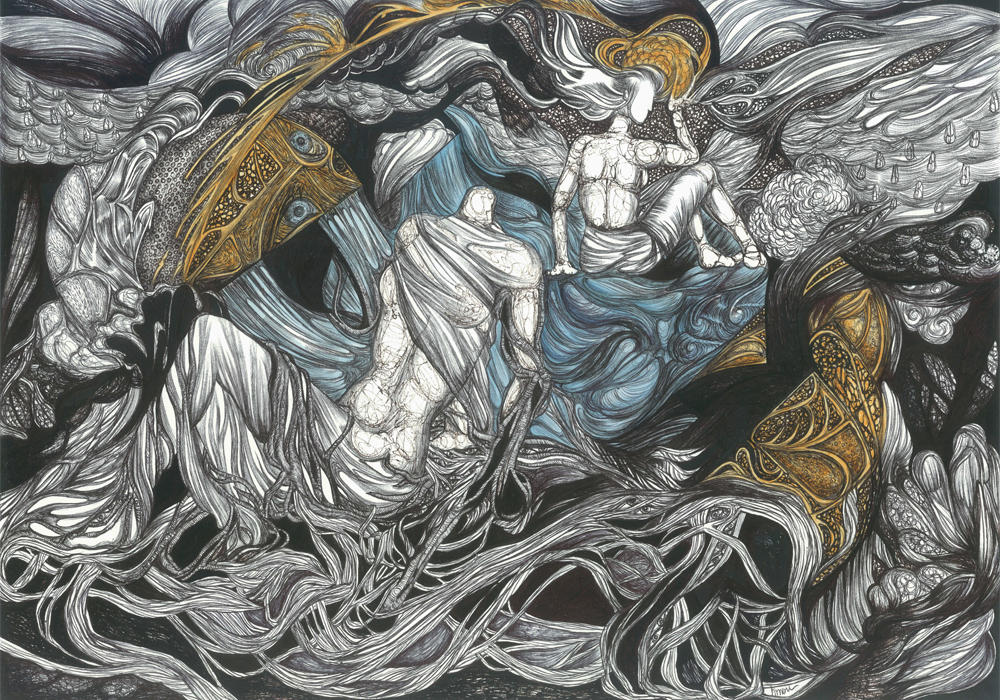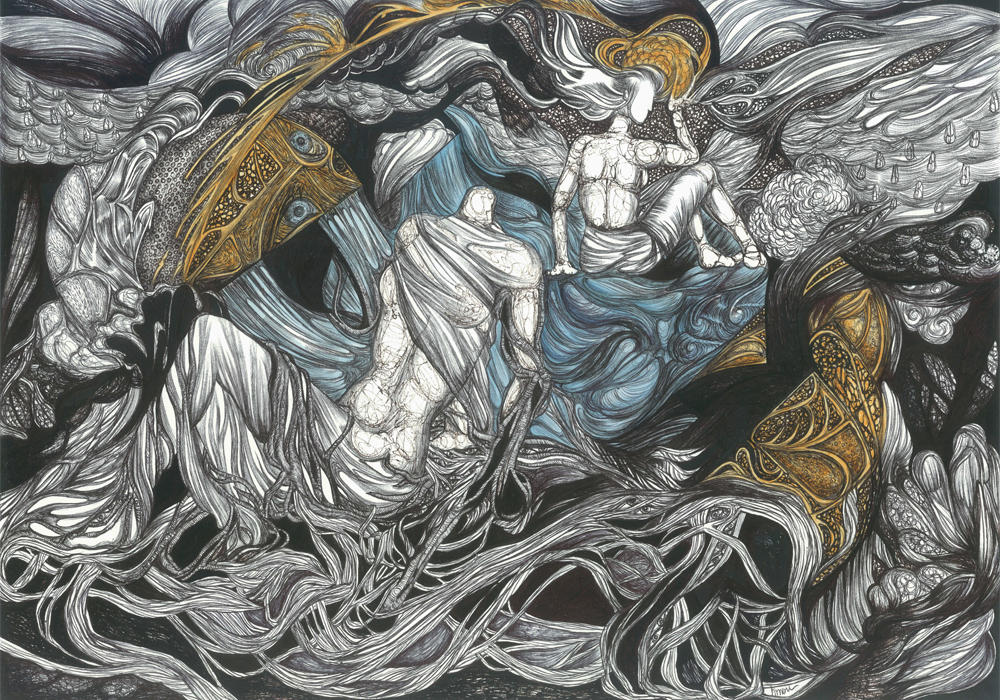 Watch
Version 2; I finally dared to touch this one again. The first version of it is also still here on dA, but it had always felt unfinished. Compared to the other three, #2 is more organic and wild, less structured.

Dreams pass into the reality of action.
From the actions stems the dream again;
and this interdependence produces the highest form of living.
-- Ana´s Nin, French-Cuban author (1903-1977)

Originally inspired by Munich artist Siegbert Sans and de Chirico's Disquieting Muses and the pitture metafisica, the Layers of a Dream series of four DIN A3 drawings -- or illustrations -- turned into an exploration of textures, shades, and ornaments, inviting the viewer to discover their very own path leading through the many layers of the Dream.

The sketches for each of the drawings were based on simple principles: multiple layers, leaving enough room for dense textures; Siegbert Sans' pyramids and additional diagonals to section the canvas; and four (#1), two (#2), three (#3), and one (#4) Muses as reference points, but also to ponder which of the paths they might be choosing for themselves. Lost in reminiscence and overwhelmed by the plurality of dream worlds waiting to be discovered, the Muses attempt to step out of the inner world, framed by the uneven circle in each of the drawings. Surreal and abstract, the dense textures are what I imagine could 'fill up' the empty space left by de Chirico in his metaphysical paintings.

The quote by author Ana´s Nin seems suitable to summarize the intent of unfolding a dream, as dreams and reality interfere with each other, but not in ways that can be explained with words or actions. It is an ongoing process, like waves swashing the shore, leaving flotsam behind, but erasing possible traces of footsteps at the same time.

Each of the drawings was drawn using the following tools: Stabilo ball pens, Sharpie pen, Edding marker, Papermate pen, biros, and Chartpak markers (Light Yellow, Azure). The sketches for each drawing took only approximately 1-2 hours, the drawings themselves 30-35 hours each.

Reply

Wow...very powerful...Well done
Reply

Reply

Reply

quite remarkable, i really like it!

Reply

Wow, that's so freaking amazing! I love it! *.*
Reply

Fantastic detail in this! I love the flow of the composition. It has elements in both the pattern and color that remind me alternately of Mucha and Amano. Definitely dreamlike!
Reply