I am a UK based professional comic artist who has worked on several Panini/Marvel UK titles, starting off by drawing TRANSFORMERS and then moving on to draw THE INCREDIBLE HULK, SPECTACULAR SPIDER-MAN, DEATH'S HEAD and MARVEL HEROES... thus achieving a life long dream of drawing my favourite Marvel Comics heroes. My work has also featured in various American publications, including TRANSFORMERS: BEAST WARS and MARS ATTACKS JUDGE DREDD from IDW, and Erik Larsen's SAVAGE DRAGON (issue 193, published by Image Comics).

I have also produced artwork for various other forms of media, such as dvds, toys and collectable merchandise. These include the UK releases of the original TRANSFORMERS cartoon from Metrodome, and THE INCREDIBLE HULK (1966, 1982 and 1996 shows), the 90's X-MEN series and SPIDER-MAN (both the 1967 and 90's shows) from Clear-Vision. Recently, a HeroClix of the Marvel Comics character DEATH'S HEAD was released, and the figure was based upon artwork by myself (inked by David Roach and coloured by Jason Cardy) which was published in Panini Comic's DEATH'S HEAD vol.2 collection.




I am also the creator of BAD BLOOD: A VAMPIRE PROPHECY ™, and the DISCOTRONIC FUNK COMMANDOS™, a group of superheroes from the 1970s, who will be the stars of the upcoming RETRO TALES ™ title from my own RETRO COMICS GROUP ™ imprint. The comic will also feature special guest-star appearances from David Hasselhoff and Jon Mikl Thor! I have collaborated with both in developing and co-creating David Hasselhoff's comic book and cartoon project, The Hoff: Heroes Of Fearless Freedom, and also producing album artwork for Thor's Aristocrat of Victory and Thunderstryke 2 albums.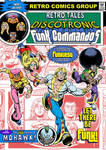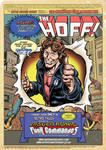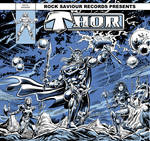 Hailing from: Parts Unknown... Wales, UK
Weighing in at: 205 lbs of rugged twisted steel and sex appeal!
Height: 5'11"
Favourite genre of music: Blues, Soul, Rock.... bit of everything really
Favourite style of art: Comic Art.... especially the classic style Marvel art from the 60's, 70's and 80's.
Operating System: Mac OS X
MP3 player of choice: Samsung Galaxy S3
Favourite cartoon character: The Incredible Hulk, Optimus Prime, Death's Head, the Thing, Wolverine, Spider-man, Captain America, Thor, Iron Man, Doomlord
Inspirations/heroes: Bruce Lee, Lou Ferrigno, Mark (the Undertaker) Calaway, Stan Lee, Jack Kirby, and most of all my mum and dad.
Personal Quote: 'Keeping 'old-school' comic art alive and well!'