I have announced that I will hold a contest where the prize will be a 3-month deviantART Premium subscription to the winner and I am a man for my word.
UPDATE: More prizes added!
---
RULES:
Theme:
Colors and light.
See this journal
before submitting. The features there are all in the right theme.
Who may enter?
Everyone
Can I submit within every art category?
Yes, as long as your piece fit the theme of the contest.
How do I submit?
Upload your colorful artwork (remember to play with light) to deviantART, and note it to me. I do not request you to post in the description that it is submitted for this contest (because I hate to write that in the description myself), but the artwork has to be submitted after Aug 23. 2012.
I do NOT want to enter, but can I help out anyway?:
YES! Of course! I need as much help as I can get, If you can donate a feature, points (
simen91.deviantart.com/
), memberships or anything else, please note me and I will update the journal ASAP. You may also share this contest everywhere you want to boost exposure and preferrably participants.
Deadline:
Oct 31. 2012. The winners will be announced within the first weeks of November.
I retain the right to cancel the contest if less than 10 entries are recieved
---
Prizes:
1st place:
2nd place:
3rdplace:
Please donate prizes and link to this contest
GOOD LUCK!
Points pool:
simen91.deviantart.com/
---
Tips and tricks:
Do you not know how to use light-effects? Beginners brushset: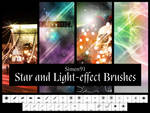 ---
Some of my recent uploads: