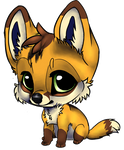 Formally known as
Saffhire-Phoenix
WARNING
Do not under any circumstances upload my artwork to your account unless you are the commissioner
or owner of the depicted character/s.
Commissioners do not need to ask my permission to upload what they've paid for so long as they give me artist credit.
See my Terms of Service for more info about image rights.
For all commission info please visit my website:
www.silvixen.com
I am most active on
FurAffinity