Journal Entry:
Sun Aug 26, 2018, 8:15 PM
So Recently I sorted through all my ocs and currently some don't have much art! Sooo I'm holding a contest to see what kind of art can be added on!

Rulez:
- You can decide which OCs will be on your entry.
- The entry can contain your OC, but don't make it the main focus of the drawing
- Gore and NSFW Allowed!
- Humanization, animal versions etc. are allowed
- Do not use bases. Just don't, please.
- You can ship my OCs if you want, but remember some are already in relationships!
- Join the contest only when you're 100% sure you will make your entry. It makes me angry when a bunch of people join the contest, and then less than a half of them do their entries.
Great, but how do I join?
-Comment you are joining!
- Include the word Devil somewhere in your comment
- Make a journal or poll about the contest
- Link this journal or poll under my journal, obviously
- Add this journal to your favourites
- You don't have to watch me, but it would be really nice if you would
- If you do the prizes, you can still join
- The number of participants is unlimited
What can help me win?
- Shading
- Background
- More than one pony on one drawing
- Originality
- Proper anatomy
- Drawing my OCs properly
Prizes:
Message me to donate! DO NOT donate prizes if you are going to be unable to complete them!!
1st place:
- A fullbody shaded drawing from me!
- An icon from me!
2nd place:
- A shaded headshot/bust from me!
- A digital sketch from me!
3rd place:
- A base edit from me!
Ocs available to draw:
toyhou.se/Silvia-the-vixen/cha…
(There are more located in the pony and furry ocs folders! Look thoroughly before choosing!
Like this CSS?
Get it
HERE
Journal Entry:
Fri Jul 27, 2018, 3:03 PM
Art Status:
*Special means that at the moment they are only open to friends, idols/senpais, and some miscellaneous people. If I deny you, it doesn't mean you aren't my friend, it means I do not know you well enough yet.*
Commissions- OPEN!
Requests - SPECIAL!
Gifts - Why ask about this?
Collabs - CLOSED!
Trades - CLOSED!
Kirbian - Haven't decided yet!
Rules:
-Prices may change depending on how difficult or simple a character or commission is.
-To get a commission I would prefer if you note me with what you want drawn, what program you want it drawn on, and any other details, and it is preferred that you include a link to a reference of the character.
-I accept payment through Paypal
or
Points. Please note me if paying with paypal commission option.
- If I don't feel like taking a commission request from you, I have the full right to decline it. No complaining!
- Make sure that my commissions are open before you request, otherwise I will decline.
- Don't send points until I tell you to.
- Do not send points through commission widget! Please send them to my donation pool or gift option!

Wait time:
The day accepted - 2 months. (I have a very busy life and tend to put my family and outside life before my art. Feel free to check in at any time though!)
WILL DO:
- Any kind of pony
- Simple Furries/Anthro (I've done Cheetahs, Foxes, Wolves, Cats, Dogs, Ect. ; Still a beginner tho)
- Hybrids
- Simple Feral Creatures (Dogs, Cats, Foxes, Wolves)
-SIMPLE icons -will be NON-ANIMATED-
- MILD Gore (Cuts, Bruises, Blood drips, ect. Have never done poured out guts or stuff like that!)
*Will add more things as i develop my art skills*
WILL NOT DO:
- Anything NSFW
- Fetish/kink stuff
- Humans
- Closed Species
- Animations
- Anything that will make me uncomfortable.
*Btw, limited time only, if you advertise this, you'll get a 20% discount on your order!!*
~~~~~~Traditional~~~~~~
Detailed Sketch: -Pencil ONLY-
100 /$1 USD
Detailed Sketch: -Outlined in sharpie and ready to be traced over and digitized-
150 /$1.50 USD
Colored Pencil: -outlined and colored in-
250 /$2.50 USD
*SHIPPING IS NOT AN OPTION AT THIS TIME! However, once I do add this option and if you had ordered a traditional commission from me you will get HALF OFF the shipping fee! <3
Examples:
(All taken picture of/scanned in, and uncolored. I do not have a colored character example atm.)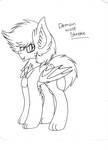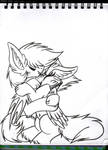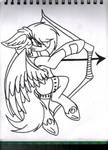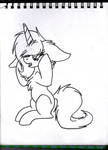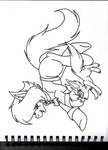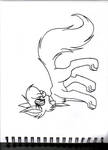 (Adding in extra characters, objects, ect. will cost extra! See my Add ons Guide for a price estimate! <3
~~~~~~Digital~~~~~~
Sketch: -Rough sketch only!-
250 /$2.50 USD
Lineart: -Lineart only!-
350 /$3.50 USD
Lineart and Flat Color:
500 /$5 USD
Lineart, Coloring and Shading: -Includes background of choice-
1000 /$10 USD
Headshot: -Choice of just the head or a bust shot-
400 /$4 USD
Reference Sheets: -background is optional and will not cost extra!-
1000 /$10 USD to 2000 /$20 USD -- Depends on complexity and what is wanted on the reference.
Pixel Icon [still ONLY]:
150 /$1.50 USD
Character custom: -Will only be 150 if you choose for it to be done on a base-
150 /$1.50 USD to 500 /$5 USD -- Depends on what details you order and how you want it drawn.
Retro/Album Cover: -choice of base will make it only 50-
50/ $0.50 USD to 100/$1 USD
Examples:
(I have been and will always be mostly digital, no matter the platform.)
Like this CSS?
Get it
HERE