I am an artist of many talents, including: Drawing, digital painting, photography, poetry and prose. Enjoy my gallery.
---

Writing has always been a strong-point of mine as I find pleasure in it, whether it be creative, analytic, or anything in between. As high school neared its end, my dad insisted that I choose a field of study that will always hold my interest.

Whilst it would have been great to go into journalism for the chance to engage an audience through the written word, journalists are a dime a dozen - maybe even a nickel.

Soon after my 19th birthday, I was diagnosed with Type I Diabetes. Though deeply devastated by the news that changed my life forever, I have learned over the past few years that I rather enjoy learning about the disease.

I now attend my local Community College to prepare for my future as a Certified Nutrition Specialist. I plan on owning my own health and wellness centre that will provide the tools for healthy living, as well as diabetes education.

Although I am not going to be full time writer, I will not give up writing altogether. I have begun a blog based upon my journey as a Type I Diabetic that I hope will not only help others to understand what it is like to be a Type I Diabetic and offer support to those with the disease, but also keep me up to date on my knowledge and hold me accountable for the management of my new life.

I reckon I should cut the life story now as you're probably all bored and never made it this far, so thanks for listening and enjoy my page!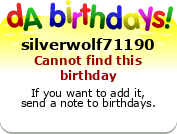 Current Residence: Your Head
Print preference: Matte Finish
Favourite genre of music: I listen to a lot of rock, and lately a lot of Israeli bands
Favourite photographer: None at the moment
Favourite style of art: Surreal, Patriotic Art. Line Art, Pop Art (1960's), Psychadellic (1970's)
Operating System: Windows 8
MP3 player of choice: iPod (only thing that lasted, what can I say?)
Skin of choice: Mine! It so soft...
Favourite cartoon character: Dale
Personal Quote: All the sounds of the night.