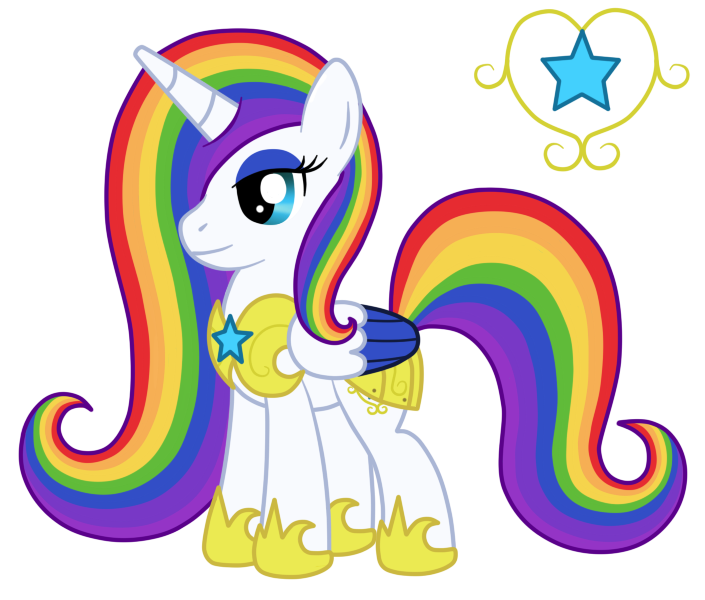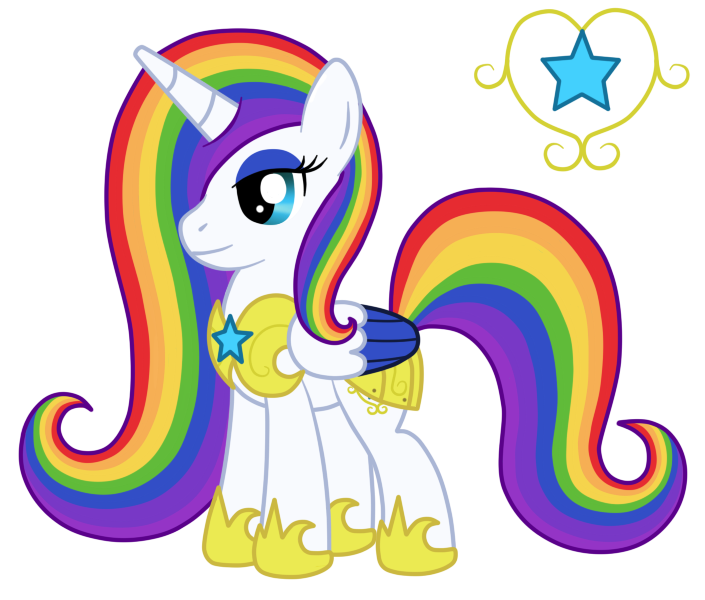 Watch
Would you like to breed an OC or Canon character with White? You can do so at the Silver Stables:
silverromance.deviantart.com/a…
Edit
; 18/10/2014; Edited some colors. The first purple streak in her mane gained a bit of blue so it doesn't blend as much with the second. The armor got recolored to a bit of a duller gold. And her eye changed a tad.
After some deliberation it's time I made this official, White Knight shall be my third Ponysona, making my trinity of Ponysonas. X3
Something that has been in the works for a little while now. :3 Based on a name I've been given by a certain group of people, I've been thinking about her story ever since her inception, much like I do with a lot of my OCs. This was my first time drawing the Equestrian Royal Guards armor, as well as the first time making rainbow hair, which took SO long to do! But it was worth it, for I love how she turned out.
I'm pondering making her an official Ponysona but I already have two, who knows maybe I will, considering all three of them represent pieces of me which is the essence of a Ponysona.
Oh and by the way, no, she's not a joke. As I've stated in the past none of my OCs are jokes nor will they ever be. So if you ask if she's a joke I'll just assume that you're not very bright considering you didn't even read the least bit of the description. ;w;
----------------------------------------------
White Knight was born in a small village on the southern boarder of Equestria, to a Pegasus father and Unicorn mother, both of them having a large mixture of pony species within their heritage, allowing White Knights genetic traits to be both a horn and wings. This in most cases is a rare combination for two non-Alicorn parents, but of course not impossible with the right lineage. Her mothers side of the family had very many colorful ponies, allowing for her beautiful multicolored mane, while her fathers side of the family were all Royal Guards, and she shared his soft white coat and last name, given to all ponies of Knight family blood.
Growing up, White Knight was teased a lot by the other fillies and colts. Living in a small village, there weren't many chances for such a genetic combination to happen, so many of them believed that only Princesses could have a horn and wings even though simple genetics shows otherwise, thus she was often called names like Phony Princess or False Royalty. Many also made fun of the many colors of her hair, often pulling at it, calling it a wig, and trying to dump ink on it to change its color, she would often come home and have to wash it right after school. She was a bit of a tactician and began to formulate the best places to be at different parts of the day to void the bullies, like she knew there was less of a chance for her to get ink dumped in her hair if she sat at the back of the room with no one sitting behind her. Through all of this however she stood her ground, she liked herself the way she was and if they didn't like it, that was too bad for them. She wasn't without friends, there were a few others who were picked on as she was, all for different reasons, and she would always stick up for them as best she could when they were being picked on. Of course though, the cowardly bullies would all gang up and start making fun of her as well, at these times she sometimes let her temper get the better of her.
She resented the Princesses when she was young, if they weren't Alicorns she would never have been teased for being one, and her father wouldn't be called out of the village very often if there weren't any of them. He wanted her to follow in his footsteps and become a guard, but she refused time and time again for him to teach her. She wanted nothing to do with the Guard or the Princesses, but this decision made it very hard for her to find her special talent. Until one day, her village was attacked by a horde of monsters.
These monsters were known as the 'Terrible Trolls', wretched creatures who hate most if not all Ponies. They say Ponies are ugly creatures, and wanted to purge them and change them to their own warped designs with their twisted magic, and so often attack pony villages in droves. They arent't smart enough to realize that they were the true ugly ones, not because of their wicked appearance, but because of their disposition and the way they treat others, as though they had not morality or self-respect. It's very hard for anyone to understand these monsters, their language is strange, similar to the Pony language but if it was written on paper it would be as though there were so many spelling mistakes, a lot of it just sounds like incoherent gibberish and yelling like banshees. There are two theories as to where these Terrible Trolls come from, one states that a pony turns into one of these Trolls when it looses every shred of happiness and kindness it has, while the other states that when the creatures that exist in the dimension parallel to the pony dimension fall into this world by accident, the kind and good ones are turned into ponies, while the mean and nasty ones turn into these Trolls. Some believe that perhaps both theories are true. Any attempts to try and make piece with the Trolls have failed, for their leader, Captain Skeez as they have been dubbed by many in the Guard, has the mind of a toddler. Any ambassador who tries to talk civilly with Skeez gets a nearly incoherent speech about how their Trolls act on their own and they have nothing to do with it (even though you would have to be blind to not see Skeez setting them in motion), or even ignored completely, as though they don't even see them there. When a harsh tone is given to Skeez after their concocted speech has been given, they begin to scream profanities and utter nonsense, like a child who has got in trouble for drawing on the walls. The Trolls blindly defend their Captain, saying they are a great leader, even though it has been proved on more than one occasion that that is completely false.
White's Father and his faction were sent to drive the Trolls off during the attack but a few of them slinked into town and began attacking ponies. White had been hiding in the house with her mother, but seeing what was going on outside she had to help. She ran out to a troll who was about to attack a young brightly colored filly and bucked the monster right in the jaw. A few houses were burnt to the ground in the attack but luckily only one pony was hurt... White's father. His eye was scratched deep by one of the Trolls gangly uncut nails, and thus it became blinded, with only one eye he was unable to stay in the guard any longer. He didn't let it bother him though, for things could've been much worse, and he still has his family no matter what. After the ordeal White had a new found respect for the Royal Guard. While her Father was recovering in the hospital, White would stay in his room and ask him questions, many of which he had tried to tell her about before but being so resentful of the Guard and the Princesses, she would never actually listen. She learned of the Trolls and what her father did to help protect not only their village, but all the villages on the boarders of Equestria. She was very intrigued. After he had recovered completely, she finally asked him if he would teach her the ways of the Guards so she could become one, which she finally understood was what her true talent was, gaining her Cutie Mark, a star in the shape of a heart, of similar style to the Guards armor, she wanted to protect all that she could from these Trolls and any other threats that may try to cross the boarders as her father did. He taught her all of the flight maneuvers and tactics he knew, finding out that White was a born tactician. White's Mother didn't know very much about magic, however she decided to read up on the subject of magical wards and taught them to White, to help keep her daughter safe while fighting.
When White was finished with grade school, she went right to the Guard Training Academy, she had been accepted after showing off the skills taught by her Father and Mother. There she learned even more than she could have imagined about the Guards, she knew for sure this was what she wanted to do with her life. At first she was sometimes teased much like grade school by a few immature young adults, but after they found out what she could do it died down. She graduated with excellent marks, for she applied herself to her studies both physical and mental, and was even given special mention along with a few others by Celestia herself, White found she had no more resentment for the Princesses, but rather pride to be able to share the same species as they did.
White was sent by request to the boarder faction of the Guard, where she rose up the ranks to Captain of the faction for her tactical skills. There were far less causalities during attacks when she is on duty. After becoming Captain she decided to attempt what very many before her had tried, to organize a treaty with Captain Skeez, however like many attempts previous, Skeez merely spewed out their phony speech and then ignored White completely. White was nearly captured by the other Trolls on her way out, but thanks to her Fathers flight maneuvers, they weren't able to catch her. Who knows what they would've done to her, maybe clipped her wings, or sawed off her horn, these were truly awful creatures. Because of this White took her job even more seriously than she did before, when an attack is surely to come she orders her guards around with an iron hoof, there is no room for error with her around because any error could lead into ponies getting hurt. If an error is made her temper shines through, and that Guard thinks twice about ever making the error again. Newer members of the faction may think she's a bit harsh or loud, but they soon learn that she is only doing what's best, for the Terrible Trolls are crafty and not following her orders to a T could be the difference between a successful counter attack and an entire village burned to the ground. As she flies into battle, her long colorful mane flows behind her, like a flag signalling her troops.
Recently a new group of trolls has formed, calling themselves the 'Goblin Battle Unit'. They claim they are not Trolls and do not associate with them, but White doesn't buy into their lies. The Goblins look and act very similar to the Trolls, but in a slightly more discreet manner. She has witnessed the same deplorable atrocities from them as she has from the Trolls, and thus has a faction of her guard stationed near the Goblin habitat. If they make a move, she'll be ready.