Conchita Done! + SMASH! Report
0 Favourites
23 Comments
1K Views
2 weeks ago, I finished sewing my Conchita!Meiko cosplay which I ended up wearing to SMASH. ^^ Yay early! What was funny was the fact that what inspired me to make it was my accidental (yes, accidental >_>;; don't ask) purchase of 5m of red satin that I had absolutely no use for. So I was like "meh, I may as well make Conchita!" and there you have it - I'd always thought it was one of Meiko's most beautiful costumes and had contemplated doing it anyway. XD
[PROGRESS PICS REMOVED UNTIL FURTHER NOTICE BECAUSE SOMEONE STOLE MY WORK & REUPLOADED IT AS THEIR OWN.]
I would have actually liked to make the skirt a lot bigger & fuller, but all the hoop petticoats I found online were too short! Dx I'm quite tall for a girl so most of them hang far above my ankles ;__; maybe I'm looking in the wrong place, I dunno. But it's ok, at least I managed to find one appropriate for my height which I used, which is fairly smaller than I would've liked but still sufficient nevertheless.
SMASH! Weekend
Mostly a trimmed-down copypasta
from LJ
, but still

This has been one of the most hectic weekends of my life. Who knew that 2 days of cosplay could be so exhausting, even though I've had one costume finished 2 weeks ago and the other costume finished more than a month ago XD
It's been almost a year since I cosplayed to a convention (I've mostly been doing shoots, and I didn't cosplay to Mini or did a proper cosplay for 'Nova since I only went to judge). So I'd forgotten how busy it gets & how much we had to do lol. But I had a great time, and I got to cosplay yet another 2
Vocaloid
outfits so I'm in a very good mood (still hoping to do even more, I love
Vocaloid
too much XD).
Friday: Tsugai Kogarashi shoot
On the day before SMASH! we got ready in the morning and
zimiel
,
JKale
and I went on ahead to the photoshoot location (Campbelltown Japanese Tea Gardens). Let me say that I'm never shooting there again. The receptionist was an old hag who was
incredibly
rude (full story
on LJ
). But, whatever. As long as the shoot's done.
So!
zimiel
and I did our long-awaited Tsugai Kogarashi shoot :'D We haven't been planning this for very long but this is
my favorite Vocaloid song
of all time so I'd always wanted to cosplay it. As someone who sings & also likes to write songs, I never get tired of hearing such a beautiful song; hopefully we did this PV justice. ♥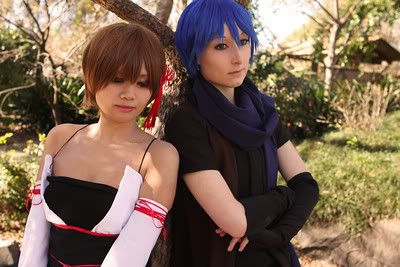 Tsugai Kogarashi


zimiel

as Kaito | Harmony/myself as Meiko
Thanks Alan/Bubby for this photo and JKale for helping out!
The highlight of this day was when Alan suggested we do a hugging-from-behind shot. I instantly envisioned a kind of manly shot where Kaito was hugging Meiko from behind, but then
zimiel
turned to me and said "ok, I can lean back into you" and I was like oh wait, I'm the man? HAHAHA XD So cute that her instant reaction was uke!Kaito XD
We met up with
SweetSkitty
and had a really late lunch (which was also an early dinner?), then Alan and
SweetSkitty
went home and
zimiel
&
JKale
came with me to stay at my place for the weekend.
Saturday: SMASH!
SMASH was amazing, as always. Definitely the best Aussie con 8Db as soon as I came I got dressed in my costume and went to see everyone at the artists' tables. So much fanservice wahhh 8D got to see people in sexy
Vocaloid
costumes as well as sexy costumes from other fandoms I've yet to acquaint myself with but still looked amazing anyway XD I finally got to meet
alysael
and
mukuroma
for the first time too, which was an immense pleasure because they are seriously so sweet and it made me really happy to be able to talk to them ♥
I was very happy to get
strawdoll
and co.'s
Vocaloid
cosplay ROM and
strawdoll
and
itakoaya
's
Vocaloid
artbook, which I've been perving on the last few days ohohoho XD I also swept up
Silver
's adorable
Vocaloid
badges pretty much the moment I reached her table &
blackraven162
gave me a Meiko nendo later that day which was so sweet of her <3 <3 After going around talking to all the people (which is a lot more fun than it sounds) and hanging with
SweetSkitty
and
Ttwisted
for a while, the cosplay competition started ...
Silver
got changed into her 2nd costume & went off, and I didn't enter but I went to watch and perved on everyone.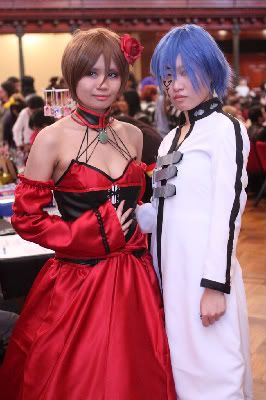 Obligatory silverharmony photo! Taken before the comp started <3
Harmony/myself as Conchita!Meiko (Vocaloid) | Silver as Gerard (Fairy Tail)
Thanks Alan/Bubby for this photo.
I also got to make some lovely new cosplay/con friends who I exchanged general contact details with, and
beethy
offered to do a shoot for my costume so we did a super-quick shoot outside. He's very talented as a photographer so the result was quite lovely:
Harmony/myself as Meiko, Conchita version
Thank you beethy for this photograph - please click on the thumbnail to go to his original deviation!
I cosplayed solo that day, but hopefully I'll also be able to do a full shoot later on with my Len & Rin (and possibly Kaito, depending on if we still have him or not XD)
After the cosplay comp results were announced, that was pretty much the end of a long and satisfying day. Congrats to all the winners, it was much deserved!
At 4am Monday, after spending an epic Sunday night together involving karaoke, dinner & cake, I dropped off
zimiel
&
JKale
so that they could fly home, and that was the end of our hectic weekend. For now. XD
Con season has just started and Manifest con (or yet another
Vocaloid
con for me since I'm doing Meiko again both days XD) is coming up in 2 weeks ... I've decided to rewear Tsugai Kogarashi for the first day as a solo costume, and do Alice Human Sacrifice for the second day with our lovely group ♥ originally I was considering rewearing Conchita but it's going to be very hard to carry interstate so in the end I decided against it. Thanks though to everyone who voted in my latest poll!
And then it's Animania with our epic
Trinity Blood
group. I've been making some progress on Seth, but more on that later

*Goes to sleep forever lol*
~ Harmony