Stamp Collection | Gallery
Rules for Commissions (Please Read!)
1) If you want to a commission, please note me or comment your information here. I won't answer if they are in my profile comments.

2) If you have an OC/FC, please send me a pic of them. Please don't tell me to draw someone if I don't have the reference of them.
3) Be specific about your commission. If you want a picture of your character eating ice cream, then I will draw them eating ice cream. I will draw them however you wanted to be if you just tell me how you exactly want it to be.
4) I'm doing slots so I won't overdue myself. If the slots are filled, then it's closed. When all the slots are gone, I will reopen them whenever I'm ready.
5) I will not start the trade until it's paid. So make sure you paid before I start the commission.
6) Please let me know if you want to cancel it before you leave or deactivate dA. If you already left dA, I will cancel it.

7) Please send the points to the commission widget. Please don't send them until you confirm your commission information by noting me or comment here.

8) There won't be a specific due date because I can be really busy in real life. Please don't rush me, but do remind me about the commission.

+WHAT I DO DRAW+
-Sonic-
-Yoshies-
-Anthros-
-Anime-
-Fursona-
-Persona-

+WHAT I DON'T DRAW+
-Sexual Content-
-Pornography-
-Extreme Violence-
-Hate Art-
-Nudity-

Note: Commissions on sale, get now before price raises.

+Digital Art/Half Shot --100

(ON SALE)

---Background --+10

---Extra Character (2 or more) -- +10

ea.
+Digital Art/Full Shot -- 120

(ON SALE)
---Background --+10

---Extra Character (2 or more) --+30

ea.
+Comic Drawing -- 140

(ON SALE)
---More than 4 Panels -- +20

(every 4 panels)
---Extra Character (3 or more) -- +20

ea.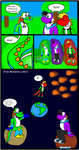 (Slots)
1) Turbo-Tails-8027
2) (empty slot)
3) (empty slot)
4) (empty slot)
5) (empty slot)


...
Fanfiction.net Page
I usually visit Fanfiction.net. I have some fanfics published there. I'd like to get reviews!