Hi there!
I'm open for commissions!
I'm open for a lot of different mediums and motifs, but I guess most of my commissions will be portrait-like drawings, so here's more detailed info for basic portraits.
But please don't hesitate to message me if you want to ask anything (do you also draw X?), we can discuss every idea you have for a commission:
Sillageuse@gmail.com

Animal portrait (1 animal), Din A4, coloured pencils, simple or no background:
150,- EUR
.
Examples: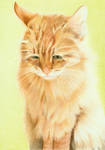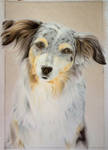 Dark animals or animals with large dark parts (like dark brown, dark grey or black) will cost extra, because dark colours take more time.
Example: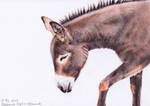 If you prefer a portrait of two or more animals (on one sheet of paper), each extra animal costs 50,- EUR.
None of these prices are guaranteed to apply to what you wish for,
I will tell you the final cost after we have discussed the details, but these prices are the starting point for your orientiation.
For example, black and white drawings (pencils only) are cheaper, human portraits are more expensive. The price is lower if the size is smaller and of course the price is higher if the size is bigger. Detailed backgrounds will cost more, sketch-like (rough) drawings are cheaper, etc. (You get the idea...

)
Please message me at
Sillageuse@gmail.com
if you're interested in commissioning me!