Not only commissions, but ORIGINALS: physical art shipped to you!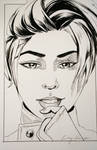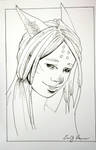 (Please excuse the phone pics.)
The pieces will be archival ink on 7x10" Bristol board and feature a single portrait. Video game characters, OCs, favored celebrities, and loved ones are all accepted and will be treated with equal TLC.
Shipping is included. The cards will be mailed in secure, reinforced envelopes.
Due to the limited nature of this run, payment is required up front to secure the slot on the waiting list... which lives in a cute
Google Sheet [click here]
, from which you can track my progress. This is meant to be a rush challenge, and all sixteen will be complete by the end of this weekend!
I'm really excited about this run, and I hope you guys are, too. Enjoy!