Hey there, I'm Silent Dawn, also known as Aizen Kanashimi, but call me either one you like.

Note, you do NOT have permission to use my characters, or any characters that are in any pictures I submit. If you want to use my character in your art, you have to talk with me about it first.

Give a Llama, get a Llama. Give me a watch, I might give you a watch.

A place you can find me: lovinity.org/start.htm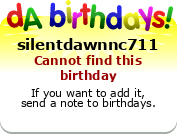 Get your own CrushTag!