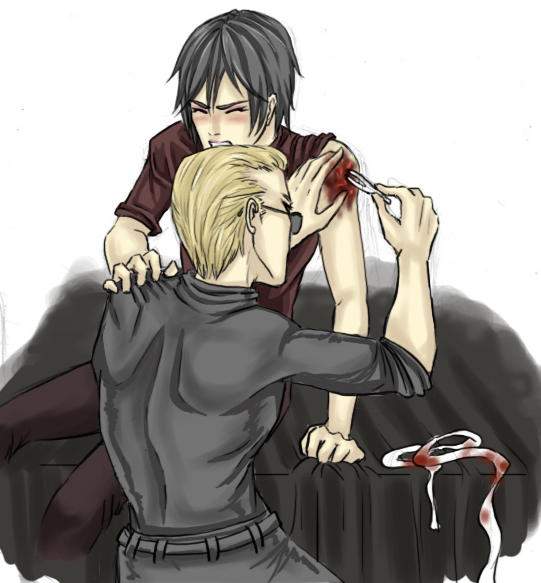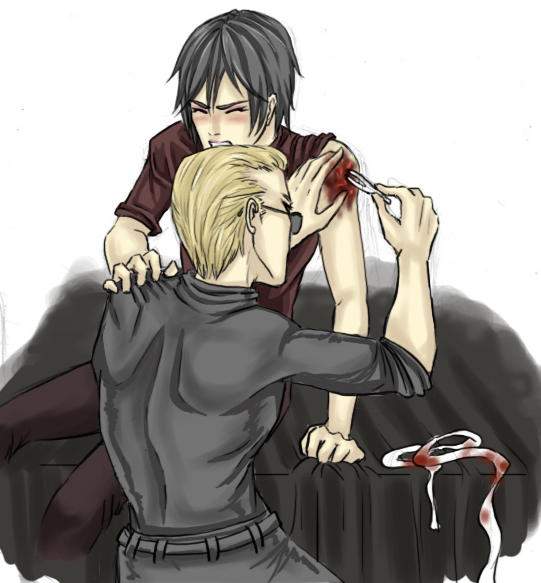 Watch
I wrote a fic for this here:
[link]
(I got some inspiration from ~
Camala
's Wesker x Ada fic on FF.net to help write some parts, and also makes a few references to it too...please continue your fic Camala, I loved it D: )
Without a word, Ada quietly sat down on the large bed and leaned against the many propped up pillows. Training her eyes on Wesker, she was unsure of what to expect. Even though she lightly grimaced as he gently rolled up her sleeve, he seemed professional enough to know what he was doing. After all, he was a scientist; immaculate and ever-knowing. As he carefully un-wrapped the bloody bandages, Ada tried not to groan when the pain started kicking in.

"Is that painful?"

"It hurts a lot even if touched softly…It's been like that for a while now."

"Hm…Hang on, I think I know why."

He took a gentle hold on her bloodied arm, pressing into the wet flesh. She yelped.

"Agh! Ow…!"

"Hmm…It's unusually stiff." To emphasize his assessment, Wesker softly patted the wound. "There's a bullet in here."

"What?"

"You've been too tired to notice."

Wesker reached for the first aid kit and pulled out a pair of metal tweezers. As he turned his attention back to her arm, he lowered his shades further down the bridge of his sharp nose to aid the tweezers in the right spot. "I'm going to pull it out." On hearing this, Ada suddenly jerked away.

"No, don't! I-it'll find it's own way out..." As she tried to reason with him, Wesker was already placing his hand around her left arm, drawing her shoulder near his face. Never taking his eyes off the wound he replied. "Unlikely. It's buried deep inside the flesh." There was no running away from the pain that would soon follow, and she held her breath accordingly.

"Wait...Let me prepare mysel- AGH!" Wesker didn't wait for her as she was about to hold onto his right shoulder for support. He slowly drove the utensils deeper into the gash completely unphased with Ada's cries of agony or the fact that she clutched at him tighter, squeezing his shoulder more and more.
oh, and I submitted the first chapter to that ''Phalex'' fic too ;D and yes, I know, I write AND draw weird....