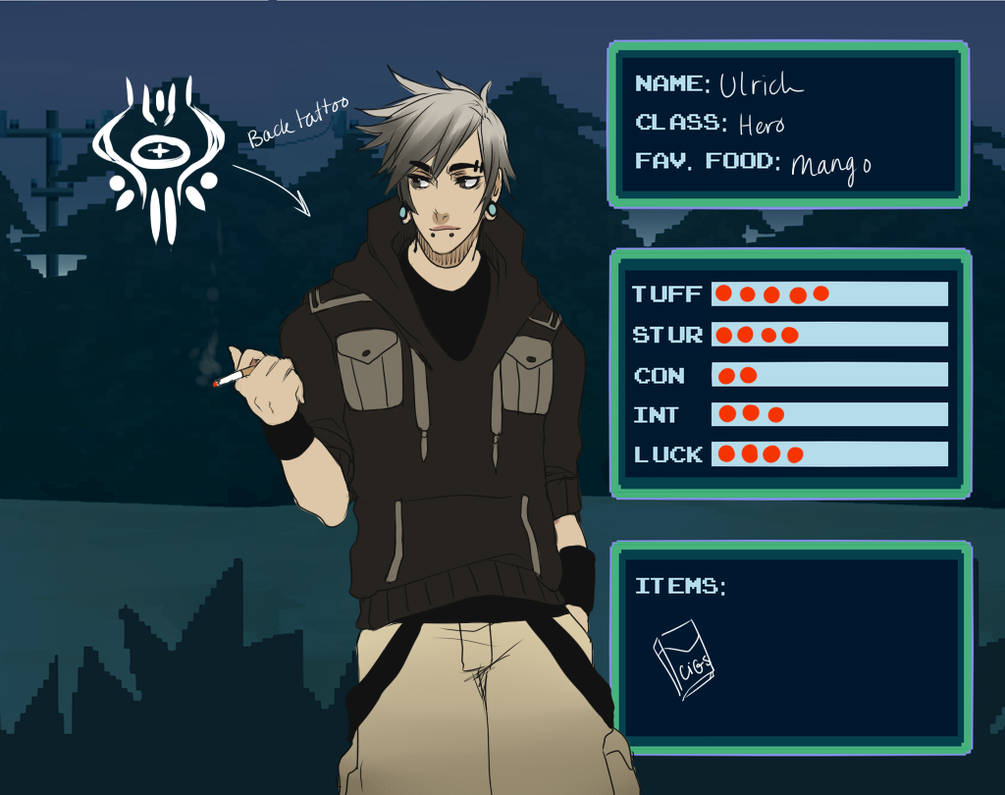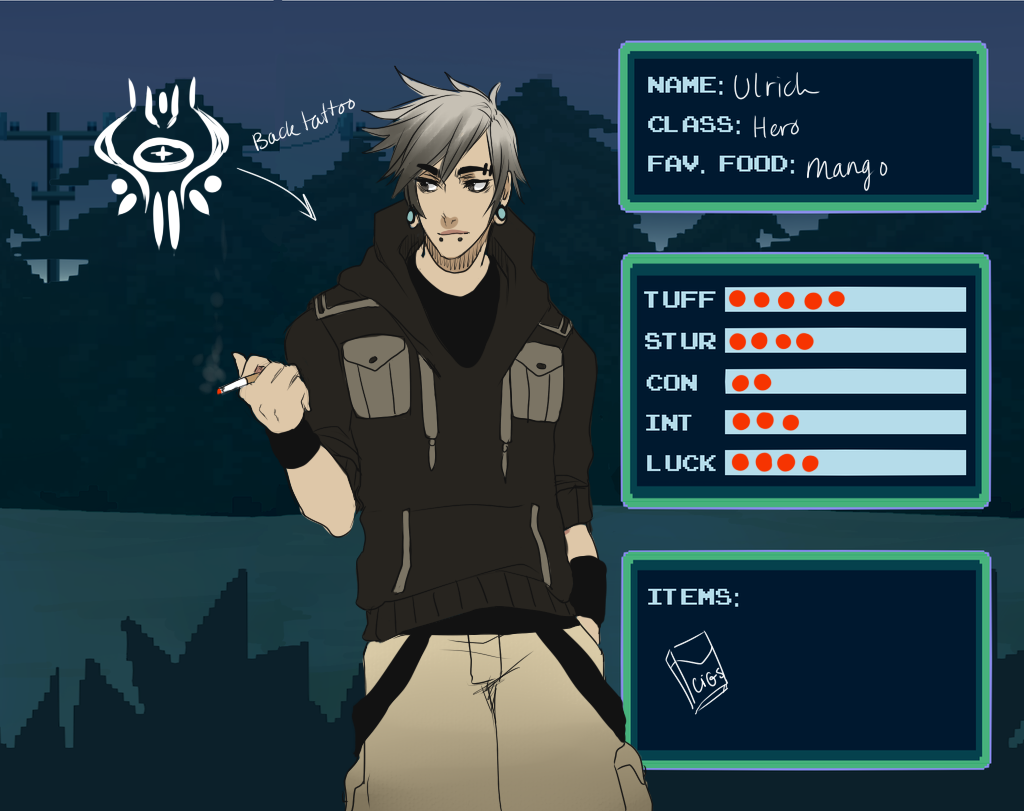 Watch

■ Name: Ulrich■ Gender: Cis Male
■ Weight: 196lbs
■ Height: 5'11■ Age: 26
■ Sexuality: Pansexual
■ Class: Hero
■ Occupation: Freelance handiman
■ Favorite Food: Mango■ Items: Cigs

■ Personality:
Smug | Happy | Secretive (good at hiding things) | Calm | Loving | Reliable | Honest (When up front with him)

+ Menthol cigs
+ Video games
+ Big coats
+ Lemonade
+ Big dogs
+ Cuddling
+ Tattoos

- Smudging pen marks
- falling asleep while cuddling
- Aggressive cats
- Getting his socks wet
- Tripping on stairs

■ Other info:
- Pretends to be human; Doesnt like to admit to what he is.
- Loves hugging and holding onto others
- Would eat only fruit forever if he could
- Becomes very tired in warm areas

■ Stats: | 15 + 3 Hero stats + 2 big kid vitamins (30)

TOUGHNESS: 18
STURDINESS: 15
CONFIDENCE: 3
INTUITION: 9
LUCK: 3

■ Background:
"I dont know how I got here. I dont know what I did."

"Help me"

It was a bleak existence at the beginning. Living in the woods as a stray, gave no cares. Happy. Humble. But not harmless.

Instincts I couldn't control.

It got better, though; I roamed closer into town, met a few kind people. A family or two wanted to keep me, but I knew it wouldnt work out. I'm a large canine; I eat too much for a human family to afford. I also knew I couldn't let them see the more aggressive side to me. A monster. I knew what I held back- what I was capable of. There was no way, I would involve a human into the darker half of me.

It wasnt until I roamed too far out of my usual territory, did life seem to throw me another curve ball. The circus. What an awful place- but it taught me to appreciate what little I had. That there were cruel people, but also that I could find kindness in the most unexpected of places. I met Reginald, whom was just the same as I was.

I escaped with the accidental help of a man who seemed to just want to steal my cigarettes I'd obtained from a passerby some time ago. He left the gate open, what a lucky break for me. I ran as far as I could, and before I knew it- realized I was in an entirely new place. There were all sorts of creatures; not just humans! How spectacular!

It was then that I met my first resident. Gwen. I met her purely by coincidence, but I thank my lucky stars, I did. I wasn't completely truthful with her; I never told her I could shift. There are always so many questions to answer. It's easier to ignore them as a dog. As a beast of a mutt. A filthy mongral. It actually surprised me a lot that she nicknamed me, and allowed me to stick around. "Rex" sounded like as good a nickname as any! The first kindness since I'd last seen Reg. I can't stick around after she leaves for home, as her apartment wont allow me, but I will wait until morning, when she returns.

Not long after I ended up meeting my first Non human friend, Monty. He was walking all by himself, when I ended up catching his scent, and wandered to him. It seemed so strange to see someone out after dark- I was honestly very worried for him. All sorts of things could happen; So I ended up walking him home. I continued to do that ever since. I know he can handle himself if he needed to, but I dont want him to risk his own safety like that. I enjoy visiting him when I can, or when he has time, though I feel guilty about it, since he might have other things to do.

I've been homeless since escaping, but Dane was kind enough to offer me a place to sleep. He also has been giving me food, which I dont deserve. I kept crying about his kindness- hopefully he doesnt mind. I feel like a cry baby around him. He has such a kind heart, and I want to protect him. He's very precious to me, too. I keep wondering if this is just a good dream- Maybe he'll turn around and change his mind soon. I'll enjoy it while it lasts.


■ RP method: Short paragraph lit, or script | I dont have a lot of time, but I will try my hardest to keep up. I also headcannon
■ Shipping?: Yes! But it would have to be organic

■ Current relationships:


Delilah (TwistedCorn) - "Feeding cats is painful-"


Gwen (PDeez) "I love Gwen. She's always so kind to me. Especially letting me stay with her during work. I'm really relieved she forgives me for not telling her. She's very precious to me."


Circe (PDeez) "I like coming to visit her and her gran- she's so sweet all the time. She deserves so many good things."


Eu (PDeez) "She knocked out Gwen and punched me in the face!"


Monty (hellebee) "I meet him at the pub, and walk him home every night. He is very precious to me. I will protect him with my life."


Merle (hellebee) "Crawford's master- he seems pretty lonely, but I really like him. He lets me visit my two favorite crow friends!"


Jun (NanoColors) "We met at this really cool party. I like to come visit him at work, and enjoy his company. I look up to him a lot, and he gives great advise."


Hans (NanoColors) "He and his extra hands always give me the best pets!! I just want to show him how much I appreciate him some day."


Reg (ourmaskoflies) "I look after him when hes scared or in need of hugs. We've been friends a while, since the circus."


Len (ourmaskoflies) "They seem nice!! They let me spend the night at their home once. Definitely should go and say hello to him again some day."


Dane (lord-loser) "Dane is so kind to me, I'll never be able to repay him for everything he's done for me. I love him very much."


Mords (padrooke) "He was nice enough to offer me a watch!! But then he bought me food and I accidentally cried on him- I owe him a lot!"


Daniel and Lily (Radicles) "Those two are so precious!! I want to look out for both of them, because they are so sweet. Dan was even teaching me about tomogachis!! I will learn the hang of it some day!!"


Malign (Valiuum) "He's very nice to me and I really enjoy spending time with him!! He smells like cookies from being in the bakery all day."


Matti (Reiki-kun) "He gave me a bandana around my neck, and I'm going to cherish it forever! Seems to have a little bad luck, but I'll help make sure it doesnt get him too bad!"


Nino (Reiki-kun) - " I worry about him not being able to see, but he seems real safe with Hans!! He's a great napping buddy too."