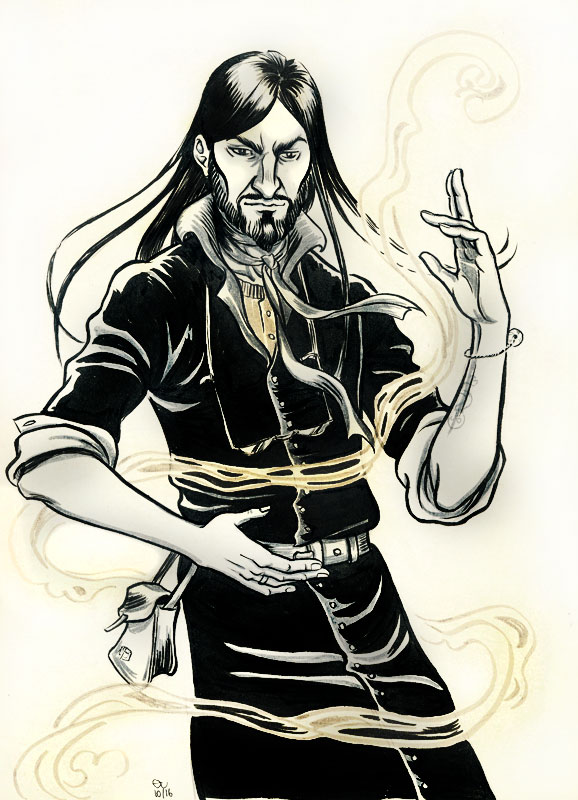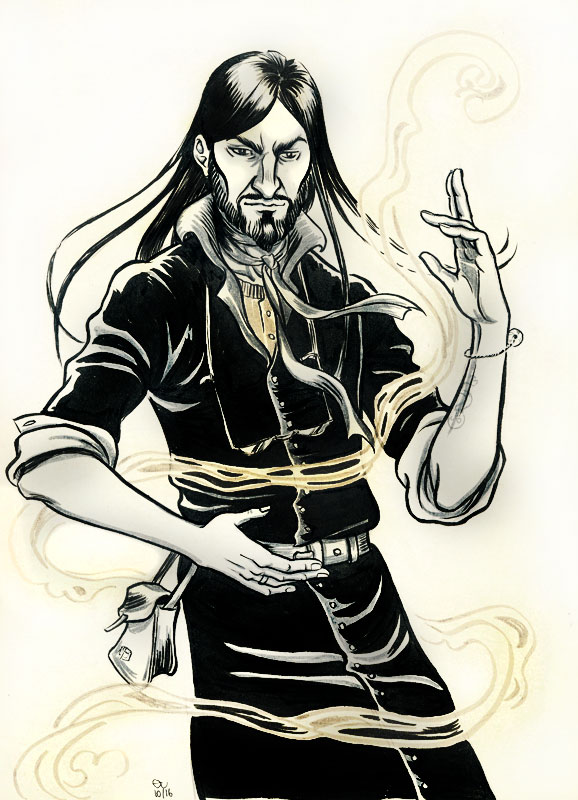 Watch
Inktober day 23: post-DH bearded Snape is delving more deeply into magic than ever, and he is an enthousiastic student of wandless spells.
The bracelet with the bead is a gift from his youngest daughter; he doesn't dare to not wear it

.

I'm sooo in love with your "new" Snape!

And headcanon about Snape's children is so adorable) But it's very interesting for me to know who is their mother...)
Reply

Thank you very much! I'm really glad you like him

.
...I tend to avoid mentioning who is Snape's wife in my headcanon because it won't please a lot of people and I want them to enjoy my images without thinking of that. She's an original character I invented almost ten years ago, so I almost forget that she isn't in the books

.
Reply

I like original characters
although my favourite pairing is SS/HG) Anyway, thank you for giving Snape
harmony and happiness in his life.
He deserved it.
Reply

I love this bearded Snape! And the wandless magic...I think he is quite proficient at it. And the bracelet is a really nice touch...I love that it's a gift from his daughter.
Reply

Thank you!

Yes, I imagine Snape is quite proficient at wandless magic. He'll apply himself to anything magical until he excells at it. Plus, it's super useful! He'd appreciate that.
Reply

I really like your new post-DH Snape. I've always love the long hair on Snape, and the beard looks good on him. He also looks taller or thinner, somehow. Well, IMO he is very appealing)
Reply

cabepfir
says I'm making him too handsome. I think she has a point

- but I'm not doing it on purpose!
Fact is, there are three to eight years between my old Snape art and what I'm posting now. Recently my style has become much more loose and fluid and I'm less afraid of exaggerating some things, whereas in the past all my characters tended to be a bit stocky and stiff. I think (or hope

) that is what you see.
My view on Snape has changed somewhat after my break from fandom, and when I think about him post-DH now, I want him to look different because I believe he would have changed - not much, but, you know, a burden has been lifted from him and he has lost some painful memories. To my mind he's slowly growing into a kind of Slytherin, Dark Arts-loving version of Dumbledore, so I thought it was fun to give him reading glasses and long hair and a beard (though a short one - it's still Snape, it has to remain sufficiently practical), and he is less buttoned-up than he used to be

.
I have to say that I love drawing him like this

. I'm really glad that you like it!
Reply

"Youngest" daughter implies he has at least three; if there were only two, they would be "elder" and "younger." I love the idea of Sev in a home full of little girls. He will be going crazy when they reach adolescence and start getting boyfriends. "Daddy, please don't Legilimize Barry like you did John!"
Reply

Eek, that is my non-native-speaker mistake... In its current constellation in my head, the Snapes have four children - two girls, two boys - and the youngest (as the eldest) child is a girl. I actually started off with the idea of two children (this goes
WAY back
), but as I came to revisit my Snape headcanon in recent months, I thought he might want more (in a weird combination of, "Do you still love me? Let's have another baby" and "Actually I'm not too bad at raising kids. Let's have another go and perfect the recipe"). His wife has called a stop after four though.
I do imagine Snape gets along much better (or, well, more easily) with his daughters than with his sons, because his sons remind him more of himself and he is extra worried that they might make mistakes similar to his own. He is super proud of the girls, but yes, he will absolutely go crazy once they get to their boyfriend phase. There isn't a boy born who is good enough for Snape's daughters. And he will certainly not refrain from submitting them to Legilimency XD. Sooner or later he will have to realise that this is a Bad Idea and if he doesn't start behaving himself, the girls will just keep their boyfriends a secret.
Gosh I need to draw the Snape children.
Reply

Using "youngest" when there are only two is technically an error, but it is extremely common usage among native English speakers, so you have no cause to be embarrassed. I mentioned it out of snarkiness, because I am a complete Ravenclaw when it comes to language, and also because I love the idea of Severus with multiple daughters.
Maybe one of Sev's daughters will be a lesbian, and it will take him forever to realize he needs to be Legilimizing her girlfriends instead of her boyfriends.

Reply

I do like the idea of him having a daughter :3
Reply

Great movement in this one. I also wore bracelets that my daughters made and didn't dare take them off!
Reply

Thanks! I do try to make my drawings more dynamic, I feel that I tend too much towards the, you know, stationary.
I received a bracelet from my friend's daughter - it was one of those loom thingies, she's really good at them - and I stupidly left it on the windowsill one night, only to find it had pulverised by morning. I was rather upset, but fortunately the little girl had forgotten all about the bracelet next time I saw her

.
Reply