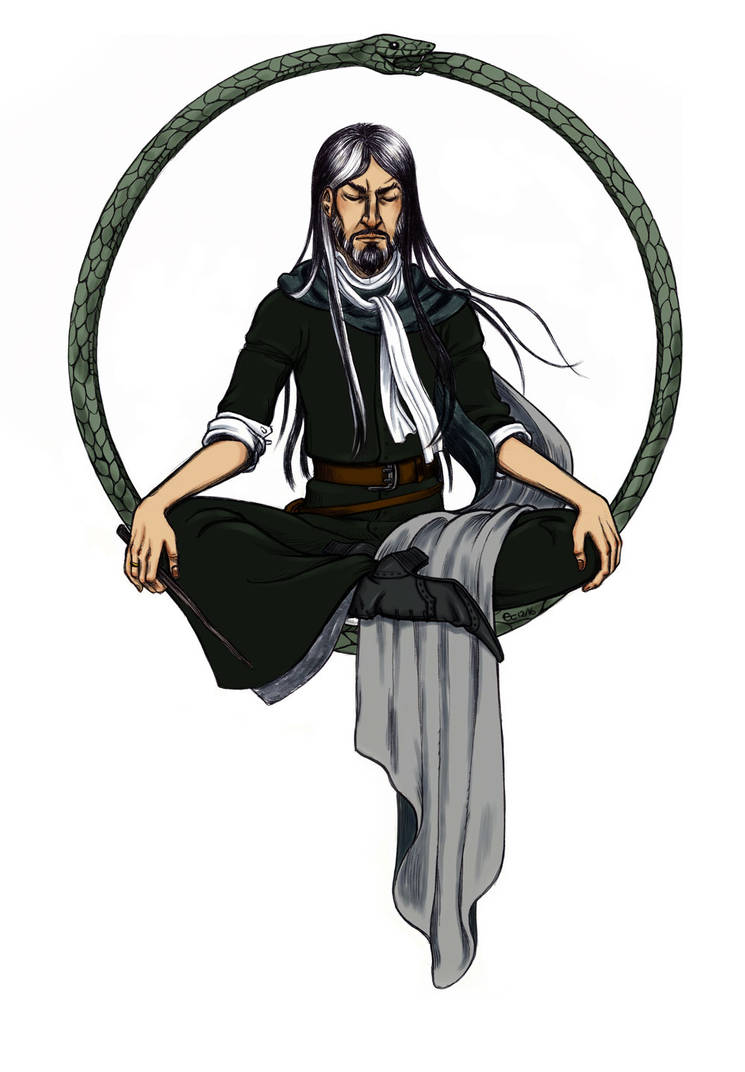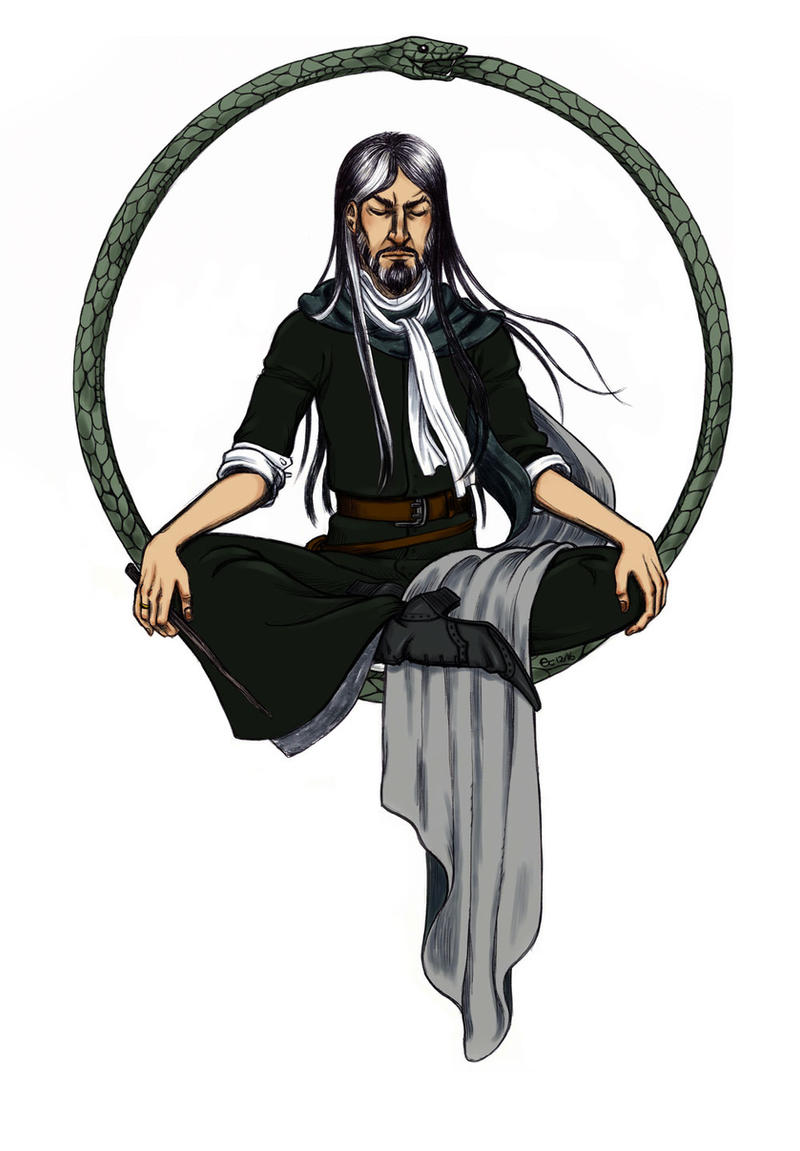 Second entry for
#snapecase
on LJ.
Post-DH, once recovered from his wounds, Snape starts travelling. He travels around the world to study at all the magical schools, observing, perusing their libraries, talking to the teachers — and he learns everything that he possibly can about magic. I mean: it's Snape. The man can fly without a broom, something which according to "Quidditch Through the Ages" is simply not possible. He knows more about Dark Arts than Dumbledore and more about White Magic than Voldemort. He has been inventing his own spells since childhood and he sucks up magic like a sponge. So now, finally free of his masters, he wants to know everything. He goes out there, and he learns.
This particular image is inspired by his stay at Mahoutokoro, where, I imagine, being an Occlumens and a man of opposites, he is particularly drawn to the Zen approach of magic. And of course levitation requires
no
effort at all.
Ballpoint pen on A3-size Steinbach paper. The greys were done with a Tombow marker and a Faber-Castell PITT pen. Colours were done in Photoshop.

Another nice piece of work! I do like your hand.
Reply

Mature, enlightened, morally principled and magically powerful Sev, having gone through Hell and come back out the other side, is going to put Dumbledore and Voldemort both to shame. He rarely thinks about that pretty but superficial girl he knew as a child, and NEVER thinks about her dunderheaded son.
Reply

Do I have to comment again to say how much I like this one? XD
Reply

I love the concept so much, it just makes so much sense! And what a believable facial hair Snape it is hehe. Ah well, I'm never good with words but all I'm trying to say is, it's my zen knowing that this idea is out there accompanied with a beautiful drawing

Reply

Awww, thank you so much!

I don't know what it is about bearded Snape... It just works so well? It gives him a whole different air, I suppose - like he's moved on and he's more at peace than he used to be. -I confess I need this idea to be out there too, because whenever I think about the rotten deal Snape got in canon, it makes me feel sad...
Reply

True, if he survived he'd revise his looks a bit to either 'hide' from his old life (to not accidentally bump into old acquaintances), or to feel like he's moved on. Or both heh. Think I've gone into full conspiracy theory mode lately about his death and have started to seriously hope that maybe, just maybe he may not necessarily have died... so your idea here is absolutely one of those plausible adventures he picked up as a free man! learn all the magic

Reply

No body, no portrait—he's not dead. That's been obvious to us Ravenclaws ever since Book Seven came out. And Slytherins too, I'm sure, but they won't mention it until Severus himself gives them the okay.
Reply

Reply

Reply