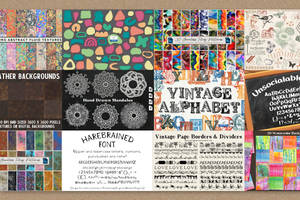 HG Designs Subscriber Area
Lots of high resolution goodies for graphic design including textures, photoshop brushes, seamless patterns and more.
---

Description
__________________________VV_i_n_t_a_g_e
33 png icons at 192dpi's (objectdock's maximum allowed size)
All i ask is if you download this set please add it to your favourites, so it won't end up in the darkest corner of DA's category browsing where no one gets to see it... Comments would be nice too!

_________________________C_o_n_t_e_n_t_s
3 for Download Managers | 3 for My Documents | 2 for Games
2 for Internet Browser | 2 for P2P Programs | 2 for My Computer
2 for Icons Folder | Notepad | Calculator | Clock | Control Panel
Drivers | Regedit | Fonts Folder | Dial-up | Incoming Folder | Lock
Cd-Burner | DVD-Ripper | e-Books | Premiere | Photoshop | Config
________________________O_v_e_r_v_i_e_w
This pack was created to suit my personal tastes and needs, since i use a lot of shortcuts for stuff wich just doesn't get popular attention by icon artists. I must say that i took my inspiration right out of a set of icons here at DeviantArt, although i can't recall the name of the author or of the said set. But i advise you to search for it if you plan on using mine, since there are some icons i didn't include (like recycle bin).
It's my first icon set, i never planned on creating one for distribution, but since i've done it why not let others enjoy it too...
__________________________W_a_r_n_i_n_g

None of this PNG's contain
drop shadow
, if i decide to release a second version i'll include the feature aswell as one or two essential icons missing from this set...

I use almost all icons on this set at once in my dock, but i got a confortable GB of ram and a pretty decent puter. Be advised that if you wish to use an equal amount of icons and don't have a lot of memory available, you should reduce the image size to avoid a
slow performance
. Since we're talking about resizing a lot of files, there's a pretty useful shell extension power toy for XP that allows you to batch resize through a simple context menu item, get it
here
.