Journal Entry:
Sat Apr 29, 2017, 11:43 AM
My first feature film "PHANTASM RAVAGER" is out on both Blu-Ray and DVD with commentary by myself and creator/producer Don Coscarelli.
Also out is the complete Phantasm collection box set that includes hours and hours of extras including a 50 minute "making of Ravager" I put together showing a lot of the process and behind the scenes footage of the filming process.
As if that wasn't enough...
Also out is my first music album "ZORGON: The Art of Monsters" featuring music heard in my drawing time lapse videos as well as much more. In the style of Electronica, Daft Punk, John Carpenter and 80's movie soundtracks.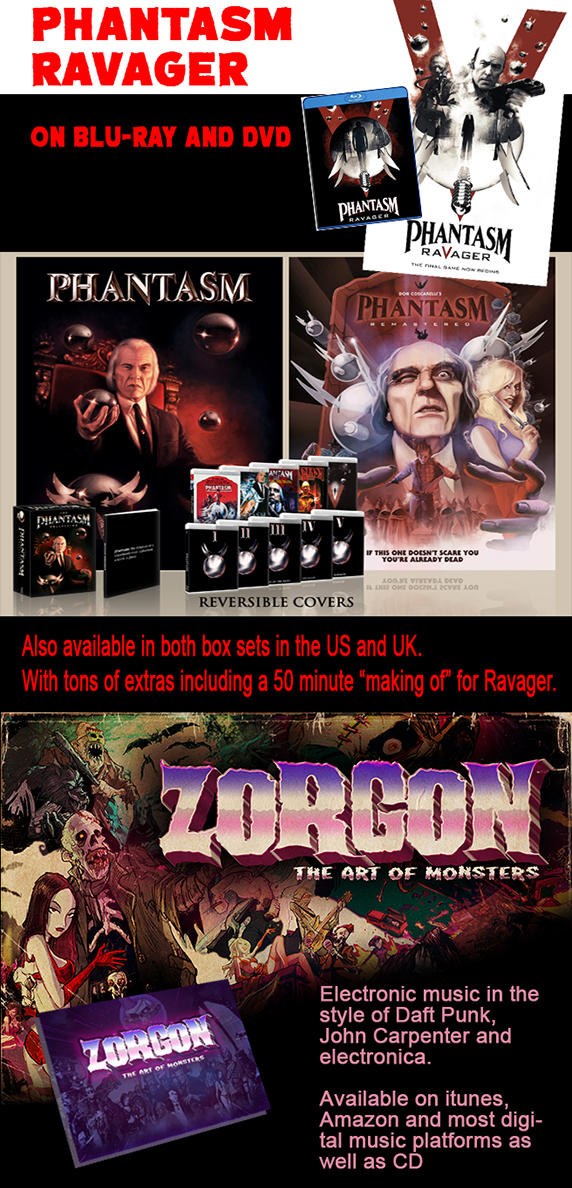 My television and film credits!
Click here to visit my website and sign up for the Sideshow Monkey Newsletter!
Check out my Wife's Art!!!


Watch

Great movie and Great music!!
Reply

Reply

Yea, I directed and co-wrote with Coscarelli.
Reply

I'll have to check that film out!

Reply

I made the mistake of purchasing the original "Phantasm" on Blu-ray ON THE EXACT SAME WEEK the new box set was announced. I don't know if I can afford to double dip, even if it's "Phantasm" we're talking about.
Reply

Thats a shame. Maybe you can return it? The box set has tons of stuff on all the movies if you like behind the scenes stuff.
Reply

Cool. I knew this box set was coming. Think my budget demands I wait a month to pull the trigger though.
Reply

Yea, its pricey but is totally worth it with so many extras. If you like behind the scenes on filming this is a good box set.
Reply

Reply