Earlier today I received a message from our Studio B receptionist letting me know that a package had arrived for me. While I wasn't at the studio, I had my good friend pick it up so I could retrieve it from her later on. At first I was a bit weary to the situation, I didn't know who it was from, nor was I expecting anything in the least. All day while Raven and I passed our time at the mall, I pondered and worried about the strangeness of the situation. I found it odd that someone would send a bouquet of beautiful flowers and two carefully wrapped presents to the studio (who wasn't my husband to be anyhow!)
Later on in the evening, I met up with Nicole and I finally got to see the gifts in hand. I brought them home and unwrapped them to find two giant boxes of delicious treats, and a letter that made my heart and mind feel at ease again.
"SGT Dave"
, a soldier currently placed in Iraq had sent these wonderful gifts to me and the rest of the crew as a giant thank you for all the hard work we've been doing. I was so greatly touched by this gesture and am a bit sad that I can't share them with the rest of the MLP crew until we go back in few weeks. The flowers won't make it that long, and the chocolates I'll have to hide from my husband...but they are definitely coming back with me to the studio in November, along with the wonderfully written letter to share.
SGT Dave, thank you SO much for this thoughtful gesture. You really have the spirit of friendship in your heart...and I'm glad that
everyone
on MLP can help brighten your "drab and sandy place" even for a mere 22 minutes a day.
Thank you SO much again,
~Sabrina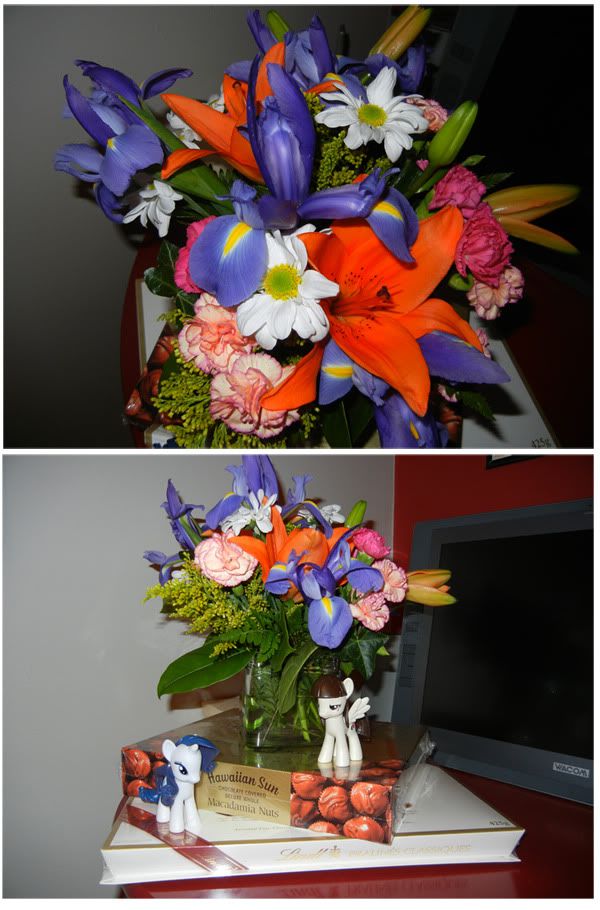 (Rarity and Wild Fire definitely approve!)


Lindt Chocolate and Macadamia Nuts?

I have not tried
Hawaiian Sun
yet, but I still remember how I tasted Macadamia Nut Creme for the first time

And
Lindt
is definitely a most delicious choice, it is quite popular here in Germany

Also, those are amazingly beautiful flowers. Congratulations for receiving such a great gift!