So we are 3-weeks in and not a single early release yet this season! It seems like we are on a roll! Fluttershy and Rarity are coming in this week with a bit of fashion. The secret still remains a secret to some friends about Fluttershy's knowledge about fashion. It's hard to believe that it's been since season one when we have last seen Fluttershy be in charge of any couture. These two have such similar traits that makes me love both of them so much more and I am so happy to see them at it again! No matter what issues become between these two, the problems are always solved at the end. This weeks episode is all about fashion! Lets review it and see how divine it is!
Ohh how I missed the Fluttershy episodes! This episode sure did please me to extent, but left me a bit shocked at the same time. Fluttershy's boldness is much more diverse than compared to the past and her character certainly is a lot more appealing like many other characters in the show. It was quite strange for her confidence go a completely different direction, but she is still learning nowadays to try and control it more. I really loved the creativeness with each character too, and it is clear that she certainly learned off of the shop ponies in order to get these different characters correct. I wouldn't necessarily hate on Fluttershy directly for being so rude to the customers because she was completely out of character anyways. She sure has learned a lot from Rarity over the years and it was only a matter of time for her to get this addicted to fashion!
If I were to pick a favorite character that Fluttershy played, I'm certainly going with Gothic Shy! Gothic Shy is finally canon everyone, and the design is STUNNING!
Right from the beginning, I knew Rarity could count on Fluttershy for anything related to fashion, but I never knew it would take ever more knowledge than simple customer service to run the most popular fashion shop in Manehattan! It was also nice to see Fluttershy's sanctuary in full swing, maybe in the future we will see a lot more of it in action... it is Fluttershy's life-long goal after all. Out of character, or whatever you want to call it, this episode was a lot of fun exploring her "ways" with different characters and eventually developing into a completely new pony with a lot more knowledge with fashion! Loved the amount of new shop ponies too, really nice to see their different trends and tastes for couture!
Well, well... Fluttershy's character continues to develop and we get to see that confidence go just a little bit too far. Though, I sure am enjoying the new, confident, Fluttershy!
NEXT EPISODE...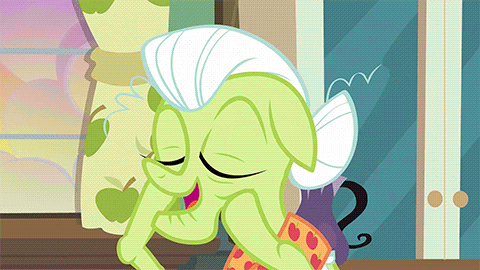 Grannies Gone Wild
Granny Smith and her friends are headed to Las Pegasus; Rainbow Dash tags along as a chaperone so she can ride the best rollercoaster ever before it closes.
Rainbow Dash... GOTTA GO FAST!! Oh what fun the rollar coaster will be!
OFFICIAL SEASON 8 EPISODE LIST HERE...
<da:thumb id="738192775"/>

((Fake It Til' You Make It episode link is up on my Twitter!))

Stay up to date with MLP on my Twitter!:
twitter.com/shutterflyeqd
MLP NEWS postings
EQG NEWS
MLP Episode postings every Saturday...AND A WHOLE LOT MORE!