The hiatus ended quite fast for the second half of season 8 arriving! Now is the time to adjust our schedule so we can fit that episode of MLP in! I have been dying to see more Discord again this season and it already seems like things are going to be quite chaotic because of him not being the chosen one to take care of Twilight's school. Starlight is a much more mature figure, and one can only imagine how much more disastrous things could have been if Discord would be in charge. Despite this draconequus not being in charge, he will be a bit irritated and jealous because Twilight picked Starlight instead of him. With this taking hold, I don't think that Twilight's school is safe in the least. Lets hope both these two are able to make ends meet and keep this big school safe!
Starlight Glimmer being in charge of things again... I could of only hoped that this would go very well because of everything she has been taught and what she learned. Things were off to a perfect start for Starlight and the students until Discord stepped in with all the chaos. Being the creature of chaos, i'm sure we all knew just what to expect from him. His re-appearance certainly did not go un-noticed in this second half of season 8. Discord was totally ready as he will ever be, but thankfully Starlight was there to stop him with all the madness he had going. From every corner of this episode, I could not help but hate Discord a lot more because of all this happening. It was so irritating just even seeing what tricks he had for Starlight. I would of expected Discord to be a little more understanding than just the feeling of being left out. The way he was helping didn't make a difference either and the things he did was only making it worse. The worst part is with Discord in this episode is that there was no remorse for all the destruction he was causing before and during the scavenger hunt.
A lot happened in this episode and Discord did not want to go unnoticed! As him being the creature of chaos, his character is very enjoyable every now and then... only whenever he's not deliberately causing harm onto anyone. It was quite the funny episode, but it's just a little bit too much of Discord ruining everything. His past from season 2 was already very devastating enough, but yet I love how creative they get with his character. Starlight was all fine and dandy until Discord stepped in. These two are pretty good friends, but yet I guess they need more time with each other. We had some pretty enjoyable moments from this episode, especially whenever Discord literally got banished from the school! That right there is what I was SO glad to see happen. Discord was being an absolute, no good villain all over again and Starlight totally made him sit down and stay down. The banana phone was too good as well... that is a classic meme itself! I sure wish I could favorite more from this episode, but Discord really got on my nerves.
If only Discord would of said he felt left out, none of this would have happened... maybe.
The wonderful, lovely days of Hearths Warming is here once again! Even though it may seem strange watching such a special this early in the year, it still is fun to see yet another Hearths Warming episode make its way through. The previous Hearths Warming special before this one was SO good and very beautifully done! The best part about these specials is that they always have a huge musical note that comes with them. After all... what is Hearths Warming without all the beautiful music? I'm so ready to dive into another holiday special and to see just how touching this one can be. I really enjoyed the whole concept of the previous special and hopefully this one will impress as well!
I really thought that we would get another musical note for this episode... perhaps even one with the student 6 singing. With no songs involved, this episode really did teach some important values on friends and family. Each of these students have a very unique way of celebrating their Hearths Warming holiday. If I were to pick my favorite holiday celebration, it is definitely going to be Silver Stream's! Partying day and night, in the ocean, and in the sky just sounds very exciting, and even more complete on the final day. I also would have never thought that any of the students would sabotage this holiday. Here I thought Hearths Warming meant a lot to everyone in Equestria, but yet some cannot Celebrate it in its full glory because one does not have a family or friends back home. Gallus surprised me at first, but knowing that we never really seen any other griffon with him, and the fact that some griffons still don't get along with each other, the pieces of the puzzle came together.
So as head mare Twilight was getting to the bottom of who sabotaged Hearths Warming, we got to hear some pretty interesting stories from each of these students. You always gotta keep in mind that everyone celebrates differently and not the same. Yona's way of celebrating is just too funny, but i'm glad overall that it makes her and her family happy. While all these students were as honest as possible, I'm very happy that Gallus came around and said that it was all his fault. Gallus had good intentions though because he did not want to leave all of his friends. The moment he confessed was just too heart wrenching, and I really do wish and hope the best for him with future holidays.
Whether it is friends or family, holidays would never be the same without them!








NEXT EPISODE...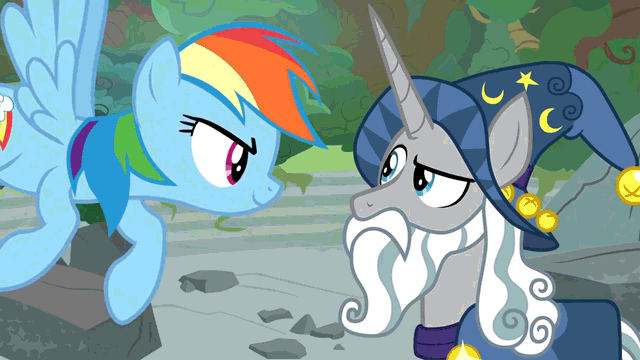 Friendship University
When Twilight discovers there's another school of friendship, she and Rarity go to investigate and are shocked to discover that Twilight's idol and Pillar of Old Equestria, Starswirl the Bearded, is enrolled at Friendship U!
That is what I'm talking about! More Starswirl! Can't wait to see just what he's up to this season and to see how well he is actually doing!
It will be rather interesting to see just what this second friendship school has to offer.
(
(Matter of Principals & The Hearths Warming Club
episode link is up on my Twitter!
))

Stay up to date with MLP on my Twitter!:
twitter.com/shutterflyeqd
MLP NEWS postings
EQG NEWS
MLP Episode postings every Saturday...AND A WHOLE LOT MORE!