As the title says I've finally got my new computer, so I can stop playing just a few shitty games and I can finally work with SFM without framerate issues, also I can use fucking shit AO and uberlights yay (I'm working on something btw, almost finished).
If anyone is interested, specs:
Motherboard: MSI Z97-G43
CPU: Intel Core i7 4790k
RAM: 16GBs of HyperX Fury
GPU: EVGA GTX 970 SuperClocked
PSU: Corsair CX600M
HDD: 500GB Seagate Barracuda (taken from an old pc, I'll buy a better one in the future, or an SSD, still not sure about it)
Case: Cooler Master K380
The CPU has a serious overheating issue at max clock speed so I had to downclock it to 2.9GHz until I buy a CPU cooler, but I'll probably wait for that, so yeah it's not working at max but it's still great.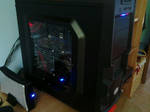 Here's a SD (Shit Definition) photo of it. The cable management isn't the best, but whatever it's not that bad either.
It's so sad that I already have a job so I can only use it in the evenings and weekends D:
Don't think I have anything else to say, so bye I'm gonna go play some Vidya Gaems