i love art!
art art art
I'M RESTRUCTURING HOW I DO MY COMMISSIONS. ONCE I HAVE EVERYTHING SORTED OUT I WILL OPEN THEM BACK UP! THANK YOU EVERYONE FOR YOUR SUPPORT!
So if you're interested send me a note and we'll get you into a slot!!
And here are the general price guides and rules:
Character Bust (One character , Head and Shoulders without background)
1 - Pencil sketch = $5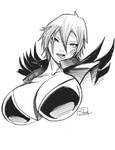 2 - Finished Pencils = $25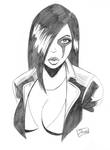 3 - finished Inks = $35
4 - Gray toned (similar to a Manga) = $45
5 - Color = $55
Character full body (One character , Head to toe (or most of the body depending on how composition dictates), no background.)
1 - Pencil sketch = $10


2 - Finished Pencils = $40


3 - finished Inks = $50


4 - Gray toned = $60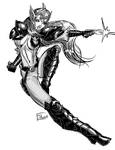 5 - Color = $70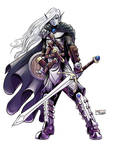 6 - With Background = add $5 - $25 to cost depending on the commission type (pencil sketch being $5, $25 being for color)
7 - Each Additional Character (In the same picture) $5-$25 depending on the commission type (pencil being $5, $25 for full color)
* All work will be Sent to you as a hi resolution tiff file through email unless the original art is requested.
* Original art can be sent only for pencil and ink commissions. Digital prints can be sent for the toned and colored pieces.
* Requests for the original art or digital print will be charged an additional fee for shipping and materials.
* If you are interested send me a note or email. Include the what commission you want (sketch, full color or whatever) Character/pose/situation, and a link to a reference photo of this character.
* I accept pay pal for payment. And payment must be received in full before i start work.
* I work on commissions in the order they were paid for.
*I work on the commissions as quickly as I can, but they take a back seat to any professional comic book work I may get. So large projects may delay when you get your commission.
* I reserve the right to refuse any commissions.
* Even if the copyright of a character belongs to another individual, I maintain copyright ownership of all artwork created, and reserve the right to display artwork, either original or copy anywhere i deem appropriate (websites, portfolios, conventions, etc). That doesn't mean you can't show off your artwork and post it (as long as you are giving me proper credit and linking to me). It just means you can't go around printing it and selling the artwork, or belly aching that I'm displaying the work in my portfolio.
*PLEASE NOTE: These rates are for pin up commissions for private use. which essentially means for your own personal enjoyment. Sequential art, Cover art, and/or Pin ups for publications and/or commercial use have a different rates, and you can contact me for more details. (This means that if you commission me here for artwork, and you use it on the cover of your comic, or sell the image on t-shirts, your in deep trouble unless you pay for the commercial licensing rights.)
You can use it to illustrate a story your posting here on DA only but I have rules for that, so ask me for more details
Okay i think that covers it all! Happy commissioning!
We're too lost
to lose hope