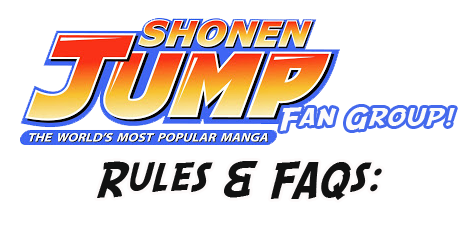 .: Please Read & Understand the rules & FAQs :.
1. Click 'Join' button -> we Auto accept you.

2. Submit artwork -> click the right folder! (exp: picture of cosplays, to Cosplay Folder) If NOT we will deny your submission.

3. Art -> 100% original fan art -> Base on any Shonen Jump mangas or its sisters magazine (please look at our homepage to see some examples of manga are with Shonen Jump) NO COPIED EXISTING IMAGE FROM ORIGINAL MANGA/ANIME.

4. Art & Craft? -> Yes we do accept them as long they are following rules

5. Fandom OC? -> we accept your artwork if the original Canon is with your OC.

6. It's a NO, NO! -> Collab, copied artwork, manga panels, traced or screen grabs, poorly scanned, photo manipulation (except cosplay's photo manipulation), taken poorly snapped picture of your artworks, etc.

7. Quality Artwork -> Good to Excellent! -> Any visible errors will be denied! (exp: illogical anatomy, sketchy or too sketchy, unfinished artwork, Unorganized picture, using photo as background, etc)

8. Echii, mature artwork? -> we accept it as long you 'mature' tagged and following our rules.

9. Do you accept Drawing? -> Yes we do accept drawings, but it must be following our rules.

10. What is Drawing? -> Just visit this artist Gallery Abz-J-Harding you will understand between drawing, sketching and finished artworks. This artist is the best example if you wish to submit your Drawing. (Please bare in mind Drawing & complete 'Painted' artwork is not the same thing)

11. How many per submission? -> 2 artwork MAX per week (each folders)

12. Literature? -> we are 'fan art' fan group not 'fanfiction' fan group.

13. Question 'Why we denied your artwork?' -> Please use 'Correspondent Messages' page, we like to answer your question privately.

14. Question 'How is your voting system?' -> We have several admins who will be voting your artwork base on our quality standards. All votes are subjective as each person views the world differently. This means that there will be fluctuations in what is and is not accepted. Different staff different views.

15. Please be nice to the admins -> because we are human being behind the monitor screen not a robot.

16. We are not THE 'OLD' SHONEN JUMP GROUP, we are THE NEW SHONEN JUMP GROUP that have raised our group qualities.


PLEASE ENJOY YOUR STAY! : D