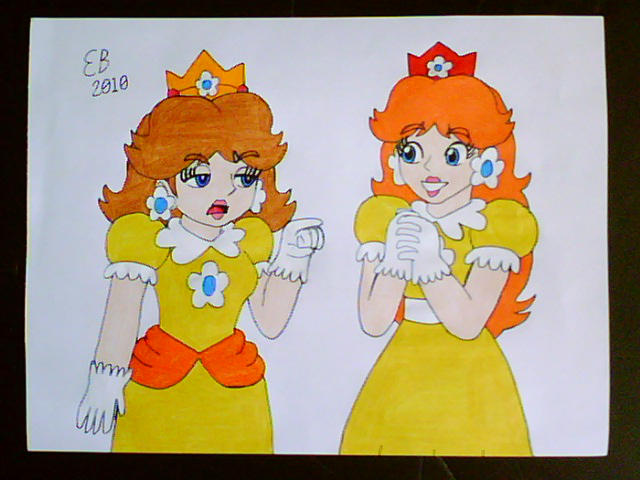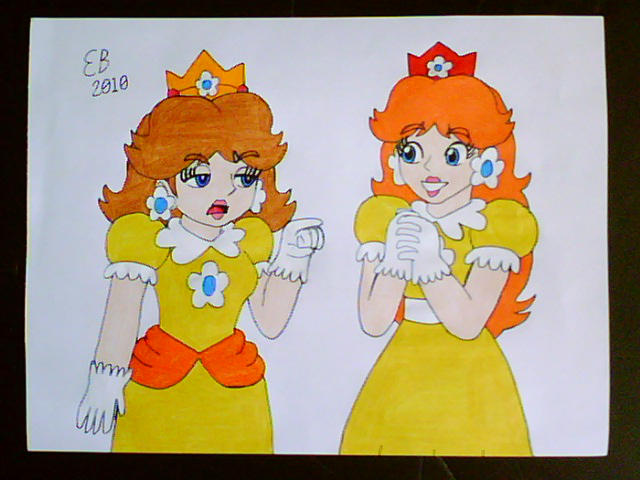 Watch
Musics in mind for this deviation:Modern Daisy:
Easton Kingdom (Super Smash Bros. Brawl)
[link]
Classic Daisy:
Chai Kingdom (Super Mario Land)
[link]
When i first started to draw these "Crossovers of Different Generations" drawings, i started out with Peach, although i didn't yet brought Daisy into the mix... until now.
So now folks, we're now exploring the next character in the series, that being Princess Daisy. And thing is, at that time, Daisy was an obscure character in the Mario series, although knowing me, the more obscure that character is, the more i kinda like that character. Also, i've once drawn Daisy long ago, although for the old style, i kinda drew her as she was shown in the Super Mario Land instruction book, but with the Super Mario cartoon twist... even though she never showed up in the Mario cartoons either, although she did showed up in the Game Boy comic books (or the Nintendo Comic System) by Valiant Comics.
Anyway, after a cameo appearance in NES Open Tournament Golf, Daisy disappeared from gaming altogether for a long time... until she reemerged in Mario Tennis 64 in the Nintendo 64 console in 2000 (in which Waluigi also made his debut at that point). However, she was still shown in her old school look in it, but now, she got demoted in some way in appearing only in spin-off titles. And while her tomboyish attitude was replaced by some ditzy attitude in the N64 game, it wouldn't be until either Mario Party 3 or 4 that she would finally begin to show signs of her true self in it. But like many characters who had gone through some changes, Daisy's look got dramatically changed from having long hair to having some shorter hair on her too.
And obviously, those changes were mostly to truly differ her from Peach's long hair look, as back in the old days, both were nearly similar to one another, in concern of their hair looks... and i really mean that for their hair looks, folks. Of course, since then, Daisy had been appearing in so many spin-off titles, whether in sports titles or party games or whatever else Nintendo tosses at our Mario crew.
Now, for the themes of those two different looks of Princess Daisy...
- For the classic one, i chose the Chai Kingdom stage theme from the Game Boy game, Super Mario Land.
- For today's version of Daisy, i chose the underground stage theme, also known as Easton Kingdom, but as heard in a remix of it in Super Smash Bros. Brawl.
Oh, and one more thing: While Daisy never appeared in the Super Smash Bros. series as a playable character, Peach did had a Daisy alternate color for her dress in both the Melee and Brawl versions of the series, not to mention that trophies of her did showed up in those collections.
Copyrights of the aforementioned belongs to the following:

Princess Daisy (and classic theme involved): (C) Nintendo
Super Smash Bros. Brawl music: (C) Nintendo and HAL Laboratory Inc.