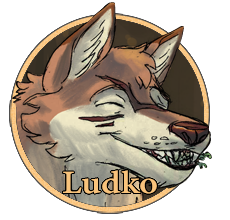 Ludko lounged idly, pawing at the piles of dry pine needles around him. He was beginning to feel silly, and thought about heading back to the den. Of course, Ian would be fine. Fellfang's territory was well-guarded, and there was no reason to worry over nothing. He yawned and stretched, preparing to move himself when an awful pain-filled cry drifted faintly through the air, chilling his blood.

"Oh no," Ludko groaned, wiggling out from under the pine tree and shaking himself free of the fallen needles. He couldn't tell who it was just from the yell, but in any case there was no way it meant anything good. Quickly picking up Ian's scent he bounded off after the trail, his heart sinking as he realized it was taking him in the same direction that the sound had come from. Just a little accident. He assured himself, tongue lolling wildly as he picked up speed. Can't be anything serious.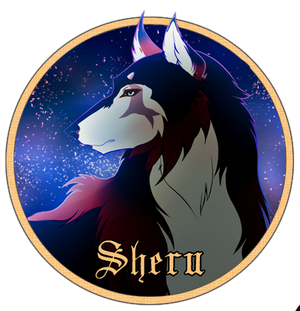 Sheru felt the other males scent long before he heard him. Trying to ignore his own need to turn around and run toward Ian`s scream instead he continue forward until he nearly runs right into Ian`s companion. Taking a step back and giving a short apology he jumped right to the important things:

-Your friend Ian seems to be up to something. If you don't mind I would like to help you get him out from whatever situation he got himself.
It was really awkward to be talking to someone you didn't know the name or the rank of. Sheru has been too busy investigating the surroundings the first days in Fellfang, and now he regretted of not spending more time around the den and talking with others. For all, he knew he could be talking to one of Valdas little trolls without realizing it. Right now he was fine with taking that risk as far he was able to get Ian the help he needed. He himself failed to stop the young naive little wolf from running off to wherever he intended to go to. Maybe this male would have better chances of getting him to go back to the den.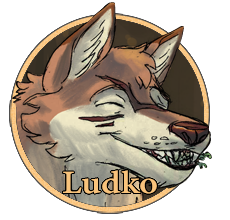 Focused on his mission with a single-minded intensity, the other male's sudden appearance nearly sent him tumbling head over paws. He managed to catch himself and skid to an awkward stop, eyeing the newcomer with wary suspicion. He relaxed as he got a better look; it was a Fellfangir he'd glimpsed once or twice, though not one he was familiar with. Ludko didn't know the other's name, or how he knew Ian, but introductions would have to wait.
"You're welcome to help," Ludko responded quickly with a polite nod. He had a terrible feeling about the whole situation, and thought he might be glad for the help. "Whatever he's up to, it sounds like trouble. We need to move fast." Ludko had already turned back to his route, assuming the other would follow.
Just a little accident, he assured himself again, but his heart was pounding in his ears as he bounded after Ian's scent trail.
Ian feared that his end has come.
The gash on his side was burning and he could see, with the corner of his eye, that blood was staining red the ground where he was pinned onto. Unfortunately, not his aggressor's blood but his own. Why didn't they want to listen to him? He was one of those who tried to stop the raids, not one of those who enjoyed hurting the loners that passed nearby Fellfang's borders! Why picking on him? Instead, if they wanted revenge, they could have helped somehow the Skuld getting rid of the thralls infesting the pack, maybe there could have been a way to arrange something. What was the point of killing a single wolf? Didn't they know that maybe the other pack members would have chased them?
Then, resignation filled him: they probably didn't care. Some Fellfangir in a raid killed their friend so all they wanted was to kill a Fellfangir, it didn't matter which one. Ian's decision of wandering off alone was just what they were waiting for.
A feeling of exhaustion began to spread in every limb. Losing so much blood from his side was not positive and the fact that the aggressor's jaw was trying to asphyxiate him didn't help the situation overall. Yet, the exhaustion brought some soothing as he felt the pain less and less. Then, he realized why.
Ian was beginning to panic: he could not breathe.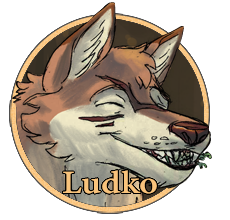 They were getting close. Ian's scent had become muddied and confused with the scents of other strange wolves, and the snarling, scuffling noises of a struggle sounded out just ahead. Crashing through the undergrowth, Ludko bounded into a clearer area, and a chaotic scene met his eyes. Still moving quickly, he had mere seconds to take everything in- the flashing fangs and raised hackles of wolves he did not know, circling around another who had his opponent on the ground- Ludko's heart nearly stopped- It was Ian on the ground, and he wasn't moving. The sharp smell of blood drove him to a panic, and without losing speed he barrelled headlong past the circling wolves and into Ian's assailant, the force of the impact sending them both crashing to the earth, clumps of mud and grass flying as they skidded to a stop.
Ludko was not a fighter. He had a dreadful moment to reflect on this as he rolled over to get his paws back underneath him, barely dodging the snapping fangs of one of the other wolves as he did so. He leapt to his feet, backing away quickly, and saw with dismay that the one he had knocked down had already re-joined the group. Four angry wolves, staring him down- Ludko didn't like his odds. Still, he held his head high. "You're trespassing! Leave, now!" He commanded, tail up and hackles raised, generally doing his best to sound intimidating. "The rest of Fellfang is on its way! This is your last chance to run!" His voice cracked a bit on the word "run," and he swallowed hard; it was a desperate bluff. He could only hope the male who had followed him would be enough to convince them that whatever they wanted just wasn't worth it.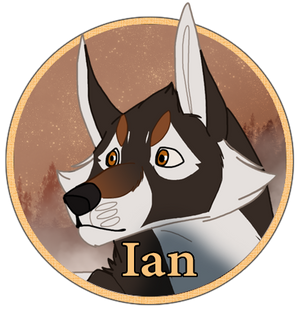 It wasn't all that bad. The pain was soothed, his side was pulsing and it hurt but with every breath he took, it seemed to be dulled, as if the pain was taking a step back and one more and another, leaving him be. It was an eerie feeling, an echo of what he felt before. And he was getting so much tired, his eyes was begging for him to lower his eyelids, it was so tempting, every inch of his body was telling him to give it all up and simply fall asleep. Ian didn't even see anymore that bigger wolf that was biting down his throat preventing him from breathing. The young wolf's eyes shifted upwards and he looked at the trees' top that were surrounding and closing him in. A chilly breeze was moving the lightest branches, watching them was lulling and he could see his lids slowly dropping.
But that's when, instead of the branches, before shutting his eyes, Ian saw a wolf flying past him and in the same moment, his throat was free. Instead of closing, his eyes opened up and he realized that it was his aggressor the one that interrupted his view and, most importantly, that he could finally breathe.
Ian rolled on one side, gasping for air, breathing in as much as he could, grasping for more. Just as the air came back, so did the pain. As he glanced to his injured side, the young male saw a familiar face "Ludko!" he croaked. So that's who it had been, to have sent his aggressor away! Oh how happy he was to see him! He admired the older wolf's bravery, they were still outnumbered yet Ludko still tried to send them away without a fight.
Filled with adrenaline, Ian crawled to the friend's side, trying to get up, unsteadily, to give Ludko some kind of assistance, to show to those trespassers that he was not down yet and ready to fight back, now with one wolf with him. He didn't seem to notice that, together with the gash on his side, his neck too was bleeding from the bite aimed to suffocate him. But he did feel tired, he was panting and he knew his legs wouldn't hold much longer. He begged his body to withstand, at least long enough to send those four away. If only they could have someone else's aid! Did nobody else, aside from Ludko, hear the noise of the fight?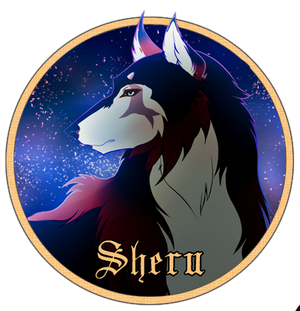 Sheru didn't manage to catch up with the other wolf once he bolted toward his comrade. Getting there as fast as possible was the only thing he could do right now. concentrating on the task ahead of him he raised his tail and prepared himself mentally to stand against whoever was on the other side before he jumped over the last, small bush and joined Ian and his friend on the other side. While he was keeping his head high he lowered his nose a little so he could glare at the unknown wolves before him. Truth to be told he would prefer to avoid physical confrontation if possible. This young one would have to learn the hard way why their acting out was wrong.
- Take your leave now- he said and came forward, his tail raised high behind him,
- No need to spill blood. take your chance and go.... and don't return unless you are ready to bear the consequences of your actions.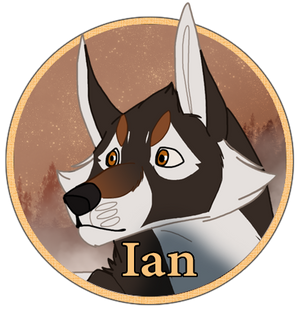 Well, the last thing Ian expected was to see that reddish wolf from before, the one who tried to stop him, appear from behind and join him and Ludko against those brutes. He was really surprised and happy too, it was just what he wished, to have some more backup. Just like Ludko, Sheru too imposed to leave to the aggressors. As he spoke, Ian looke at him with gratitude. After how he talked and treated him, Sheru still came to his aid. "When this matter will be settled, I'll apologize. He deserves it. And a thank you too, of course."
It was them three against those four. No, two and half, the one Ian sent against the small tree didn't look like he had recovered from the hit, same could be said for the one Ludko had taken off Ian, he was shutting close and open his eyes, and shaking his head slightly, as if he was trying to focus on what was in front of him. "Ludko sure made him fly with that hit!" he sneered to himself.
His aggressor's muzzle was red with Ian's blood and this made the young wolf narrow his eyes but, as he was glaring at that wolf, he noticed that they all looked nervous and were shuffling on their paws. Could it be…? They surely weren't expecting more than one wolf, that's for sure. They were still in charge, four against three, with Ian injured, but it seemed that Ludko and Sheru words were working and that small group was going to retreat.
He appealed to all his remaining strengths to not give up now, he had to intimidate just like his two friends, those four cowards. His side pinched and his face tensed.
Just as the four wolves turned back and scattered away with their tails between their legs, relief washed over him and the adrenaline that had been keeping Ian up, vanished. He felt the ground spinning and his vision darkening until he was embraced by unconsciousness.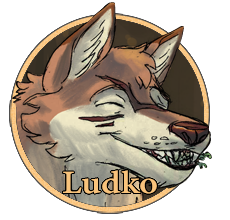 Ludko let out his breath as the other wolves turned to run, legs shaking in the aftermath of the adrenaline rush. He turned to Ian to check his condition just as the youth collapsed to the ground. It was then that he had time to fully understand the extent of the damage Ian had suffered; his coat was soaked with blood, and a trail of it stained the ground that he had crawled over. "Oh, this is bad," he whined, forcing his head beneath the younger wolf so that he could position him onto his back, lifting him carefully. It was an unstable set-up at best, and he didn't think he could carry him long without him sliding off. To make matters worse, Ian was still bleeding- Ludko could feel it beginning to seep into his own coat. He turned to the other male, the panic evident in his eyes.
"Hey, uh… Sorry, I don't know your name. Can you grab him while I walk, and make sure he doesn't slide off?" He gestured to Ian's form draped over his back, and his weight shifted unsteadily. "We need to get him to Moth. She'll know what to do." Since Grendel had left, Moth had been Fellfang's senior Witch Doctor. If anyone could save him, it was her. His heart pounded as he took a few tentative steps back toward the heart of the territory. "Hold on Ian, we'll get you home," he said softly, more to calm himself than his unconscious passenger. "Oh man, Nach is going to kill me."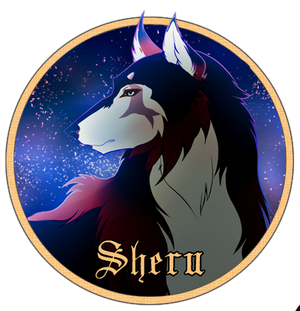 Sheru was one step away from offering to carry the fallen one himself,but realized that getting the small wolf on a huge one would take time,not to mention some serious effort. They had no time to waste. Once again,both he and the other Fellfanger had to hurry and get the youngling some serious help.
-Its Sheru-he said and nodded his head, making sure the unconscious wolf was hanging on his friends back and didn't slide off. The wounds he had gotten would be a nice reminder for the youngling to not run off like this again on his own without telling the truth.At the mention of Nach, his ears perked.
- Why would Nach kill you? Wolves better than you have fallen for the "see you later" trick. It's not your fault. If needed,I can drag him off you- he offered feeling fully prepared to keep Nach from doing something stupid. Not that he thought the beta would do anything that would harm his comrade. Sheru was pretty sure Nach was the type that barked more than he bit.