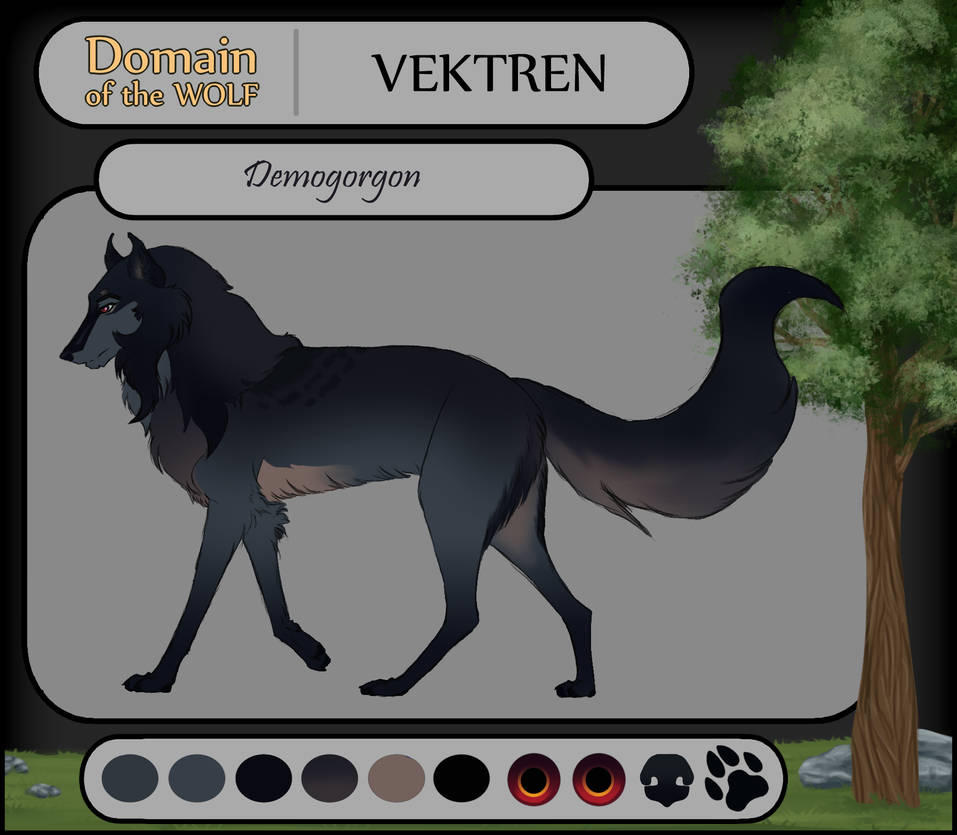 Name: Demogorgon
Meaning: Demogorgon is a deity or a demon, associated with the underground and envisages as a powerful primordial being, whose very name has been a taboo Wiki
Nicknames: Demon
Age: Jouvenile

21/10/2018: Wayyy overdue Jouvenile update! In fact,this is her adult look (since she is so close to being a young adult,I skilled the Jouvie look lol)


Gender: Agender
Biological Gender: Female
Height: Will be 33,8"
Parents: Solitaire (mom), Hellion (stepfather)
Siblings: Daemon
Voice: Zora Bishop youtu.be/GglPeAge4CU?t=38s
"I want to bleed and I want to feel the pain. It's like a gateway to another dimension."

"The fear of blood tends to create fear for the flesh"
~Silent Hill



Build:


[Pup]
This puppy's legs are thick, and paws are pretty small. She wobbles like a little duck.
[Jouvenile]
Her legs are long and thin, her body is slender, lacks muscles. Looks too thin despite proper nutrition.
[Young adult]
Legs are thin but now strong, muscles are visible and her body is healthy but slim.Could work on those muscles a little more.
Aura:
Powerful and yet soothing, underlying threatening presence can be felt...

Task:
N/A (aspiring to be a Viper)
Soundtracks

Don't stop the devil www.youtube.com/watch?v=C7fx2d…
A Sacrifice to save you www.youtube.com/watch?v=F5htNr…




Personality
This girl is very social despite her need to be sometimes alone to have... her personal "fun". Knowing others probably cringe at her need to feel the pain to be happy makes her wonder how most of Vektrenis deal with such thing once they get injured. She is a careful listener, but judgemental... while she will respect everyone's decisions and how they live, she makes it to her personal mission to make sure to "make up" for all the members that lack faith. She is interested to see if she can spread


Neutral traits

[Young adult]
Sacrificial –
While Demogorgon accepts and respects those who don't believe in Xibalten, she believes their lack of faith hurts their Shadow Mother. To make sure that Xibalthen is in her best health and maximum power, Demon performs sacrifices each month to pay for the lack of faith in her own blood.
However…the line
between her love to feel pain and need to sacrifice is very thin. It is hard to know if she does it because she actually believes in paying off the no-faith-debt
, or
if it is an excuse to bring herself pain.

Maniac/Obsessive-
whenever something catches her interest (may it be one of her visions, or an everyday-thing that someone or something did) Demon can spend an entire day to learn and understand
it
before she dedicates herself to make the thing in question a real possibility.
[Jouvenile]
Masochist
-
Pain is pure pleasure. Demogorgon enjoys bringing herself pain in all possible ways but never does anything that would permanently damage her body and make her useless. (Besides that one time…) If you see Demon doing something weird or try not to scream in pain, don't worry; she is in her own heaven.
[
pup only
] Fearful -
Darkness is a scary place, especially when it talks to you about things you cannot understand. Sometimes the
Negative traits


[jouvenile] Free speaker – keeping quiet about the important thing is important, but there are certain things Demon is too proud of to keep quiet about. Demon is proud of being "XIbaltens personal servant"; why keep quiet about something so important? Let everyone know who they should fear. Being a Vektreni is the biggest honor of them all; even kings and queens don't come close to this status!


[jouvenile] Follower – while following doesn't necessarily have to be bad, Demogorgon is following the visions she believes are shown to her by Xibalthen. If a vision tells her to do something, she will make sure it becomes true. Demons blind conviction of Xibalten trying to train her for something bigger makes her follow her vivid dreams and nightmares she suffers from each night.


[Jouvenile]Irritable- whenever the nightmares get worse and prevent Demon from getting at least two hours of sleep, smallest things can make her snap. During the days when she is waiting for the sun to go down to get some needed sleep, Demon will avoid others to keep them from her snappy mood and spare herself unneeded stress.


[Jouvenile]Vengeful - If you step over certain boundaries set, do a move Demon does not approve of or simply insult her by any other means, Demon will make it into her personal vendetta to make the insulting welp to pay for his crimes. If you are lucky enough to get a warning from this girl you better take it and run.

Positive traits



[Jouvenile] Passionate- Demon is passionate about making herself worthy to be called Hellions daughter, and strives to surpass her dreams of finishing the training laid out by Shadow Mother. Few things can stop Demon from pursuing things she holds close to her heart.

[Young adult] Actress-Once Demon gets herself in a pickle or is trying to get someone in a pickle, Demon has no problems with creating a temporary "persona" that helps her get what she wants.

[Young adult] Collected - While Demon is obsessive, she knows the importance of maintaining calm and collected mind to be able to pursue her dreams and goals laid out by the Shadow Mother. While it's not easy, Demon makes sure to train her state of mind as much as she trains her body. And somewhere in between, she has to help others to get through whatever they are dealing with for the day.


Social- Interacting with fellow Vektrenis is very important to Demon, especially if she wants to be able to help them in the future when they come to her to seek guidance. Talking with others gives her a look at the other wolves from a different perspective, helping her to keep liars and truth-tellers apart.


Note: Some traits may change into better or worse things, or be eliminated depending on how her development during pup-hood/juvenile stages.
Overall

Demogorgon can be overwhelming at times with her aura, her stare and her weird need to inflict pain on herself for pleasure.If you manage to look past the first impression that may be an unpleasant experience at first, Demon is a very calm and grounded wolf who likes good company.
-----------------------------------------------------------------------------------------------------------------------------------------------------------
Details

Loves

*her brother Daemon.
*her father Hellion
*Vektren
*Pain and blood
*darkness


Dislikes

*cheesiness
*light
*those who believe in Neo-gods

-----------------------------------------------------------------------------------------------------------------------------------------------------------

Group History

Born: 28/03/2018

Demogorgon is the result of her mother's choices. For now, this bean is still too small to talk or walk, she is spending her time eating and growing a little bit each day.



Reply

Yus hehe XD Here she is >

Time to train up my puppy-drawing skills lol!
Reply

What a scary kid. And a Masochist! XD
Reply

Yup XD She will be fun to be around XD
Reply

Stop me if I sound rude, but what would she look for in a male?
Reply

Haven't thought about that part of her life yet. For now, I will be concentrating on developing her as puppy

Can happen I will let her be single for her entire life since all my other characters have in one or other way interest in having a family.
Reply

Reply

What an interesting child

Reply

Reply