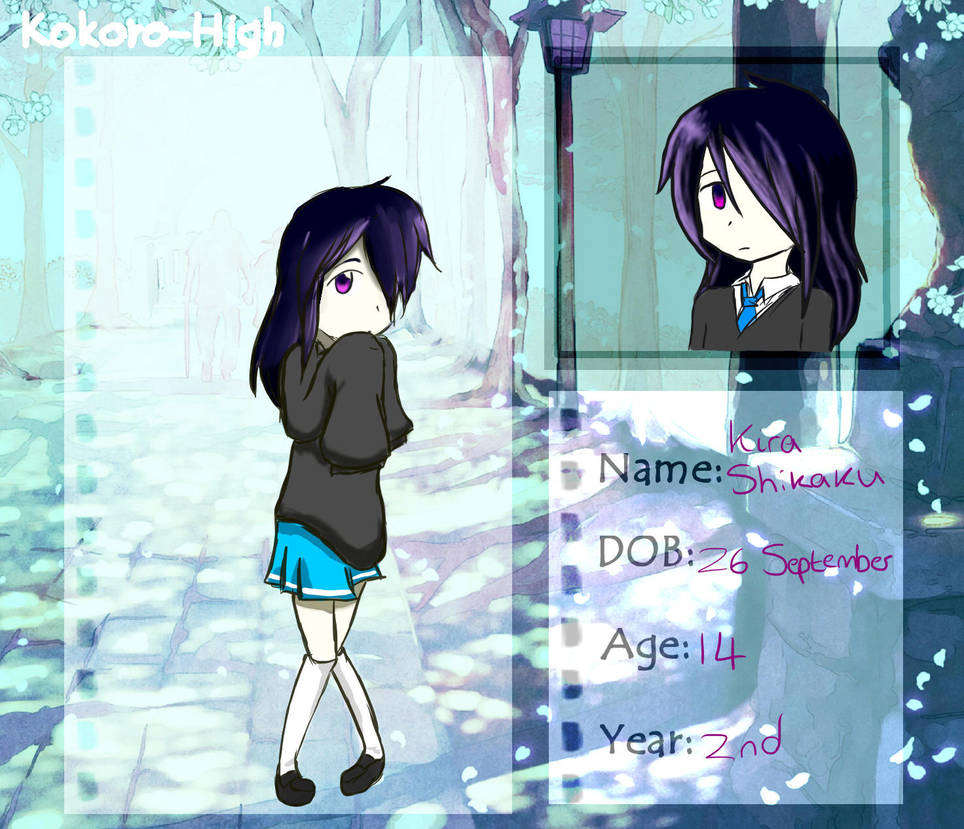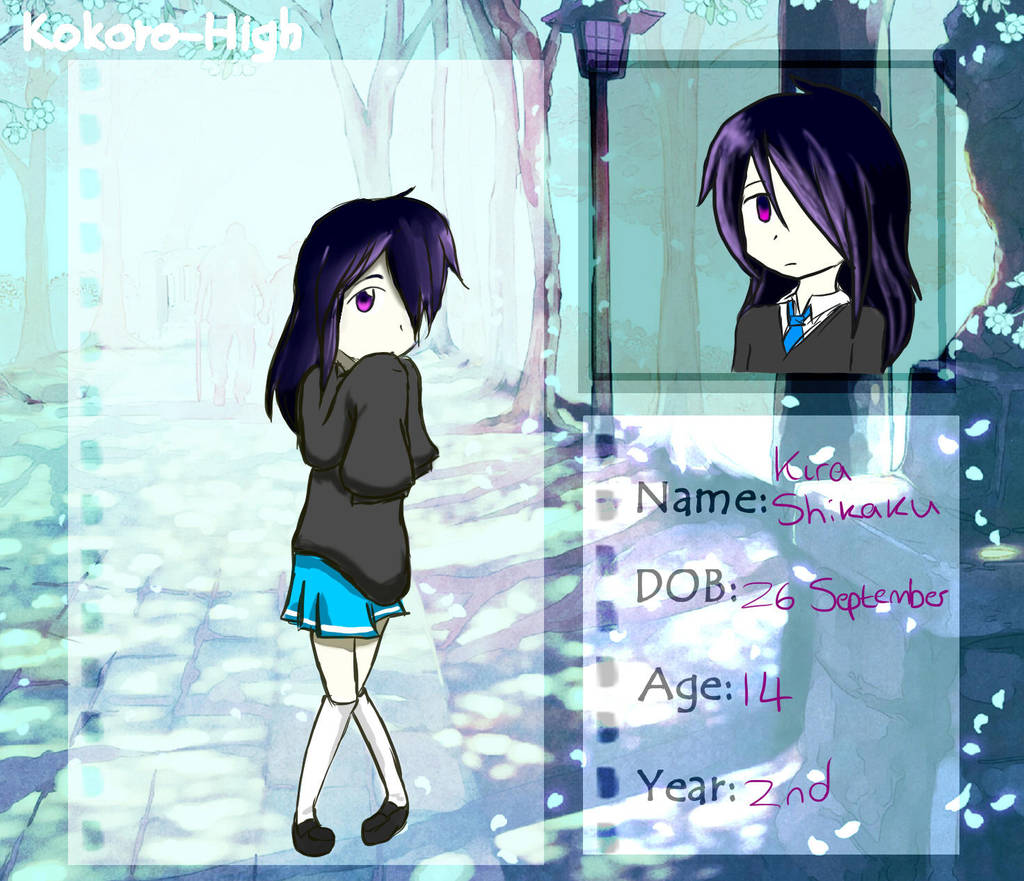 Watch
My Application for

Name: Shikaku, Kira
DOB: 26th September
Age: 14
Gender: Female
Height: 4'9"
Weight: 102 lbs
Year: 2nd
Club: Arts, Library.
Personality:
Kira is quiet and likes to stay away from people. She can also be considered yandere, but prefers the term "protective".
She also has an almost spidery sort of neatness. She can't stand her home or anywhere being too messy unless it's covered in red- Her favourite type of mess. She also likes to play games, sometimes creative ones like Minecraft or ones full of jumpscares like Amnesia.
Her favourite game is Outlast, preferably the new DLC Whistleblower.
She loves reading, mostly fiction books. Prefers them to be gory. She likes manga, comics and anything with blood in.
Bio
Kira lost her parents when she was young, having nobody to look after her, she learned to look after herself. She learned most of what she knows from books and daydreams about her own stories.
When she was ten, she discovered Edgar Allen Poe, describing him as a genius and helping her by giving her "tips". Kira says that you can learn almost anything from a book.
She has always found it hard to make friends, but when she makes a friend, she will not allow anyone to get in the way.
Extra
Kira likes to read books.
She spends a lot of her time in the library.
She eats very little as she is an extremely fussy eater. One of the few things she'll eat are noodles. She also drinks very little, having to take time in the day, whether she likes to or not, to drink a high volume of something.
She can't handle the heat or cold very well.
Kira enjoys making plushies from time to time.

So shy

I like her hair color!
Reply

Reply

No, she is pretty strange~ I mean a very quiet and out of the way yandere is kinda strange~ Thank you~




Kira: Hi... I guess it's pretty cool...
Reply

Reply

O-O

Ooooooookaaaaaaayyyyy....

(Sure~! ^w^)
Reply

Reply

Weirdness is good~ Normal people are kinda weird where I'm from (You know, those people who don't like you for being a roleplayer ;A

Reply

OMFG FRICK YES I LOVE YANDERES ASDFAHSKDJF

and she's so cute ;;; A ;
I hope we get to RP sometime soon~~ ; 3;;
Reply

Th--thank you, Itou-Senpai is super cute, too

and I hope so too
Reply

AMG SHES SO CUTE!~ I hope we can rp soon!! ; 7 ;
Reply

Reply

Reply

Reply