Sometimes I feel I am trying my best, but my best is not good enough.
Don't really feel my photography is improving much, other than the EVA 3.0 photoshoot last year, which I personally like it a lot, and one I can say I'm proud of.
This couple of years, I feel my photography works has slowed down significantly due to mainly work and health issues.
I would really wish to be able to shoot and improve more from now onwards, and current day job seems to be more stable already (but will still be activated on last minute if there are urgent site works).
Next, I also want to spend more time with friends and people I going to work/worked with, more discussions, inputs, ideas, or just plain chat, and I do want to go to the next level (for photography) too!
Anyways, I have already uploaded a few photos each from 2 out of 3 sets I did in Sydney 2 weeks ago.
1st set:: Atelier Meruru (Cosplay) with Kiara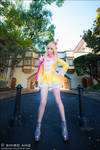 2nd set:: Leathers (Fashion) with
Vera-Chimera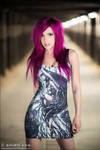 The 3rd set will be a portrait one shot with Kiara.
So do stay tune till then!
Please folllow me at the following site for more quick updates: