I don't feel like making a whole new journal so... yeah. (mostly cause I don't want to change my features right now)
I just did the bing vs. Google test. My results were Google. Bing won 0 rounds. I say 'Your move Bing' I just thought I'd share that since apparently I love my Google.
Well I have started getting myself ready for some fashion design. I have between 20-25 figures already sketched out in my sketch book that are ready for designs. I think I want to have around 60 before I start any designing though. I know that seems weird, but I did the same thing in college and it really just let my creativity flow when I didn't have to stop between pieces to draw each figure. I have noticed however that my figures aren't consistent and most of them do not have the standard fashion figure proportions that I used to do. Oh well I should get better with practice.
Well by for today.
/\New stuff/\
\/Old Stuff\/
So right now I want to rip all of my feminine internal guts out and never have to deal with them again... Of course later I would be sad cause I do want a kid one day.....
Well I have been going through all the fashion stuff on Dev and it has been really inspiring so I think I am going to do some fashion designing this weekend.
I found this book that one of my instructors at school had (actually I don't think she had it, I just think she got the printouts she had from the internet cause she would never let me look at the book) and I really want it. It is and Italian book,
Il Figurino di Moda
, and unfortunately I don't have the $100+ that it would cost to get it to the states. I recently got another fashion illustration book that I really like and I still have my book from school. But this book, from what I have seen is just amazing, and it's used my the International Fashion School in Italy!
Well here are some more features (not as many this time):
:thumb376258445: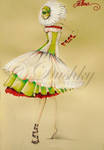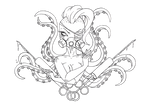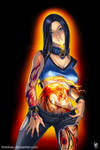 (Date means nothing!!)
Now I'm off to collect some pose references. Yay!