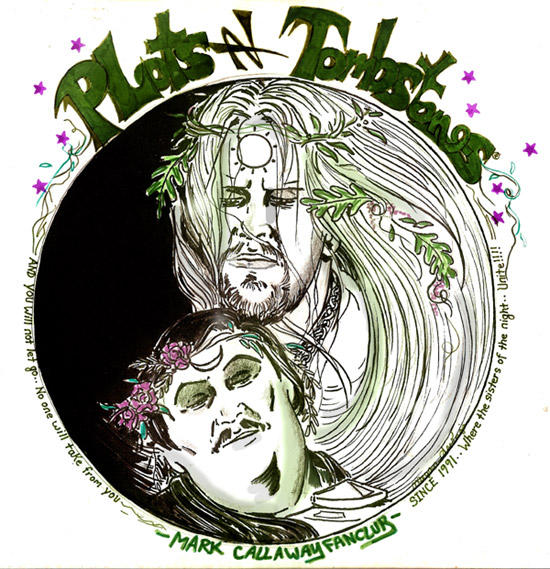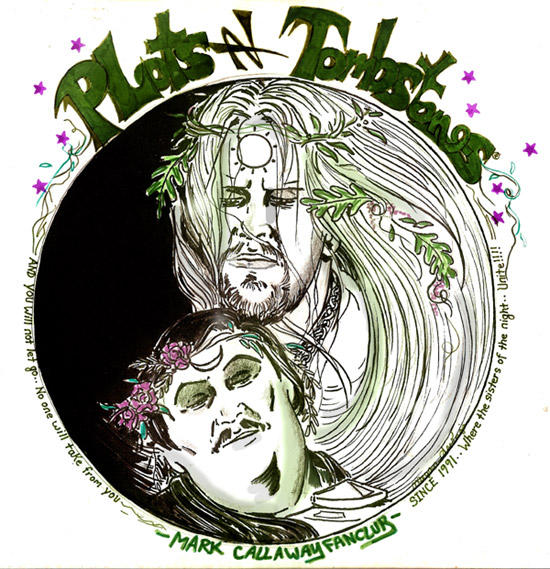 Watch
'The Oneness'
Art from the Plots-n-Tombtones Mark Callaway (Calaway) Fanclub
1991-2002

Come 1995, I would really have to say that just about every fan I was communicating with via the fanclub ( especially the women...) were drawn into and also fully aware of the emotive relationship between the Undertaker and his beloved manager, Paul. I almost want to compare it to slash because truth be told, a lot of fans were with them.

But just how strong it really was couldn't have been more apparent at all when the WWE decided to hatch a storyline that saw the two break up at Summerslam '96. It was just about the most devastating and painful script ever to date for the wrestling world. Mourning impacted PNT like a death in the family. Wrestlers and their managers had been parting ways for years but this is the first documented time however that witnessed countless fans sobbing tearfully and weeping right in view on the pay-per-view broadcast!

Oddly enough however, in the months following the bust, Paul would remain in clear focus of just about all of Undertaker's ring time ---even as far as to beg him for his welcome return. The 'Oneness', also called 'Taker & Bearer's yin-yang' was the most popular PNT illustration of 1996 continuing into 1997. Ink and markers.

--------


You can find out more about PNT and it's history achieved at the Vicious Visions Website.

Undertaker copyrighted by WWE Entertainment., "The Party Animals" design of the Fox, Paul B. Cat, and other related animal likenesses © 2008 Vicious Visions Inc., All rights reserved VAU-211-938

The yin-yang concept does justice to say the least for such a great team. I wonder, and I sure it was the case, if Mark and Bill were upset by some degree with the storyline of their respective characters becoming enemies? I am curious to how that must have been. Bill must have definitely made an impact on the characters that he managed as Paul Bearer at that time other than Undertaker - Mankind (Mick Foley) and Kane (Glen Jacobs) although I'm not well aware of how he affected the Executioner and Vader because they weren't with him too much. I know Vader was a pain in the ass of Vince McMahon, which doesn't really surprise me as WCW coundn't really stand him too much from what I could tell unless I'm wrong. Regardless, this work of art has more than just sentimental value to it, and I'm very sure Mark and Bill must have really appreciated this. XD
Reply

To some small degree, yes, but in this case, it's probably best to allow me to quote William Moody word for word from an email he had sent once regarding the Summerslam '96 break-up. He said:

"...I had felt that same thing about it. Sometimes we have to kill what is familiar in order to bring it back from the grave. Not sure you can understand that, but it's just like when I left the Undertaker there in that ring in 1996. Megan, I know you cried. I'm sorry that you did, but we both needed to walk away from each other so that we could be together later."
Reply

That is true, and on Bill's part, that's very well said. I can see the wisdom of his words. From my perspective, it seemed that Undertaker and Bearer being together all the time can get stale and boring. Basically, the yin-yang, although it might have not originally meant what I'm about to say, does justice for the situation. There are times that there is good, and there are times that there is evil, both sides depending on one's point of view, but regardless, you can't have one all the time. The universe balances itself out in the end, and what is good without evil and vice versa. It's an eternal conflict, and sometimes, things go out of balance, but they even out regardless. Considering WWF/WWE was and is in the business of making money, Undertaker needed a "new" enemy, and that was his Paul Bearer. Nonetheless, Bearer being the villain, in a way, was a good thing. Regardless, it all evened out, and all is well. Undertaker/Calloway and Bearer/Moody will NEVER BE DENIED! I'm glad you shared your thoughts albeit assistance from your friend the great Bill Moody as well as his perspective of the matter. I completely understand.

In friendship,
Donald
Reply

this is fagtastic!

lovely image.
Reply

That was about as deliberately spoken as the art itself now wasn't it

*lol*
Yeahhh ... *blush* ... I took a bit from some male fans then who did find it and pointed out --and quite accurately enough-- all of the illustration's homoerotic emblems. They weren't intentional at the time I actually drew it more than the truth that we were just all so very sad., I wanted something strong and expressive that fit the feeling of the moment. It did and it was a winner.
Reply

Reply

I enjoy seeing the evolution of your artwork.
Reply