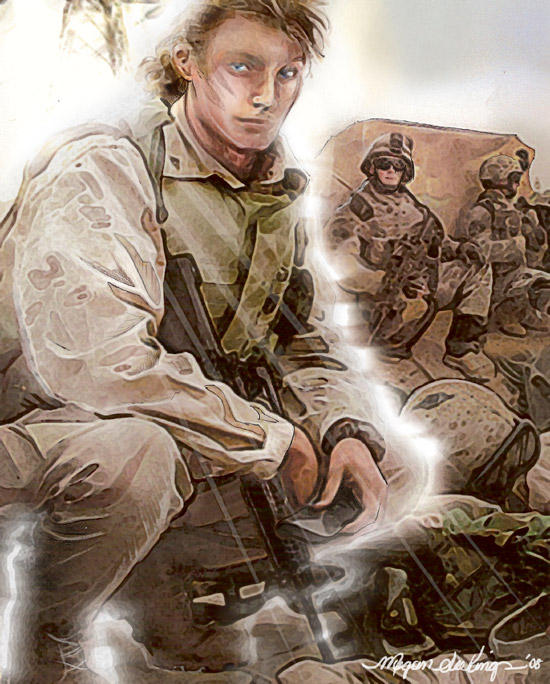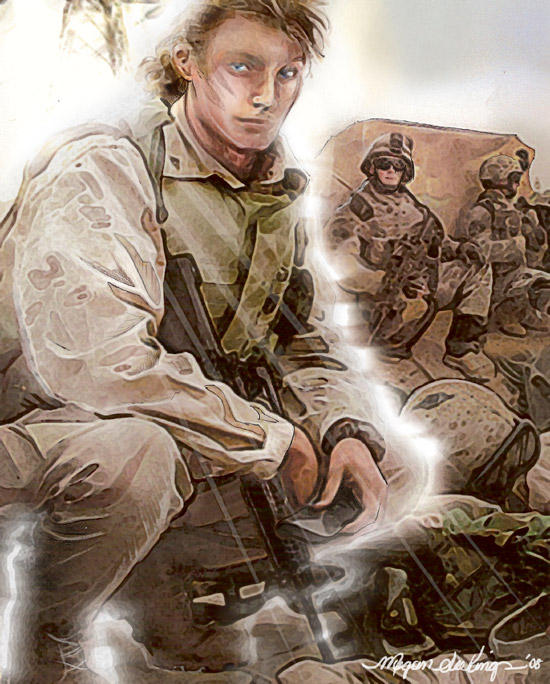 Watch
'The Defender'
O' Heavenly Prince Michael. Be our defense in battle we pray
(Commission for Specialist John C. Bradey., U.S. Army)
Before I begin on this one, a special prayer of continued protection and strength for Mr. Bradey and his unit, to all of our men and women, as well as allies who continue to strive for peace in the name of freedom and liberty for all. Let's hope you all can get out of Iraq soon and come home safe and sound to your families.+
As soon as my daughter returns our camera I would like to take a photograph of the original of this that is hanging in our living room for the time being. Looks can be deceiving because the original to this is roughly 2 ½-3 ft. high on multimedia Artboard — Something I can well appreciate as the multimedia boards allow me to work with a wide range of instruments and methods without my having to invest in a variety of canvas, etc. This stuff handles it all!
Inspired by a personal experience I'll leave in his care, John wanted
St. Michael the Archangel
with some of our men on the front. I began work on this piece in September of '07 almost nearing completion around mid-December when I was forced to step away in order to address the serious situations regarding my mother and her passing as most of you are already aware. I didn't resume again until March 3rd.
Combination pencil, watercolor over charcoals, (gum arabic) followed by a light sponging. The sponging was important as is really helped w/ that ethereal glow I wanted Michael to have in place of the classic wings that just were not going to work with the kind of piece.
EDIT* UPDATE 3/17
Finally got the camera to take a photo of the actual canvas. Check it out here:
[link]