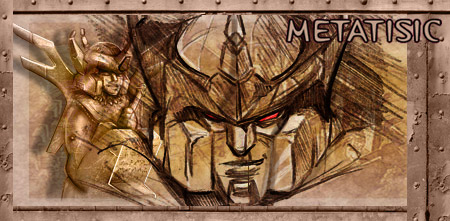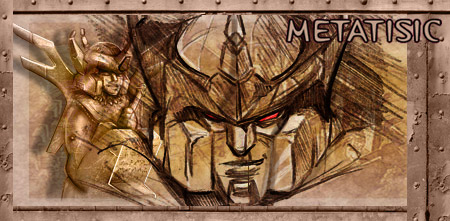 Watch
A preview & chapter selection banner that I create for the first release of the TF G1-inspired
'Metatisic'
saga to my galleries here at DeviantART featuring 2 illustrations that you may have seen here before-- One of my favorite sketches of the ancient Decepticon dourjer, and the 'seated Megatron vector-hawk' baton topper from my HMW Prop & Template arts collection w/ awards presented by the former
Demiurgic City
index and Yeti con.
-------
TF G1 METATISIC SAGA
TITLE:
Metatisic., Metatisic: Saga One
TYPE:
Transformers G1 fiction
AUTHOR:
Megan Seekings & Addie Chandler
FIRST RELEASE:
1985, 1986, & 1987
Revised edition 5/8/03, 2004, 2008, 2017
RATED:
PG
SUMMERY:
Unable to obtain it from their native planet of Cybertron, Decepticon leader, Galvatron resorts to excavating an asteroid particle that has tested positive for Cybertonium, dispatching a crew to retrieve it. But as the surface layers are removed, a trace outline of an ancient staircase unintentionally leads the party on a sudden and very unexpected journey deep into Cybertronian history prior to the first Great War some 14 million years ago!

Author's forward - Introduction

Part 1

Part 2

Part 3

Part 4

Part 5

Part 6

Part 7

Part 8

Part 9

Part 10

Part 11

Part 12

Part 13

Part 14

Part 15

Part 16

Part 17

Part 18

Part 19

Part 20

Part 21

Part 22

Part 23

Part 24

Part 25

Part 26

Part 27

Part 28
Part 29