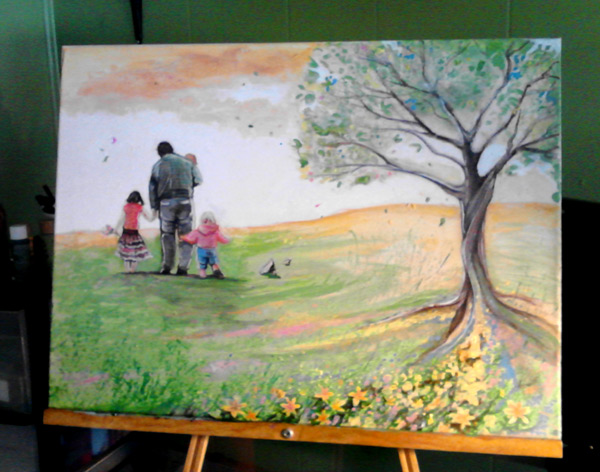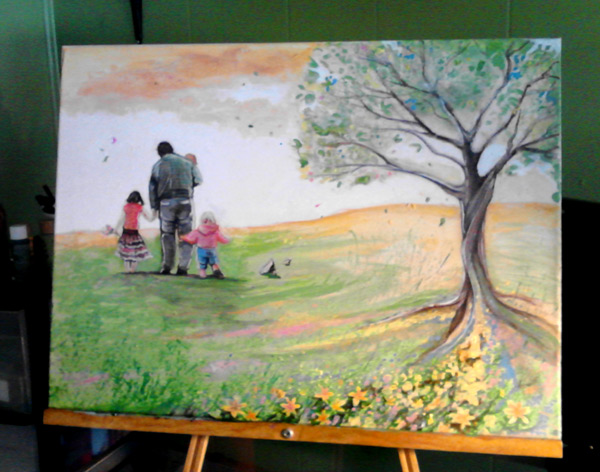 Watch
"Source Of Love"
stretched 20" X 16" canvas
Acrylics/Mixed Mediums
Another angle. This is a companion piece to "Dianna's Tree" (2009) that was done shortly following the passing of Percy's wife, Dianna. Represented here are he and his three granddaughters walking through a beautiful field that is a creation of her love. The colors of the flowers are flowing up into the bark of the tree. It is to give the impression that she, all the seeds she planted, are the source of all the flowers in bloom.
Commission for

Do not stand at my grave and weep,
I am not there; I do not sleep.
I am a thousand winds that blow,
I am the diamond glints on snow,
I am the sun on ripened grain,
I am the gentle autumn rain.
When you awaken in the morning's hush
I am the swift uplifting rush
Of quiet birds in circling flight.
I am the soft star-shine at night.
Do not stand at my grave and cry,
I am not there; I did not die.
"Bulletproof ...Wish that I was" ~Radiohead