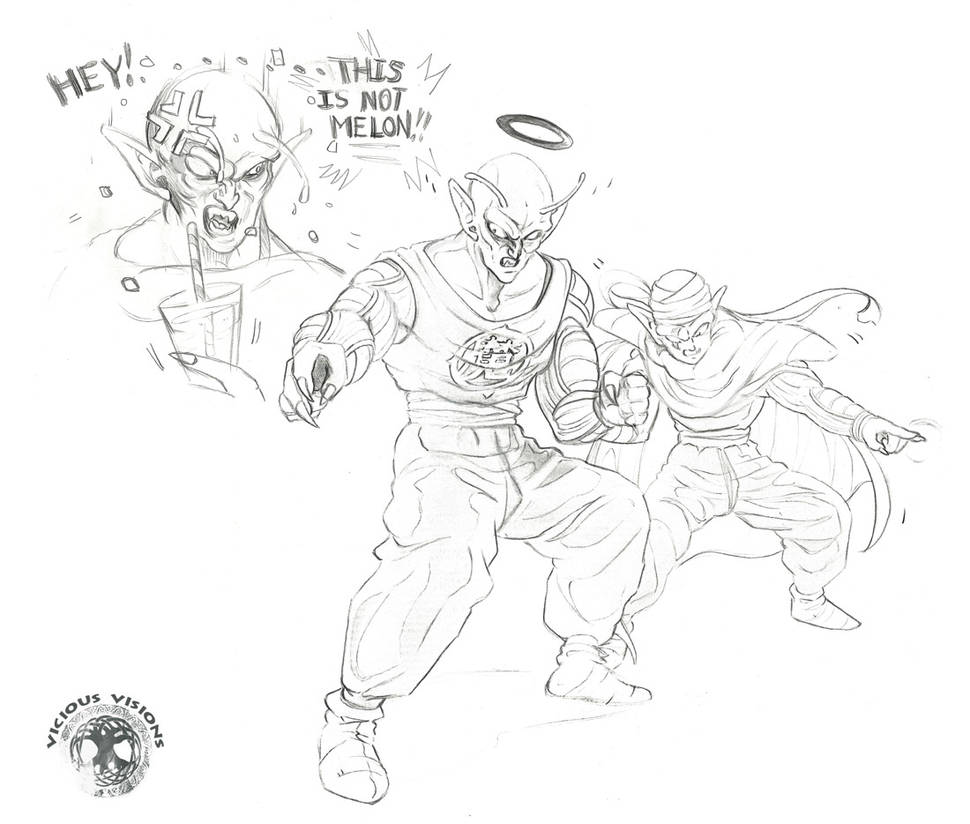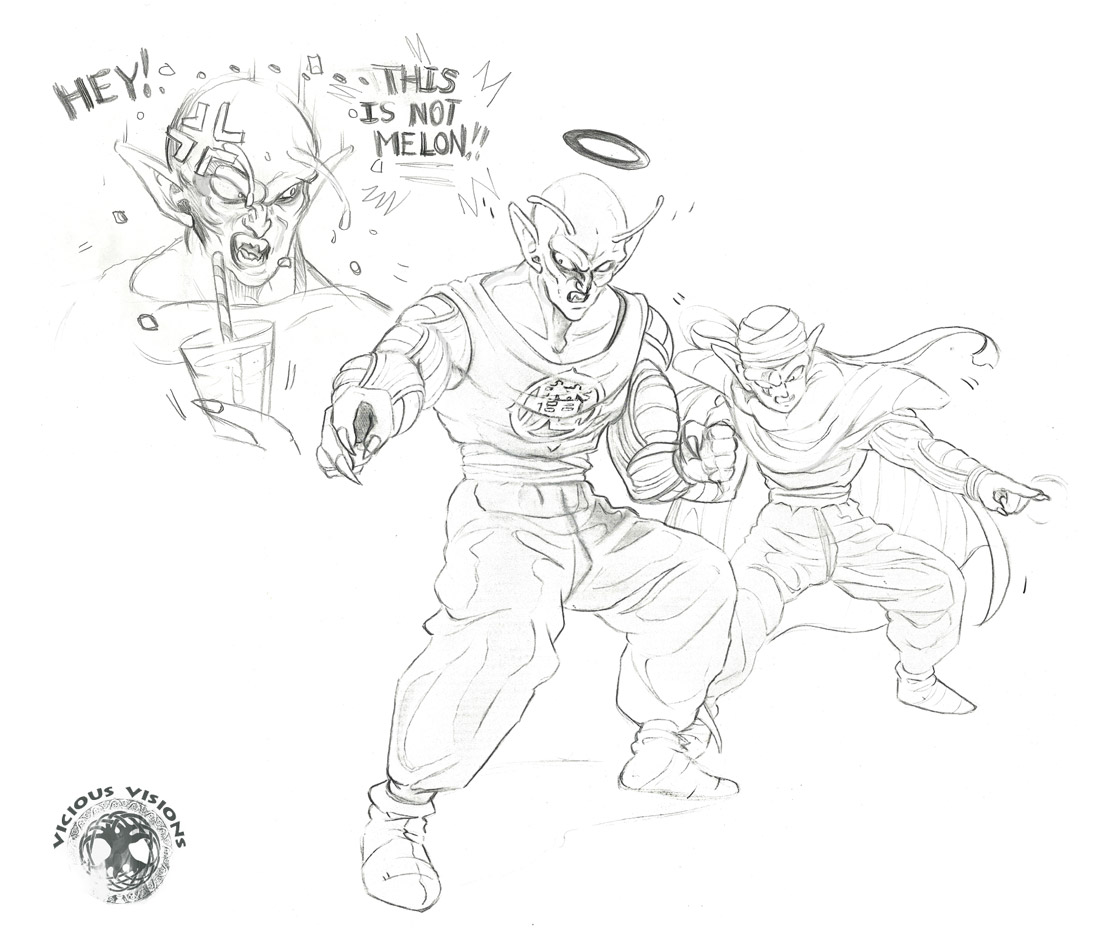 Watch
Black Halo King Piccolo
*lol!*
You all know that waiter died, right? Heehee---
"Dammit! Where's Mai?!"

The king demands his melon soda. (And if you don't happen to get that, you better go back and watch Dragonball again.)
Okay, that sketch was just a practice head shot doodle I did for the illustration on the right which is a secondary piece I am doing for the Winterfest 2013. This one was a specific request and is based on a scene from the last of the HC mangas where Majunianoko (and Master Gohan) is aided by his dead grandfather, King Piccolo --black halo and all-- through the Dank. The 'Dank' was more or less the under belly of deep Hades. It's one of my personal favorite moments in HC for sure. Not only does King Piccolo see that his legacy carries on in his grandson, but he meets his son (although sadly brief) for the first time as well.
For the record, no Tehanue is not that small. It's just King Piccolo is that big! He
IS
bigger than his son, Piccolo Jr. you know? Anyways, I loved this! Loved having a opportunity to do some art of the Demon King.
cir. 12/2012 Mechanical pencil and prismacolor

It's impossible to put into words how very much I love this. Daimao's expressions are fantastic.
Reply

Reply

This looks great! I love Piccolo Daimao! I saw some images of your dojin long ago and I'm very interested in it. Now, I'd like to ask you where I can find it? I really wish to know how you pictured the first meeting between father and son ... how do they react to see eachother? The way I see it, it's not like Piccolo saying 'Father, I hate you!' or something like that ... I know their relationship is tensed, but special nonetheless.
Reply

I like him too. Thanks for your thoughts

Like that old saying goes, 'If only I had a dollar for every time I am asked that'. Sadly, it's true. The Dragonball HC mangas were released by the old Huryuki publishing group from 1996-2001 until the group was absorbed into ACT. As with most doujinshi titles, print runs were short and limited making volumes of the set painfully rare now to come across. I've been asked many times and have even hunted for them myself —and here I am one the authors and lead illustrator! ACT is aware of the demand though so I'm really hoping these will be reprinted one day. It's been mentioned several times.
No, Piccolo mentions nothing of hate to his father. It's kinda pointless when you really think about it. Isn't it? It's been some time since this came out, but I certainly remember it. Although being able to actually read it would do so much better than my quick description here. I'll share some of that when I post the inked version. Yasunori Hirano (thus where the first half 'Huri' in 'HURI PUB' got it's name) actually did much of the script planning/preparation for this particular sequence and I remember that 'pointlessness' lofting sadly in the air.
Reply

I really would love to read it myself. It's very hard to find dojins in Europe ... Could you please tell me what they say to eachother?
Reply

I promise to try and include at least some of the script when I post the inked version. Once again, in advance, I don't know how well the moment is going to translate in written form verses being able to read the actual manga, but at least you can enjoy it.
Reply

Reply

I always wondered if he really was "bigger" than Piccolo Jr., considering the fact Piccolo Jr. gets that big when, for example, he fights Garlic Jr. I had wondered is Piccolo Jr. is really just a few inches taller than Goku, or if he is his father's height and keeps his size reduced purposely. Or if Piccolo Sr. is Piccolo Jr.'s height, but keeps himself powered up and enlargened for some reason.

I mean, when you see Piccolo Sr. transform from old to young, you don't see him grow taller, and later when you see Piccolo Jr. with Kami, they're pretty much the same height (Kami and Piccolo Sr. are the same height too). Am I making sense? I never got the height thing though...
What do you think?
Reply

*lol* I admit that I had to read your comment twice to get what you meant, but I got it.

Honestly, I can't say that I ever thought too deeply about it. Obviously, junior has shown examples of being able to adjust his height --particularly in a battle situation, such as when he expanded his size during his fight with Goku at the 23rd martial arts tournament. But since those feats were temporary, I am basing my overall opinion and answer on normal status conditions.

In normal, daily conditions King Piccolo was always clearly shown to be MUCH bigger than the average DB/DBZ character. Compared to his children also, his height is hard to miss. Does this have anything to do with his demonic nature or the fact that ancient Namekians might actually have been bigger than they are today? (Guru, Lord Slug. Etc.) One could probably write an essay on that alone, but keeping in focus all I can say is that I know for a fact that any manga/doujin I have ever owned depicts King Piccolo being larger than junior. As well, in the Budokai Tenkaichi 3 video game King Piccolo is the tallest playable character, and I believe the same can be said for other games he has been included in. The size difference is very evident if you choose to have father and son face off against each other. King Piccolo is depicted at the very least a good 2 ft. taller than junior, including in his overall girth.
Reply

It just still boggles my mind how he goes from being taller than everyone, than to Kami's height, and then in another scene, like on his ship, where he's pretty much Guru's height if not bigger. lol

Thanks for the response! <3
Reply

Toei got lazy? *lol* No problem. You know, I really I can't say. Why the hell did Dende keep shrinking during the Majin Buu saga?! (back to Toei got lazy) Thus the reason I kept my answer w/ normal, daily living conditions as opposed to battle conditions.
Reply

I know, right! lol They finally decided, for some reason, to make him Goku's height in GT, which he did shrink from time to time in as well. Other characters did the same thing.

Reply

Yeah, it was probably just Toei. Not sure if you're interested or not, but here's a clip of King Piccolo sparring against Piccolo from TB 3. As noted before, Daimao is the tallest playable character in the game and it shows. Star moment to look out for --King Piccolo does in fact call him 'son' in this game *cool beans!* (Although he's gonna be 'taking him out to the wood shed' here *lol* ---
[link]
Reply

*Ug! That should have read a foot. Not 2. Either way you still get my meaning. Officially King Piccolo is listed at 8.2 ft while junior is about 7 or so. This matter came up while I was illustrating this scene/script originally several years back because Tehanue was even smaller than his father.
Reply