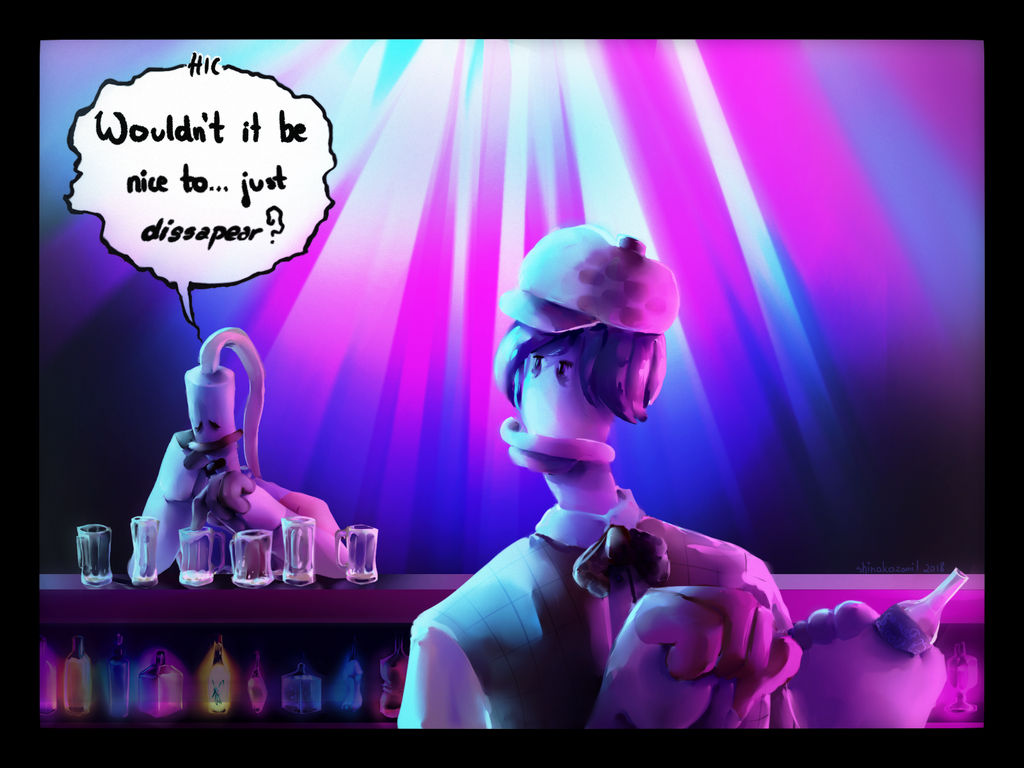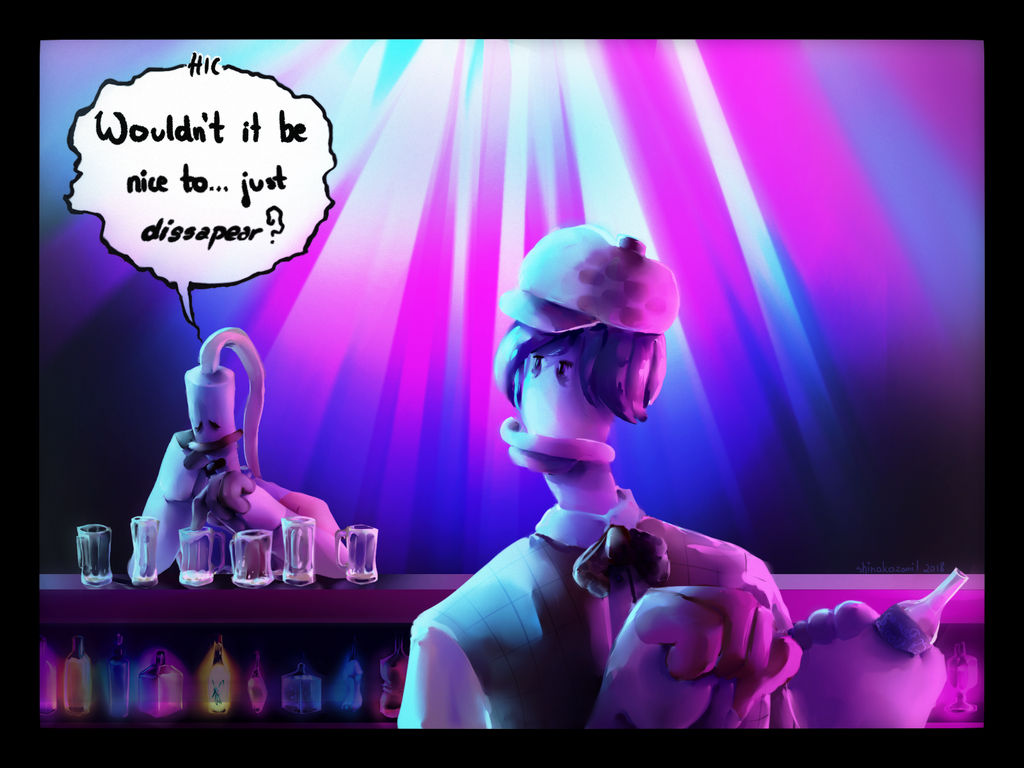 GwenIala
have an amazing Birthday! This was supposed to be traditionallly made but bc it got destroyed, I made this digitally, so I hope you like it :>
Nehmen belongs to Gweniala
Martin belongs to me
The Neverhood belongs to Douglas TenNapel and Pencil Test Studios

Oh girl, it's so pretty... thank you! You know - I GOT THIS ENTIRE MOUNTAIN OF PICTURES FROM YOU THAT I HAD NO IDEA EXISTED ---
Ahem, I'm going to write a note about that, as soon as I get this conference proceedings written and submitted. BUT. Let me comment on this picture first. Keeping to the tradition that I like to show gratitude for giftarts by making it known that I studied it for a long time.
First off, give me a moment to suppress my awe at your digital skills. The colour scheme is lovely, bright but somehow muted or sad-ish. And the shading?? The realistic, line-less shading that takes advantage of contrasting foreground and background, with various light sources and various textures... girl, it is great.
The empty glasses look lovely. The bottles look lovely. Martin's lips and Nehmen's hands look lovely.
Sooo... if I may move on to some constructive criticism? I am very focused on shape and body form as an artist, I want things to look realistic. So in this painting, I see a lot of tiny shape mismatches, and it ticks me off probably more than it should. To my eyes, Martin's next is a little too thick, all the hands are too massive, and Martin's left hand should not be turned to this angle. (If you try to hold something the way he holds the bottle, you'll see that you have to wring your wrist a lot. More of the little finger side of his palm should be turned to the viewer, rather than the back of his hand.) Plus the glasses don't match the table - both in perspective (their bottoms should either be flatter, or the counter should be wider) and in shading (the counter is very dark, plus in Nehmen's shadow - at least the bottom parts of the glasses should then be darker). But, hey, most of these are just my personal preference as to proportions, so don't take it too seriously...

Let's see... in conclusion, I'd like to point out the quality of the colours again - you use dark/light and warm/cold colours very well here. There's a lot of contrast, which is perfect as there are no inked lines to guide the eye.
All in all, let me thank you again. I just wish I could prepare you equally great birthday presents.

Reply

I'm so happy you like it and thank you for your critique, it's so on point I don't have anything to say haha
But that hand oh my goal, I really tried to make it better but it was just going worse and worse so he's left with a broken one.
And thank you for telling me about those glasses, they are so off oh my glob

Tho I'm glad you still like it!
Reply

Ugh, don't even tell me about redrawing hands again and again. From time to time, it happens again, no matter how good of an artist I am: I always get stuck on "this hand does not look right". And seriously, the only solution I have found is to either take a picture of your own hand (if it's only one hand), ask someone else to pose for you (if there is someone "at hand" :>), or to look up a reference online (if you have enough time).
Actually, I think that this problem is because faces and hands are the most expressive parts of a body? So they are both full of tiny but important details, and it's too easy to get them wrong. But with faces, at least you encounter weird angles rarely - when you do top shots, or bottom shots, then I ALWAYS need a reference otherwise I end up with a broken face. Hands - those are in weird angles all the time. There are several poses that you encounter more often (like arms hanging passively by your side, or hands on hips), but otherwise there is just too much variability in hands. So they turn out to be an even worse problem than faces.

Reply

JESTEM PROSTYM CZŁOWIEKIEM, WIDZĘ NEHMENA I JUŻ MAM BANANA NA GĘBIE

A teraz ruga część, podziwiam za wykonanie tej pracy, bo na początku gdy zobaczyłam sneak-peek to myślałam, że bawisz się w modelowanie 3D.
Ta remagowa butelkato chyba nawiązanie do tej starej afery gdzie w Czechach ludzie ślepli po zażyciu wódki? xD.
Reply

Reply

Reply