Hello deviants!
It has been several months now since I restarted my
patreon page
, and I'm happy to say this time around I've been able to fill it with fresh artwork much better than my first attempt.
Took me quite a while, but I've cleared off most/all of my client obligations, and completed most of the work on my art book, so coming up with new stuff has been a smoother process.
For those that don't know, for the last 9 months I've been paying the bills with a side job instead of freelancing. It's nice to be able to focus my creativity entirely into personal work, and especially not have that feeling like I'm "cheating" on my paid work whenever I do so. I do have to relearn this personal freedom though, after 7 years of freelancing I've mostly been doing what other tell me to, not coming up with my own ideas. It's all a journey.
So, what will supporting me on
patreon
get you?
Firstly, a core focus of my page is simply to allow my fans to financially support me. I don't want to get myself or you guys hooked into a system where you feel obligated to give me large sums money just to be able to see everything I'm doing. I don't want to paywall my art like some do

However, you will indeed get to see what I'm working on first if you do become a patron. How long I plan to keep things exclusive, I'm not sure yet, but I'd like to minimize that time frame as support grows. If there is enough natural support for my work I'd ultimately prefer to have everything unrestricted in the future.
$1: For those on a tight budget, a mere $1 a month pledge will gain you access to any sketches I post, along with work in progress updates on anything that I'm spending several sessions working on. I also allow $1 patrons to see some color artwork in advance too, but that's just a random extra a times.
$2: Any pledge $2 and up gains access to ALL artwork, sketches, WIPs, and color paintings. There is also a $4 option that is the same, if you'd like to pledge extra support.
$15: This level is also the same as a $2 pledge, but as you'll find below, you accrue extra goodies faster.
$35: This is the only pledge level with a true extra perk. At this level you get one hour of my time each month. With it you can request a quick sketch, or even just hang out in a video chat/call with me. It's up to you.
$All Patrons: Every patron accrues credit towards unlocking my PDF art book The Protectorate Wars. It goes for $15, so for every $15 in support you rack up, you get a free copy. Over time you will earn multiple copies, with which you can give to your friends. I'm not sure if I'll offer this deal forever though, so start earning while you can.
Not much else to it! I'm posting several sketches and WIPs a month. Not a lot of color yet but I'm trying to get back into that groove after so many years away from personal artwork production.
Here are a few slices of what I've been posting there lately: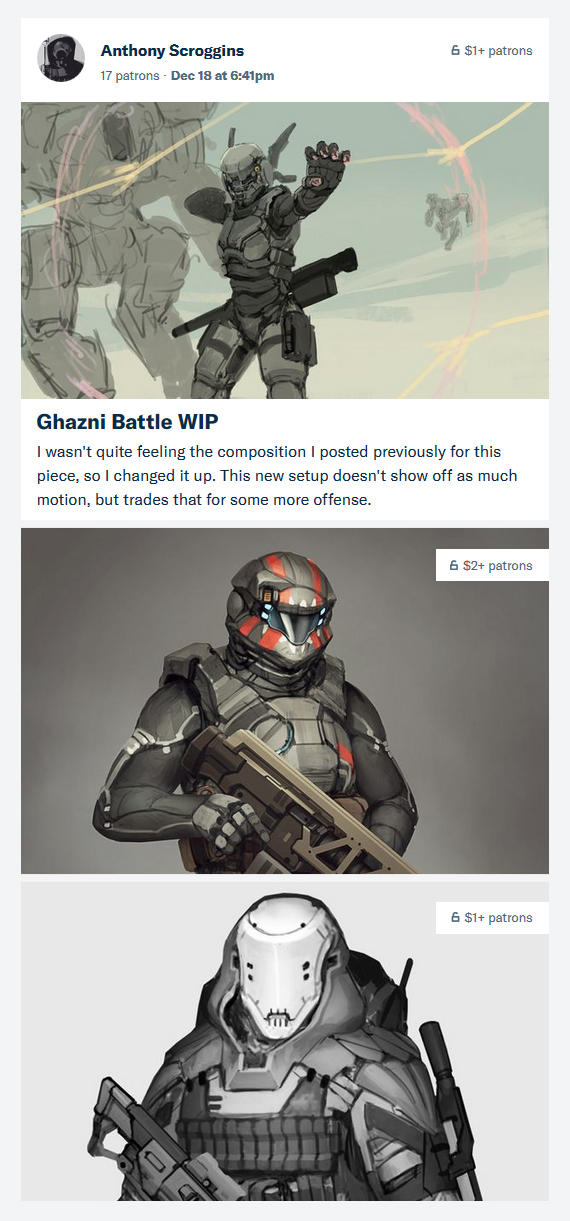 See you there! I greatly appreciate any support you can offer (even just kind words lol).
www.patreon.com/ShimmeringSwor…