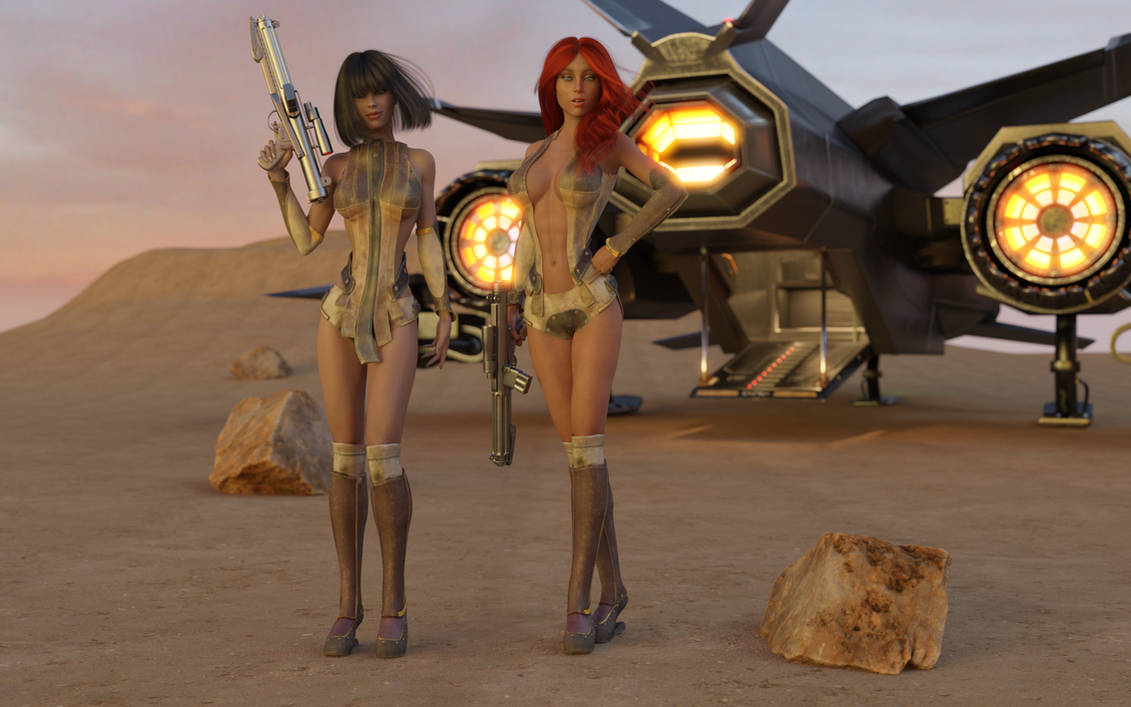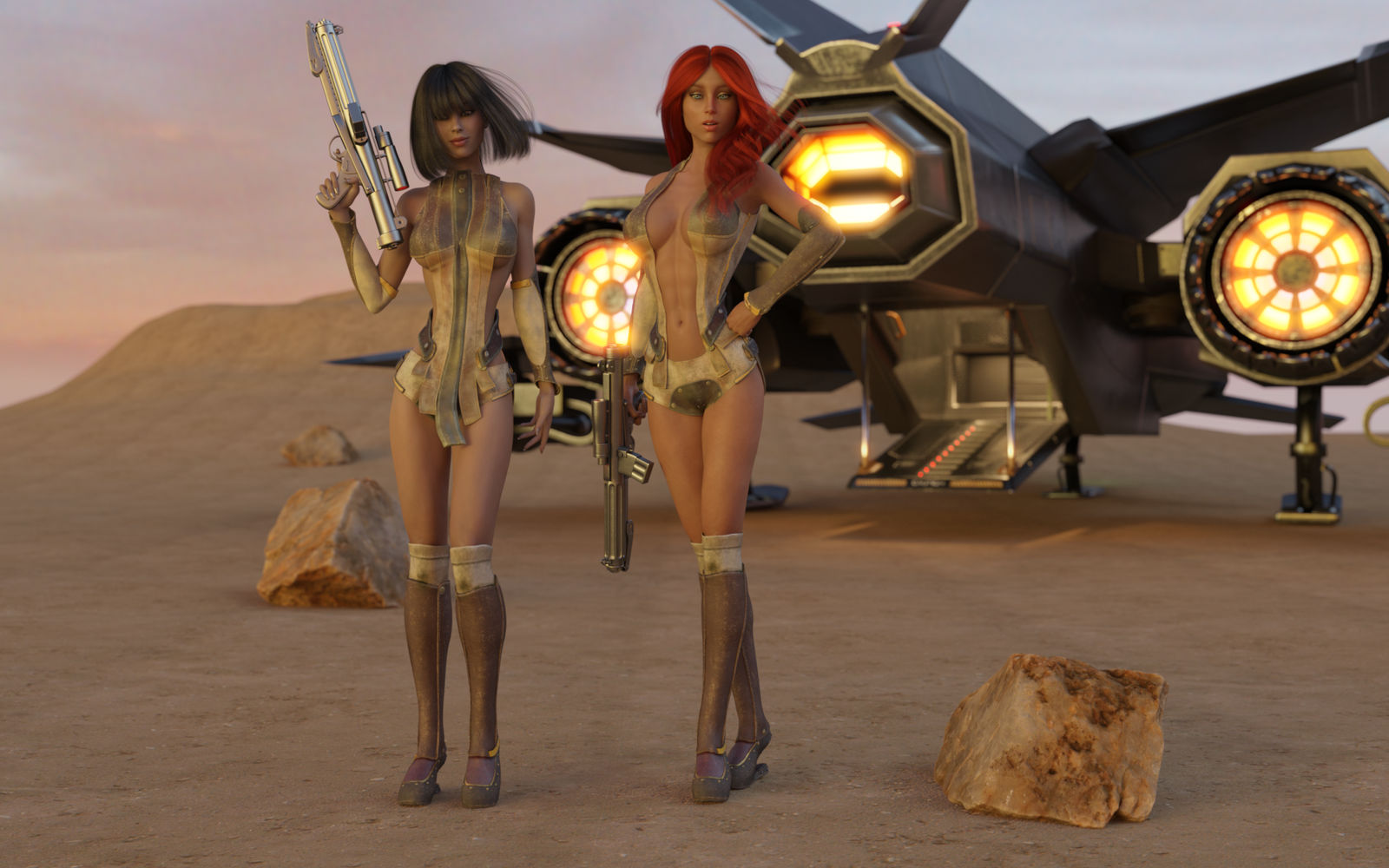 Watch
And a widescreen version

I think this image is absolutely brill! There's so much I want to say about it and most of it is positive so I'll alternatve between negative and positive until I run out of negative. I'll start with something positive;

Overall composition is excellent; the subject matter isn't dead center and you balance the girls in the center left frame with their ship in the center right. The ship is far enough away to add to the scene and BE seen, without dominating the scene, allowing the girls to take center stage. You include enough background that the viewer feels like they have a sense of place without showing so much that it becomes the star instead of the characters. Balanced, intriguing, and thoughtful, well done!

I don't think the inclusion of the blasters from Star Wars was a good choice. You've recoloured them, but not in a sufficiently complex way to hide what they are. I don't think that Star Wars made a good choice when they adapted such a distinctive SMG for their film either, as it seemed incongruous to anyone who knew anything about military hardware, and took the viewer out of the film as they wondered why the Stormtroopers were using shite, obsolete, British SMGs from WWII. Same problem here; I'm wondering why these birds are wielding spray-painted Stormtrooper carbines. You would have done better to pick a less recognizable weapon to make the art more distinctly yours and not distract the viewer with such an obvious reference.

The lighting is INCREDIBLE. Absolutely perfect. Directional enough that every muscle is highlighted and shadowed perfectly allowing the physiques of the women to be fully appreciated, but dark enough that it evokes a definite mood of being in the desert at twilight. Knowing that night is falling soon lends the piece a brooding, menacing sort of air that it wouldn't have otherwise had. The viewer gets the clarity of day but the emotional intensity of night. The dimness of these scene is further reinforced by brilliant touches like the highlighting of the closing ramp of their departing shuttle, emphasizing that the women will soon be on their own. It must have been VERY hard to strike such a perfect balance and I'm EXTREMELY impressed. Really inspiring to me to do better in my own work. The backlighting by the engine flare, and subtle bloom filter further enhances the reality of the scene and integrates the characters in the foreground with the landing shuttle in the background. VERY thoughtful and impressive overall. I bow down to you as a MASTER of scene lighting. I have SO MUCH to learn from you in this regard.

This is more a question of personal taste, but also I think a reasonably legitimate gripe. The women are indisputably beautiful, but their extremely exaggerated bodily proportions, particularly their impossibly thin waists, makes them appealing to a much narrower cross-section of potential viewers. I hesitate to say that this is BAD, but it does limit the appeal of the art to fewer people than might otherwise like it. It also detracts somewhat from the realism of the scene, which I thought was a bit of a shame as the lighting in particular is SO immersive. It had the effect of pushing me away by reminding me that this image is CG and the characters are not real, which created emotional distance between me and the piece which would not have existed otherwise. Again, I realize that this is a question of taste, but your taste in the female form is something of an outlier, and that, I think, somewhat diminishes your audience.

Their costumes, while not personally to my taste are well shaded and thoughtfully implemented. I like the way they are similar but not identical, creating the impression of something like a uniform without actually being one. This delicate interplay between uniformity / individuality adds to the sense of story, inviting the viewer to wonder if these birds are part of some kind of special forces / mercenary organization, and implies a structure or command system beyond just the scope of the two individual characters. A thoughtful and well executed choice showing excellent command of and use of resources. I'm calling this a positive part of the piece even though, admittedly, their uniforms aren't to my taste.

Whoops! Ran out of negative shite to say already! Nothing to see here!

The hair is INCREDIBLE. Excellent use of resources and blow dials. The subtle wind tremendously reinforces the notion that these are real people in a real place, rather than CG characters in a virtual environment. VERY well done. PLEASE tell me what resource you used for that ginger! I've been DYING to find a hair resource like that; long and casual, parted in the centre. PLEASE! Excellent use of hair to imply wind. TOP MARKS.

Your background resource is deceptively simple and well chosen. I THINK I know what it is and you showed a lot of restraint. This particular resource is relatively low-res and you made excellent use of focus to hide this fact. I DO think you could have a bit more strategic with your placement of the stones, however. Because the resource you use has relatively few interruptions people familiar with CG will note that the dark lines visible in the ground extend backwards in straight lines to the horizon, like the furrows of a plowed field. Even a relatively un-knowledgeable viewer might subconsciously pick up on this artificial feature. Had you taken care to position the stones, and/or perhaps thrown in a few more, you might have hidden this much more effectively, thus removing one of the few subtle cues in this image that it isn't real. I'm still including this as a positive comment, because your OVERALL use of the resource is splendidly strategic and thoughtful, and at first glace the scene is seamlessly excellent, but there is definitely room for improvement.

The sky (I'm assuming you used photshop to drop it in). Is excellent. It complements the colours of the piece and is beautiful without being distracting. It must have been tempting to include all sorts of moons and planetary rings and whatnot, but by choosing not to do so you keep the focus on the main subject of the piece and use the sky to enhance, rather than detract from the whole. Well done.

Posing and expressions are overall good. They look reasonably natural and their facial expressions portray an interesting mix of emotions that pulls me in and makes me interested in the characters. I like how restrained you were with their expressions as well... easy to go overboard with that. My only real complaints are that the bird on the right... the ginger... looks a bit more vacant than apprehensive, though it's hard to say why and that they aren't QUITE looking at the camera. This is particularly noticeable in the case of the ginger. Lightly coloured eyes are SO hard to get right in DAZ - I wish I knew a good technique for getting DAZ models to look right at camera without lots of fiddling. I think you would have done better to iterate this more until the ginger was looking right at the viewer or, alternatively, have her be clearly looking away. The middle-ground of having her NOT QUITE look at camera is distracting, and detracts from her believably as a real human. If this was deliberate then I think it was a strategic mistake, if accidental a technical mistake. Either way it in no way overcomes the fact that the posing and expressions are excellent overall, and generally a positive aspect of the piece. Good, but again, room for improvement.

On the whole a PHENOMENAL piece of work. Considerably beyond my own level of technical skill or artistic vision. My criticisms are in no way intended to imply that I do or could do better! I'm afraid I know just enough to be dangerous. I sincerely helped that my (perhaps overlong) review and honest feedback (whether you think I'm right or wrong) is helpful! Thanks for this amazing image, and for inspiring me to do better with my own work, particularly with regard to composition and ESPECIALLY lighting, which I think were BEYOND FLAWLESS.
Kisses!
Eva

P.S. You'll note that I only gave you 3.5 stars for originality. Two space babes standing outside a landing craft is hardly an unusual subject, but honestly I don't think this is too important. Not every piece of art has to be LIKE NOTHING I'VE EVER SEEN BEFORE!!!! Honestly I LOVE this subject matter and your execution of it, but it asked for a rating on how original the piece was and I think we can both agree that you're deliberately exploring a trope, rather than trying to do something unprecedented.
The Artist thought this was FAIR
6 out of 6 deviants thought this was fair.

Looks like they made a U-turn and came back right to where they started!
Reply

great fantasy image thanks for sharing
Reply

Reply

Great! I like both the ladies and the ship (SciFi fan here).
Reply