LATEST SHIMEJI VERSION:
ASK FOR YOUR OWN ART: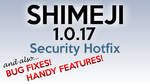 How do Cachomon Commissions work?Hello everyone


A lot of people has been asking this over the months, and lately I am receiving questions about it almost every day so I decided to make this Journal.
INTRODUCTION
First of all, have in mind I am NOT in a stable moment of my life. I just finished university few months ago, I fortunately finally found a job, but I am also waiting for the best moment to move from home, saving from job, Patreon and Commissions to be able to move, blah blah blah. This means my mental state is not 100%, my time is not 100%, my wellbeing overall is not 100%, my depression is sometimes going over nine thousand, and in conclusion my wish to draw is not always 100% if at all.
With this said, I prior my drawing time and will to those who are supporting me on Patreon; they donate every month for me to keep trying after all. So this is why there is a sofisticated system of SLOTS.
1) SO, WHAT SHOULD YOU DO THE FIRST?
First of all contact me via Note and tell
Download it and have a try!         Get your own character!

    Code Commissions:                  Shimeji Commissions:
    



              OPEN  CHECK FOR OPEN SLOTS!

      Note

                                Note


All the information you need of Code and Skins Commissions is in the right picture!
Prices, payment methods, and other informations!