Description
_______________________________________________
the plush's name is chubbs and she is as soft as veloce's kokoro
The music here is the piece Blackbird played last time, Ysaye's Sonata op 27 #3, for solo violin. here's a link for the violin original and a link for one transcribed for cello so you can hear their music!
Hilary Hahn on violin: youtu.be/biEUK9Winqo?t=108
Fujiwara Hideaki on cello: youtu.be/bR2MQW5NoX0?t=143


Below is just more music stuff that I included in this comic that's just fun to "get" if you're a musician but not necessary to know if you're not, because all I needed to convey here is that veloce is playing blackbird's song. But if anyone doesn't understand and wants to know, she basically downloaded the sheet music, converted the pdf to editable digital sheet music format, and transposed it to a lower range using an editing program to create a version that is playable on a cello. imslp.org is like the wikipedia of all classical music sheet music, and musescore is an amazing free sheet-music-based music program

I am a pianist and I don't know much about other instruments, everything I've been writing into this AU has been a product of research to the best of my ability, but from what I've gathered, sometimes it's possible to take violin score and transpose it down a 5th (plus an octave I guess?) and play it on the cello basically note for note because a cello is just a big violin in terms of how its strings and fingerboard are set up. I was so surprised to actually find a recording at first when I joke searched for this sonata on cello, but it was a happy surprise, because I would really rather not make this shit up and then find out I'm wrong and that some parts are unplayable on cello due to hand size or something haha
Hope you enjoyed this ultra soft episode


AU is my slice of life/comedy/whatever webtoon/webcomic! Read the rest of AU at:
amongstuscomic.com
www.webtoons.com/en/challenge/…

follow me on social media for sketches and stuff!


instagram.com/okolnir


twitter.com/okolnir
_______________________________________________



Read Carciphona, my original manga series!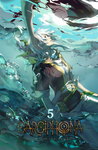 Read Amongst Us, my original webtoon series!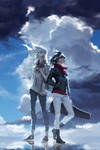 Other art by me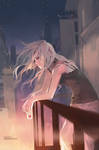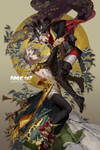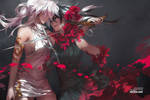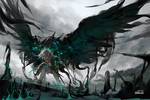 | carciphona | Amongst Us at Webtoon | Carciphona at Webtoons | instagram | tumblr | twitter | shop (manga, artbook, prints) |
Image details
Image size
800x12000px 963.92 KB