Mature Content
This content is intended for mature audiences.
---
or, enter your birth date.*

Month
Day
Year*
Please enter a valid date format (mm-dd-yyyy)
Please confirm you have reviewed DeviantArt's Terms of Service below.
* We do not retain your date-of-birth information.

Watch

---
I never found being turned into an over sexed female version of myself so funny.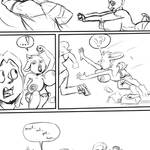 first << o >> next week.