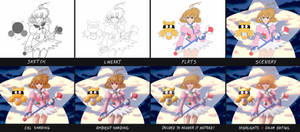 Yomi's Step by Step Pics + WIPs!
Thank you for stopping by! 😁 Feel free to subscribe to check out the process behind my art and get a Portfolio Review (+ Tips to improve your art!) as a welcome gift at the cost of a modest monthly donation! 🚀✨
---

Portrait painting Process
Description
For more updates, tips and links;
Please support me on Patreon for more content and exclusive tutorials!

www.patreon.com/sheridanj



Another WIP shot of one of my portraits.
Lines> Color> Shadows> Detail> Textures
For a more in-depth look:
Image size
1863x439px 484.26 KB