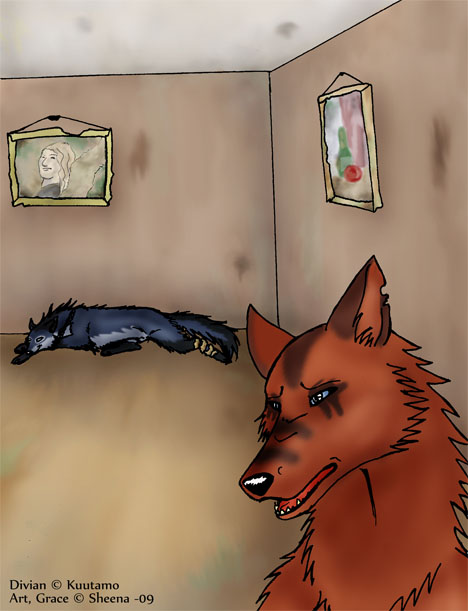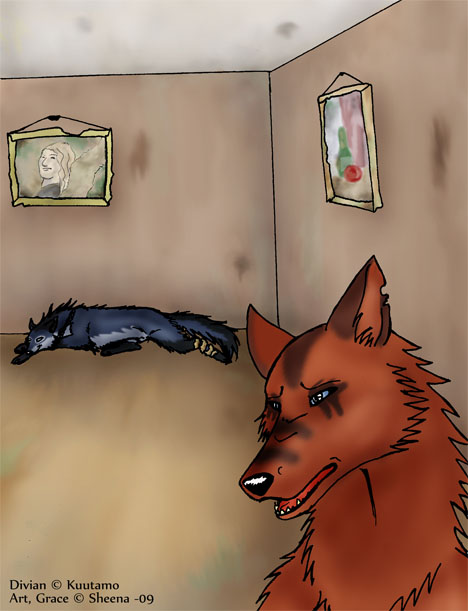 A scene from Andriaana RPG.
Divian (wolf on the back) makes Grace think of her relationship with Roi at not so nice perspective. Divian is a mean guy who wants to divide and conquer the pack of Edera.
I spent over 6 hours doing this. Probably my biggest mission with Photoshop CS2.
Divian ©
Art, Grace ©

Lol vihdoinkin muistin tulla kommentoimaan.

NIIN siis. Hieno on tämä, ja ihkutan ilmeitä! Kivasti sävyjä olet tunkenut seiniin nam. Häiritsee tosin huoneen tyhjyys, ja Grace olisi voinut olla silleen ylempänä, you know. Taulut on kiva yksityskohta, ja naurattaa kun joku on nakertanut niiden kehykset noin xD

Oho Divianilta puuttuu varjo. Ehkä se on vampyyri.
Reply

Taulut on hyvänmakuisia, niitä kannattaa syyä 8D
On Divillä varjo, mutta se taisi jäädä turhan vaaleaksi, kun siitä saa vampyyrin. Hupsis.
Heh, jep, ehkä ensi kerralla muistan tehdä jonkun kaapinrämän tai räsymaton kuvaan mukaan, niin ei ole niin paljaan näköistä.
Jej, kiva kun piät

.
Reply

lol jopas on Ederalla tyhjät huoneet :'D Joku käynyt ryöväämässä kaikki huonekalut pois häiritsemästä.
Kiva kuva on, vaikka lattia ja katto ja nurkka onkin vähän vinot. No ehkä kartsa kallistuu iän myötä.
Grace on sö

ö <3
Reply

Siis eikä. Siellä on kaksi taulua!

Njoo, olisi sinne jotain voinut heittää lisää, mutta en luonnosteluvaiheessa tajunnut ja sitten tussauksen jälkee oliki liian myöhäistä. Heh. Ister on pölliny kaikki kalusteet ja vieny ehken kellariin, et ois kodikkaampaa juua siel?
Edera on kiikun kaakun. Hajoaa vielä koko hökkeli, kun elukat rellestää siellä niin ;>
Kiits, oot muks <3
Reply

Onneks Isterillä on habaa nii se jaksaa pari sohvaa ja mattoa roudata kellariin niin on jotain lesoiltavaa nartuillekin :'D
Reply

Mjäh! Tässä on selkeesti joku tarina

Sinäkö tuolla taulussa komeilet? x'D
Reply

Siinä on.

Haha, siis selkeästi omakuvahan tuo on (eli oikeasti sen oli tarkoitus olla pitkälettinen mies, niinkuin Muskettisotureissa

)
Tämä on taas Jaldin über aktivoituminen, kun kolme kommenttia peräkkäin! Oot ihq <3
Reply

xD Just. Muskettisoturit oli huono leffa :/
Reply

Ei leffa, vaan se piirretty joka tuli joskus vuonna keppi ja juustohöylä :3
Siinä ne muskettisoturit oli eläinhahmoina ja ne oli kivoi (en kyl muista kattoneeni kovin montaa jaksoa, mutta onha siitä jo kohta erinäisiä vuosikymmeniä, kun sekin on yleensä telkkarista näytetty :'D)
Joo, tässä olikin sitten pala muskettisoturien historiikkia

Reply