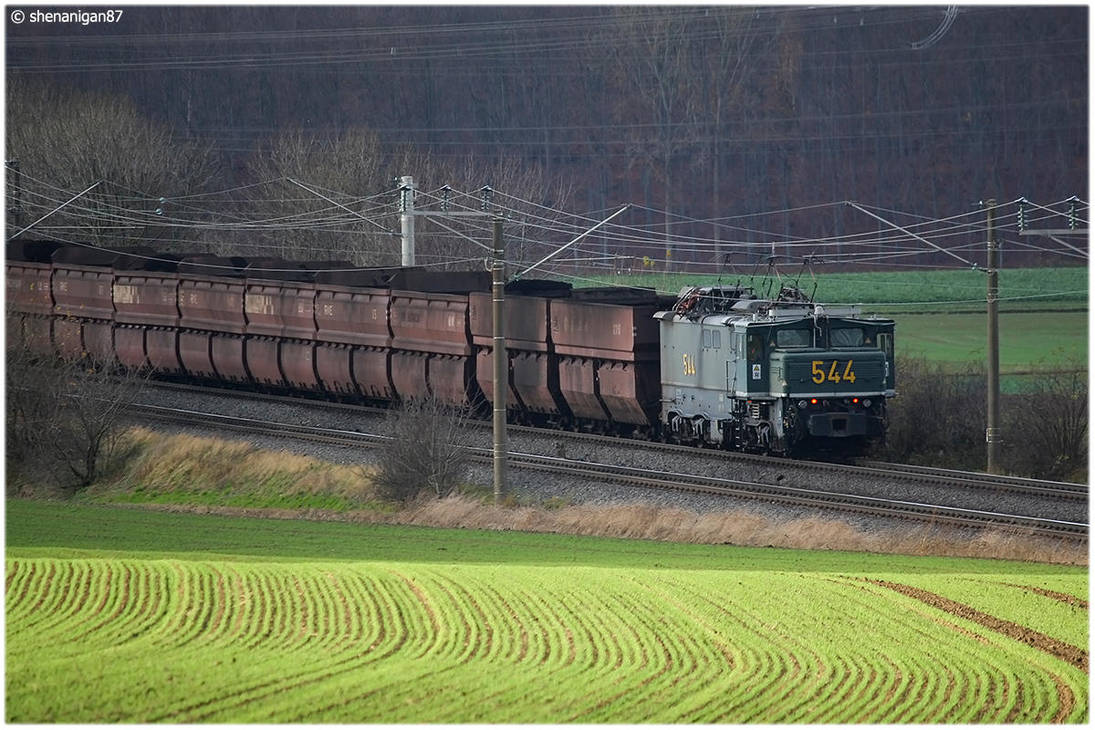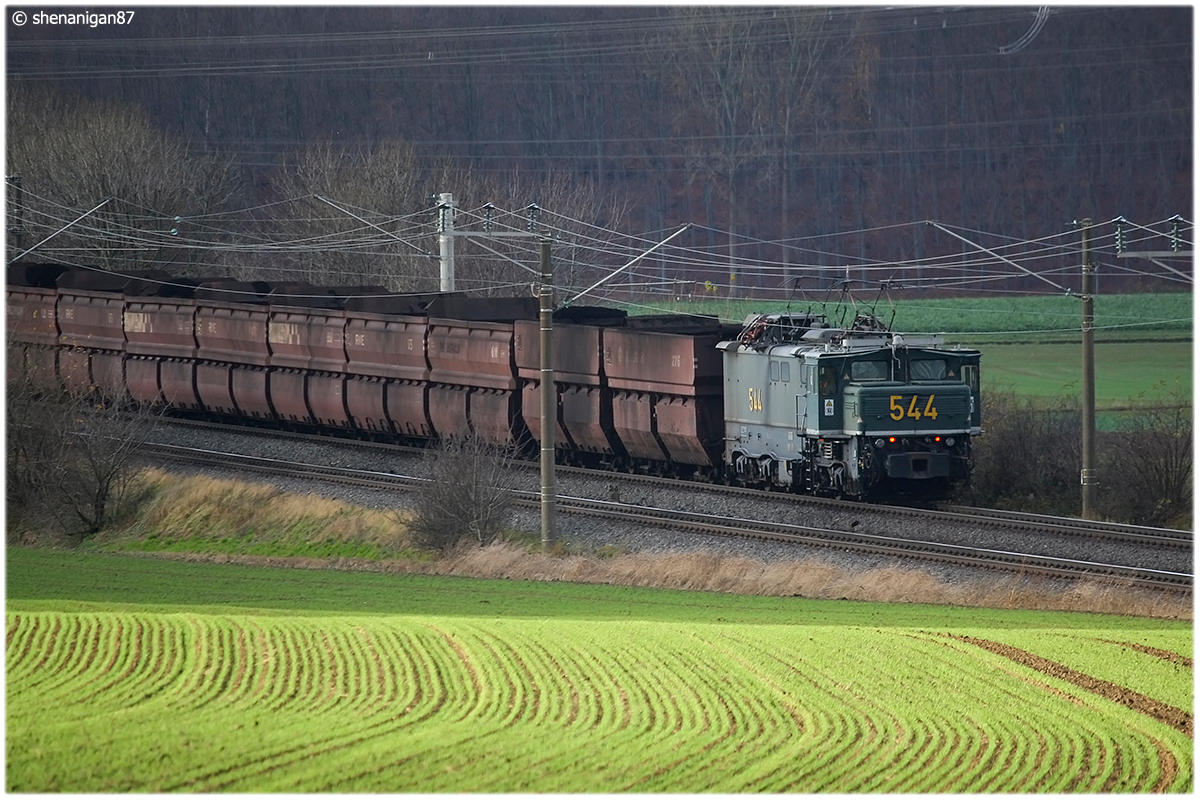 Watch
Rheinbraun class EL 1 pushing a lignite train towards the Frimmersdorf powerplant on the Nord-Süd-Bahn of the Garzweiler lignite mine. These locomotives were specially made to run on this specialized local network, which connects the opencast lignite mines to the nearby powerplants. In contrast to the regular railway network of Germany, this one allows higher maximum axle loads and uses a different voltage system of 6,6 kV @ 50Hz in contrast to the usual 15 kV @ 16,7Hz.
The locomotives are also somewhat different from regular mainline locos, being very heavy, powerful, and slow, in addition to two intriguing features: They have a secondary set of pantographs that protrude from the carbody's upper corner at a 45° angle, allowing them to push the cars into the filling station without the regular catenary wire being in the way. Also, the cabs extend outwards, allowing the driver to run his train backwards without being completely blind. The train we see here is doing just that, as indicated by the red taillights.
This locomotive with the well visible number 544 was built in 1954 by Krauss-Maffei and AEG, in service for 58 years by now! Wikipedia claims that these were the first ever locomotives to use thyristor controls, but since those were only invented in 1957, that can't be true. Perhaps the locomotives were upgraded at some point in their lives, but I haven't been able to find any reliable info on that. If you know more than I do, don't hesistate to share!
Pic by Torsten:

Danke für das Minifeature! Ich würde aber sagen, dass dein Bild besser ist.

Reply

Danke für die Blumen!

Ich hoffe ich werd in Zukunft noch bessere hinkriegen, falls ich mal wieder in der Gegend da bin.
Reply

Reply

Merry-go-round trains were devised by British Rail in the early 1960s to convey pulverised coal from collieries to power stations in 'block trains' that never stopped. Wikipedia says, "Locomotives used on the MGR trains needed to be fitted with electronic speed control known as Slow Speed Control, so that the driver could engage the system and the train could proceed at a fixed very slow speed under the loading and unloading facilities. "
The UK locomotives were much prettier than their German cousins!
David
Reply

Do you have any pics of those?
Reply

Dear Shenanigan87,
First, let me thank you for the detailed information you provide on this class of locomotive - I found it enhanced my appreciation of the photo very much - if not the look of the locomotive!
Boy - that is one ugly loco and in my opinion rivals the Diesel-Electric Locomotive CP 1943 seen in this photo
[link]
.
Perhaps we should run a competition for the ugliest-looking railroad locomotive. What do you think?
Many thanks, once again, for the detailed information. If I had not been able to read your notes I would have assumed that the locomotive was running wrong line (or correct line in the UK).
Best wishes, David
Reply

A powerful brute indeed... Kinda like the look of it to be honest.

Is that one big massive buffer on the end?
Reply

Yep, it is. They use a different coupling system, as the classic buffer & chain setup would be too weak. The buffer is there to allow for push-pull operations without the usual slack of normal coupling systems.
Reply

A fascinating machine by far! It is weird looking but it isn't ugly.
Reply

A study in echoed curves.
Reply