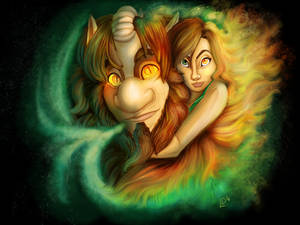 Comic Tier
Burnt out folklorist hides from the world and her antagonist who plumber the outside of her home. Upon receiving a random invite to a cabin from a fan. Mel escapes the drudgery of her life only to find another annoying neighbor who turns out to be fey. Can she survive the encounter or can Mel give him an offer he can't refuse? This tier has all of Shurale season 1 and 2 Shurale fairytales! Updated every month.
---

Description
First
|
«Previous
|
Next »
HEY it's these guys again! Thanks for your comments on the past coupla pages, everyone. It's been awesome hearing back from people, wherever you comment!

Sort of a short page this time. Hopefully DRAGON TRANSFORMATION makes it all worth-while anyway. C:
OH, P.S. - Severian's a man of his word here, and hasn't cast that ridiculous rune that he said he wouldn't cast. Some people thought he had, but if he had, it would've disappeared! These are minor world details that I forget aren't obvious to everyone who doesn't live in my brain.
Runewriters and all art and characters © D. Shazzbaa Bennett

and you can find the comic so far
at Runewriters.com!
Image size
600x900px 354.81 KB

a dragon? that's awesome! im really curious about this, it's great, im intrigued even though i know no backstory.