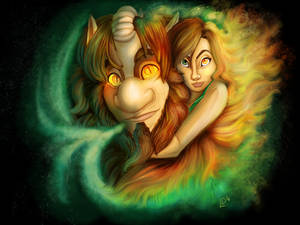 Comic Tier
Burnt out folklorist hides from the world and her antagonist who plumber the outside of her home. Upon receiving a random invite to a cabin from a fan. Mel escapes the drudgery of her life only to find another annoying neighbor who turns out to be fey. Can she survive the encounter or can Mel give him an offer he can't refuse? This tier has all of Shurale season 1 and 2 Shurale fairytales! Updated every month.
---

Description
First
|
«Previous
|
Next »
hmmmmmmmm whatcha plannin Sev?...........what could it be..........?
(As always, you can
vote
for an extra doodle!)
If you enjoy RW, consider supporting the comic on
PATREON!!


Read the whole comic at
Runewriters.com!

Or in this
DeviantArt Gallery!
And you can
follow the Runewriters Tumblr
for updates!
Image size
600x900px 635.09 KB