Tagged by

RULES:
1. Pick one of your OCs.
2. Fill in the question/statements as if you were that OC.
3. Tag four people to do this meme.
I'm going to be using my fursona, who was an OC when I first made her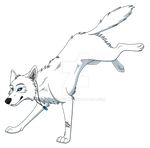 1. What is your name?
I'm called Shay most of the time now, but I was originally named Shasta, which turned out to be a rather strange shortened abbreviation for my supposedly real name Shazadah.
2. Do you know why you are named that?
Uhhmmm...Well? In all honesty, I'm not sure...
3. Are you single or taken?
Single. And unless it's for RP or story purposes with given permission, it shall stay that way.
4. Have any abilities or powers?
Strong intuition, so I follow my gut and the voice in my head. And also any powers I am given in a RP or story I suppose.
5. Stop being Mary Sue.
Haha, good one! Talk to my creator, she's crazy!
6. What's your eye color?
Shades of blue that range between ice and cerulean. I've been told it's cold enough to kill when I give someone a glare...
7. What's your hair color?
White. I'm a wolf for Kami's sake, my pelt has never changed since I was thouht of.
8. Have any family members?
No...I mean, as an OC I don't, as a fursona it's different.
9. Oh? How about pets?
Negative ghostrider. As both an OC and a fursona.
10. That's cool, I guess. Now tell me something you don't like.
Heh...Heh...Yeah uh, I have a long list that I'm not going to write into words for you because there are a lot of things I don't like. To make it simple, I hate stupidity and that includes my own.
11. Do have any activities/hobbies that you like to do?
OC wise, I like being in the company of the few friends I have. As a fursona, I prefer art and online gaming as a time passer.
12. Have you ever hurt anyone in anyway?
Unfortunately I have, and I regret it.
13. Ever...killed anyone?
As a fursona, Kami no! As an OC...Yes. They were enemies, and brought harm to my friends, something I canno tolerate.
14: What kind of animal are you?
Wolf, as stated before. Isn't my image obvious enough?
15. Name your worst habits.
Let's see, worst habits, hmm...Well I do have a lot of habits I'd love to get rid of or change, but nothing specific is coming to mind right now.
16. Do you look up to anyone at all?
No one in particular...I do remember having a very close friend named Meg a very great while ago, I suppose I looked up to her more than anyone else. That was before I was made into a fursona, but if I could meet her again I would be the happiest wolf alive...
17. Are you gay, straight or bisexual?
b>Straight.
18. Do you go to school?
I do as an OC, but as a fursona as well.
19. Ever want to get married and have kids one day?
I have in a RP as an OC, but as a fursona, no thank you. Kid free single's life is the life for me.
20. Do you have any fangirls/fanboys?
Perhaps a very veeeery small few that have met me, mostly as an OC...
21. What are you most afraid of
Losing everything I know and love...
22. What clothes do you usually wear?
Wolves wear clothes?
23. What's one food that tempts you?
Too many to name off...Heh...
24. Do you wish this quiz was over?
I don't have anything better to do.
25. Well it's still not over!
Fine, proceed.
26. What class are you?
Class?
27. How many friends do you have?
A few. Not a pawful, but a few, and they're the greatest friends I could ask for. I don't need a lot of friends to be happy.
28. What are your thoughts on pie?
>>Depends, I'm picky. What kind of pie we talkin'?
29. Favorite drink?
Dr. Pepper, fruity juices...Oh, smoothies too! Smoothies are the top of my list!
30. What's your favorite place?
The forest, somewhere secluded and within my element of nature, a quiet place where I can think.
31. Are you interested in anyone?
Fursona wise, no.
32. That was a stupid question.
Stupid is for those without an imagination!
33. Would you rather swim in a lake or the ocean?
LAKE! I'd prefer a lake...I don't swim with sharks.
34. What's your type?
My type? Depends on what you mean by 'type'?
35. Any fetishes?
Overpossessive and crazy maybe, but no fetishes that I'm aware of?
36. Camping or outdoors?
Well what's the difference?
I tag: