Wow

So suddenly everything turned red, yellow and orange with a dash of morningfrost
Times flies while Im procastinating and doing other things.
Things like focus on relationships, curing health, and exploring new places.
you know.... Life happens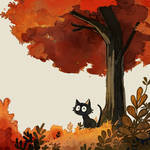 Autum happenings:
Had a delicious Halloween dinner
Fun time at a Zombiefied Amusementpark
Saw Thor Ragnarök, latest marvel movie
Start of mondays movie club
Pneumonia
Yoga yogi
Spent far too much on promakers
Instagram member (lol)
Nominated to "Best Graphic Artist" for The IMVU Award 2017

Everybody that favorite my art and follow my page
Thank you so much!
IMVU commissions
If you are interested to order a custom DP,
Please contact me via IMVU
If you want to request other type of Art,
contact me via dA or IMVU