Yes I'm still alive! I've been at a second job so things have been very busy here. I'm wanting to clear out the workroom of some pelts that I feel deserve more attention than they are getting. Some are mountable, some are not, some are on a make offer only basis. I can ship to many locations that are legal, shipping will be extra. I'm sorry Canadian and International folks, I don't have the proper licensing to ship pelts across the boarder.
First up!
1. Arctic marble fox- MOUNTABLE. Strong fresh tan, beautiful rich markings. Eyes/lips split, ears turned. I don't have the time to mount it. 55 inches nose to tail.
2. Wild cross fox. It's at least 8 years old, still has a good tan. Torn ear, some torn toes. Slightly wooly, but is otherwise complete. 51 inches nose to tail.
5. Pair of bobcats, can be sold separate. Cat A is 37 inches long and is missing the lower jaw area and all feet. Soft gently spotted fur. Cat B has it's CITES tag still attached. Cat A arrived to me without it. Cat B has all claws/paws and is only missing its lower jaw and is 45 inches nose to feet. Nicely furred cat.

Asking $120 for Cat A, asking $375 for Cat B.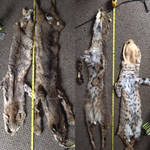 7. 'Ghost'. He was mounted up by Nina and she did an amazing job. His lower jaw is deer skin, ears don't have liners due to the nature of the pelt. His legs are from another skin. His fur is unlike any coyote I've ever felt. He has black tipped guard hairs and a huge amount of silky soft under fur.
I will only sell him for the right offer at the moment.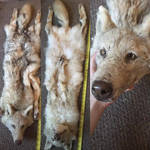 8. 'Mato' wolf, or Bear Wolf. This guy is HUGE. Comes with CITES papers. The tannery botched him big time. Nose is tattered, ears, face, and tail slipped. His coloration underneath is a deep crimson wine, it's incredible. The weight of this pelt as well is intense. He's a hefty 80 inches nose to tail with the BIGGEST paws I've ever seen. Some of his claws have slipped off their cores. He has a rub between his shoulder blades. I included a line up of pelts I took a few years back and he's very hard to miss.
I'm asking $450 for him. He's an impressive critter, even with the damage.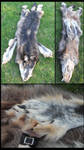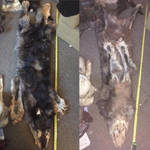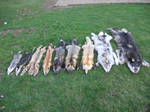 9. Black wolf 'mask', shaped, no straps. Thick winter coat, strong tan.
10. Fisher cat!! This cutie pie is complete, split belly. I wouldn't say he's mountable since he's an older tan. Gorgeous critter, nice thick fur.
11. Antique zebra pelt I got a few years back. It was on display in someone's home for a while on a square object. No paperwork was ever provided since he was an estate sale purchase.
Make offer.
Comment below to claim!